On Sunday, our neighbor's daughter knocked on our door (she's too short to reach the bell). Her dad had washed all of the tupperwares we had brought dinner over in and placed them in a bag with a thank you note. She pulled out the note and wanted me to read it because she had written a note first, and then there was one from her dad. I asked her if they liked the dinner and she nodded enthusiastically and said, "yeah, yeah, yeah!"
me: what sort of food would you like this week?
b: oh, i love fondue. chocolate fondue with strawberries!
me: you can't have chocolate fondue for dinner!
b: darn… *laughing*
me: what does your dad like?
b: oh, he loves chicken. we all love chicken.
me: what kind of chicken?
b: teriyaki – that's his favorite. we like cheese fondue too. any fondue is good! yummmmmmm.
me: okay sweetheart, i'll see what i can do.
What I love about her is that she'll actually tell me what they like whereas her dad is so polite he'll accept anything (except lasagne, apparently that is what everyone has been making). So I came up with as Japanese a menu as I could to go around the chicken teriyaki. I mean, I don't really cook much Japanese food that doesn't involve raw fish, and I'm not about to send raw fish over in 90 degree weather. I want to help them, not put them in the hospital.


dinner
grilled chicken teriyaki
steamed rice
inari (fermented tofu pockets stuffed with rice)
edamame in the pod (soybeans)
cucumber salad
stir-fried zucchini with garlic

dessert
chocolate-dipped strawberries

Now I know I said I wasn't going to make those chocolate-dipped devils again, but portable fondue is not trivial to send to someone unless you are a caterer, which I am not (yet). Any little thing to make the kids happy is worth it. The woman coordinating the meals schedule for our neighbors is a really kind person, but I have a small beef. She has been telling everyone to avoid sending sweets because the children get a sugar high and then crash and that's not good. I'm sorry, but Linnea raised very good children and they don't go nuts on stuff like that. If you don't like sugar for your kids then
we won't bring sugar to your house
. But I know Linnea loved the sweets I took over to them from time to time – and it's not like I'm giving them syrup and candy for dinner.
single dipping is far easier to do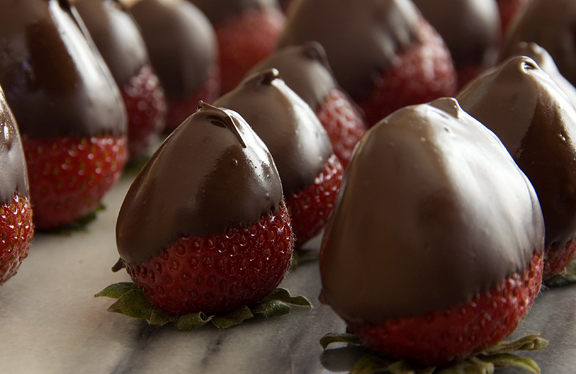 There isn't that much chocolate anyway, and the strawberries are good and healthy. I splurged on organic strawberries because they taste better and I know their mom would have appreciated it.
ready to go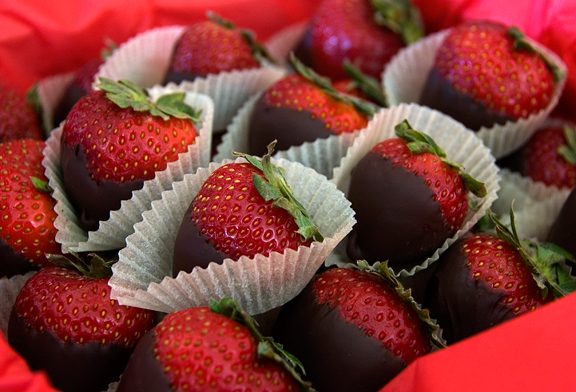 I saw B on their deck and walked out with Kaweah onto our deck. I waved to her.
b: hi!! thank you so much for dinner!
me: i hope you liked it.
b: we did. we ate it ALL up. except for the edamame, there is just a little left.
me: oh, i'm so glad.
b: hi kaweah!
I'm always wondering if I can afford the time to make these meals when I'm trying to finish my stupid thesis. There are some things you just do because it's the right thing to do – because you can actually do something for someone else. And when that little freckled face smiles at me, I know it is worth every minute.