I can't look at a computer screen anymore tonight.
I know I work on a computer all day, and in my spare time I do a lot of crap on the computer… but this is a whole new world of eyeball and brain strain. The back and forth from monitor to papers with teensy tiny print can make one insane.
I did take a break to make some Chinese food for dinner. I think my stomach is nearing normal, although I am still cautious about how much I eat so as not to tempt fate. I also went easy on the spicy in the tofu, which made me sad because I hate bland food, but it really wasn't so bad.

pork and soybeans, asparagus, ma pu tofu, rice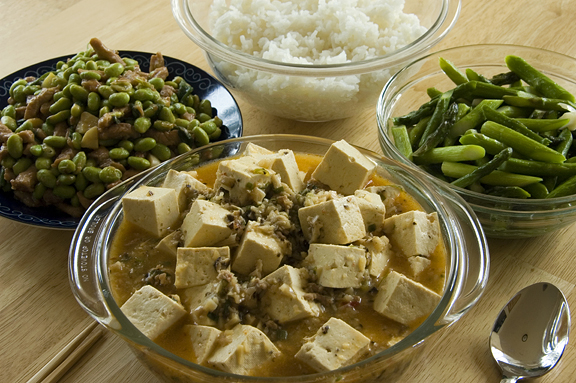 I love tofu. My family makes AMAZING stuff with tofu. People have no idea how versatile it is. I mean, sure, you have your tofu dogs and tofutti, but I'm talking about dried, fried, marinated, fresh, skin, soup, sheets.