This evening, we reviewed Chez Thuy after work. It is a Vietnamese restaurant. Interestingly, most of the Asian places I've eaten at don't put much investment in "service". In fact, the places that serve the best Chinese food are notoriously rude and disinterested in the customers. But the Chinese clientele couldn't care less – they don't go to a Chinese restaurant for service, they go for a good bargain on awesome food. They are as equally rude and inconsiderate to their servers and other guests as the servers and other guests are to them (mostly in the serious Asian burbs of SF or LA). Go figure.

chez thuy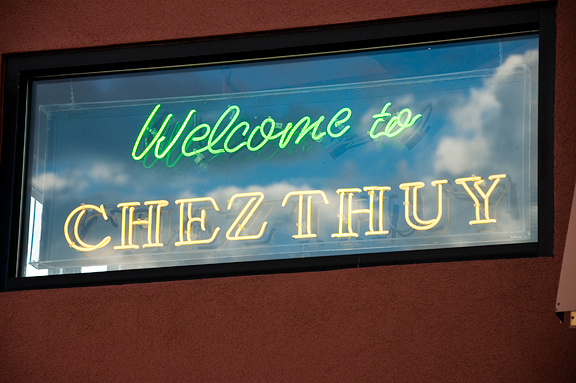 Having moved here from Los Angeles, we had yet to find an Asian restaurant in Boulder to inspire much enthusiasm. Chez Thuy is an unassuming restaurant with a beautiful website and tagged as a favorite of the locals. I found their food to be solid and good. The menu is expansive and you really have to go several times to get a fair overview. The service was hit or miss. Our server was very gracious, yet the female server who filled water and brought a few dishes was a complete grouch. The interior is better than most Asian joints and it is CLEAN, although it still screams Tacky Asian Restaurant.
the interior is better than most asian restaurants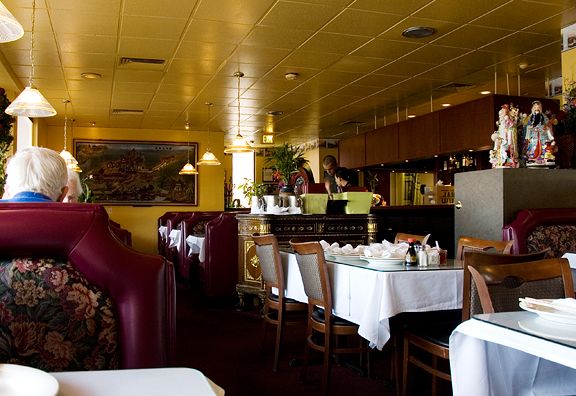 I can't resist anything with lychee, so I ordered the lychee fruit frappe ($2.50). This is really a lychee fruit slushee with no dairy. It was not too sweet and had a nice fresh taste to it. I wondered that they couldn't serve this in a normal glass instead of the typical Asian mall to-go plastic cup and ginormous straw.
lychee fruite frappe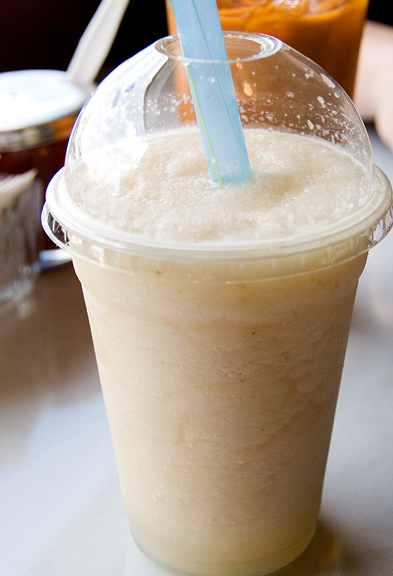 Jeremy ordered a Thai iced tea ($3.50). He said it wasn't too sweet (an all too common problem) and found it quite satisfying. I prefer they serve the tea and cream stratified.
thai iced tea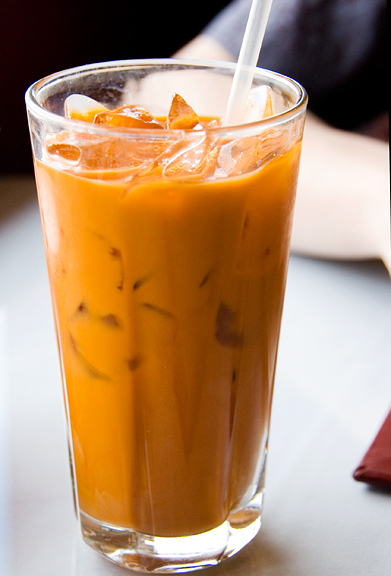 The soft shell crab appetizer ($14) is a house speciality. It comes as two soft shell crabs, battered and deep fried, served on a bed of rice vermicelli. A basket of fresh lettuce, mint, cucumber slices, bean sprouts, and cilantro accompanies the plate. The tangy, sweet dipping sauce is served on the side. We wrapped pieces of crab, noodles, and other greens in the lettuce and dipped it in the sauce for a delightful combination of crispy, minty, sweet, salty, fresh. You can't eat the parts, you really must put it together for the best effect.
soft shell crab (cua lot)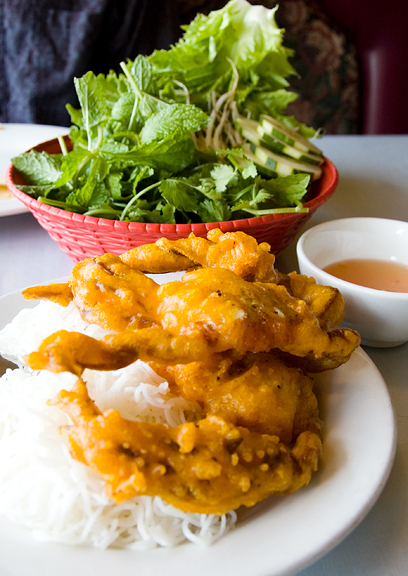 Our second appetizer, the escargot with basil and garlic ($7.95), arrived as we polished off the crab (I could have had that crab twice). The smell of the garlic and basil was heady. The dish was full of plump escargots, mushrooms, tomatoes, and liberally seasoned with garlic, onions, and basil. The vegetables were lightly sautéed and the sauce was just a little spicy. I loved everything about the dish except for the main ingredient, the escargots. I have had them before in several forms, but I found the flavor a tad off (the texture was fine).
escargot with basil and garlic (oc xao hanh que)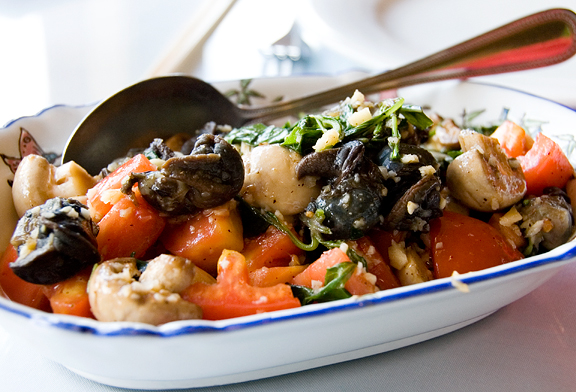 Our first entrée was the crispy duck ($14.95). Four large pieces of duck leg were served atop a bed of lightly sautéed vegetables in a lovely garlic-wine sauce. I found the duck to be excellent – second only to my absolute favorite, Peking duck. The crispy skin gave way to tender and juicy duck meat. We both liked the way their vegetables are served fresh and crispy. There were nice spices in the sauce to accent the wine although I thought there was a little too much sugar. Steamed rice also arrived with the duck, although we didn't touch it because we were filling up so quickly.
crispy duck (vit quay don)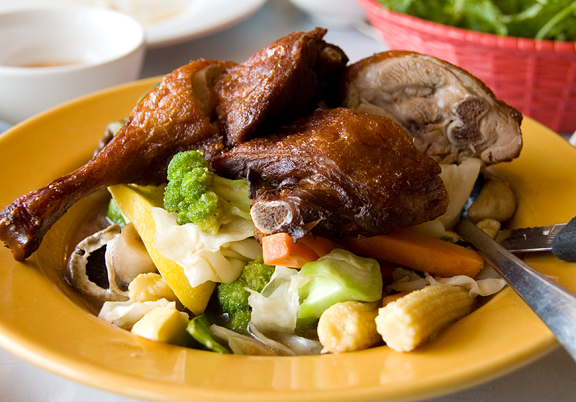 The next entrée was the pan-seared egg noodles with beef ($11.50). Again, the vegetables were fresh, crispy, and lightly sautéed. I really love thin noodles fried to crunchy goodness, and these were no exception. The beef was fine although the sauce was a little on the sweet side for me. We passed on dessert as I am not a fan of most asian desserts. We were also stuffed.
pan-seared egg noodles with beef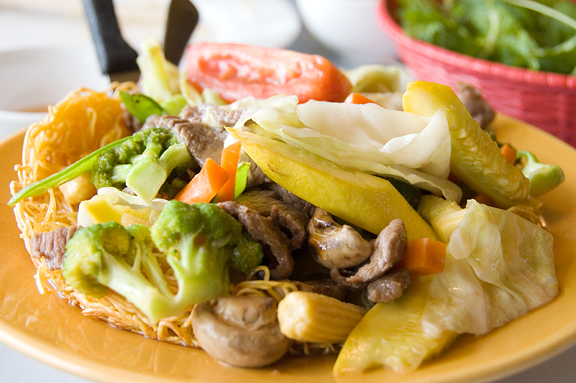 My only gripe was the overly sweet sauces and the fact that I thought the noodles were overpriced. Otherwise, Chez Thuy serves up some reliable and delicious food.
Chez Thuy
2655 28th St.
Boulder, CO 80301
303.442.1700
August 30, 2006
Vietnamese, Asian
$58 including tax (not including tip) for 2 diners
Rating: 86/100 (B)