Everyone knows that I hate coffee, but Jeremy loves it. I don't hate coffee itself, just the culture that has grown around it. I actually like it in baking or desserts, and all of the prep is fun. Anyway, I ordered this for his office today:

baby espresso machine: i dub thee Happy Jr.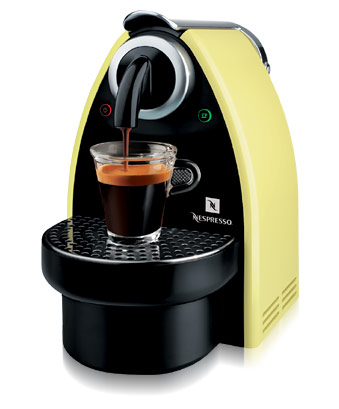 Except his isn't yellow, it's orange (called passion/orange – whatever that means). The tectonics group had one at my old workplace and even though I never wanted to drink any, I was always volunteering to make it for someone because it's so easy – it's so FUN! This is the baby version of what the group had. I think it's perfect for Jeremy. I also think when he walks into his office after trudging through the cold his world will light up when he sees: 1) Happy Jr. and 2) his G5 – because what else is more beautiful and functional at the same time?!
But it didn't end there. I also got him an Aerolatte milk frother. E gave us one as a gift and we love it (again, I use it to froth milk, but lactose intolerance means I can only play and not consume). Then after work I took Jeremy to the flats to pick up some other items. He's not just going to have an espresso machine, I'm setting him up with a small Refreshment Center. We picked up a small thermo-electric refrigerator, raw sugar, black dish towel (because espresso stains the hell out of white), and…

a set of 4 demitasse cups and saucers: caffeine fuels science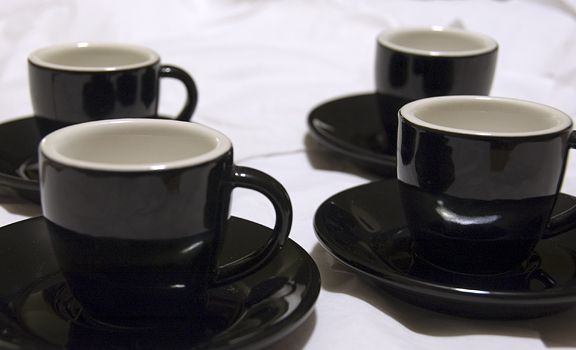 This time, he didn't fight me on this. I think he's really going to enjoy having this available in his office – their department doesn't have squat! No kitchen, no coffee, barely a bathroom… This weekend we'll rearrange the furniture, clean up the space, hang some pictures (he can finally have a place to hang the damn 60-inch Milky Way!), take the extra microwave to his office, and turn it into a happy place. I'm thrilled he has accepted Happy Jr. with such ease.