When we heard this storm referred to as the Blizzard of '06 on the radio, Jeremy and I looked at each other and laughed. We've heard a lot about the blizzard in March '03 from several neighbors and friends. I've seen dozens of pictures of said friends shoveling several feet of snow off their decks and drives. We just didn't think this would amount to much.

kaweah steps out to play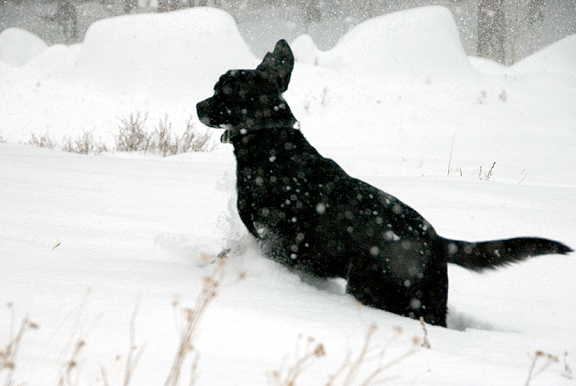 As it so happens… We had to go to the Ned grocery store to pick a few things up. Before we could do that, we had to shovel out part of the driveway so the car could get out of the garage. The snow hasn't let up since this morning – even now as I type! Anyway, it was snowing, the roads were slippery from the greasy squeezing about of smooshed snow. At the store, people were cleaning out the shelves and we heard several cars had ended up in the creek. We ran into Marcus and he said Eldo closed the back of the mountain and they were closing the front soon because of avalanche danger. Then he grinned and said, "The powder was sweet this morning." But in a more serious expression, he suggested we stock up for a couple of days because they might close the canyon. That's bad news for Jeremy, who is supposed to go down to campus tomorrow to grade final presentations for one of his classes.
jeremy fights a losing battle
In just 15 minutes at the store, the car was covered in snow and we drove cautiously back home as trucks and cars alike were slipping and sliding around town. Once into our common drive, the Subaru began to plow into snow well above the bumper, and go nowhere. We got out and picked up our shovels and resumed excavating the drive. Eventually, Jeremy could drive the car back to the garage and Marcus got home and came out to shovel his drive too. Our common drive meets up at his house, so all three of us dug it out while snow continued to fall at about 2-3 inches an hour. Oly came out to sit with us and get free lovin' and whimper like a true Labrador when we were shoveling and not petting. By the time we stopped for the afternoon it was 4 pm and we had about 20 inches since morning. It honestly looked like the start of a harmless day at 8 am.
piling up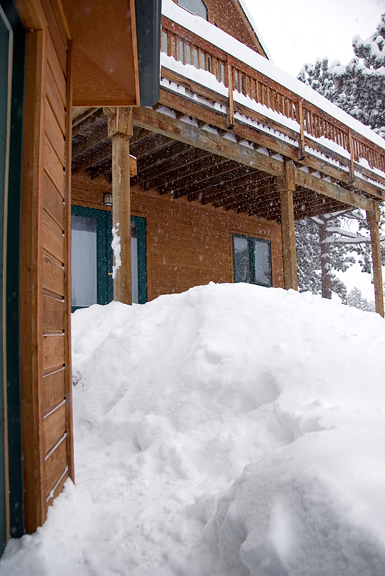 Jeremy just learned that the buses aren't running AT ALL today or tomorrow. But our fridge and pantry are fairly well-stocked because I hoard food out of habit. We could easily go for a month – except I like my fresh veggies and fruities. After all of that shoveling, we decided to fix up some juicy bacon, swiss, and mushroom burgers tonight. And I roasted Brussels sprouts, which makes me pretty happy in general.
is there anything more amazing than bacon?