Yesterday was such a teaser. Today the temps were down (a little) and the winds were up and snow is in the forecast. Not that I'm complaining, because I am a ski whore… just that the muddy melting of spring felt nice. Trust me – I am definitely torn up about leaving during the month of March because March is when you get those amazing springtime dumps. Then again, I'd be off my rocker to turn down a chance to see amazing rock formations in The Middle of Bloody Australia, cook and dine with Kell and Chef Jerad in Sydney, and to tramp, paddle, and play in New Zealand. There are far worse choices to make in life (elections come to mind), so I'll shut up now.
The US postal service gets a big fat Effingham F. My dad sent me a priority package last Wednesday which only just arrived today – 9 days later. We go through this with the post office every damn year. My mom thinks to make this special vegetable dish: 10 ingredient lucky vegetables, which you eat for good luck at the start of the Chinese New Year. And every year it arrives too late and the food poisoning potential is very high, but my superstitious Chinese upbringing makes me nervous for fear that if I don't eat it, I'm screwed. The dish translates into "as you wish". I tasted some and it was slightly sour. But it's made with some pickled vegetables – so I'm not sure if it's supposed to be that way or not. My mom would never overnight anything. She stresses about the vegetables calling me every day to see if it has arrived. And so, it stresses me out. Then when it arrives, I'm stressed some more. I'm just going to make it myself from now on since I have achieved Chinese Cooking Competency. She called this afternoon and said to just stir-fry it on high heat for several minutes.
ru yi tsai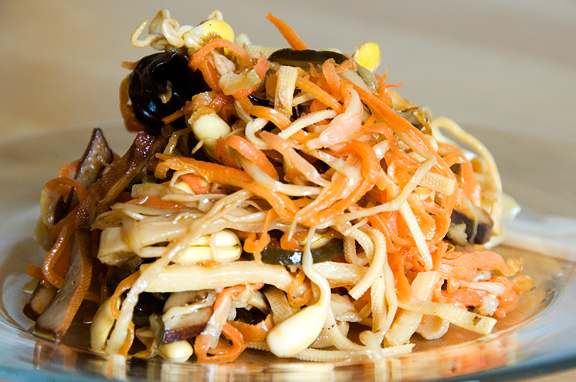 Jeremy got home this evening after his whirlwind duties in the name of science. He's highly suspicious of suspect food safety. He muttered words like, "botulism" and "e coli". I turned to him from the pan of re-heated vegetables.
me: i tasted some and i'm not dead or feeling bad yet
jeremy: i don't think this is a good idea
me: well, it doesn't have botulism, right?
jeremy: no, you'd be dead instantly
me: and reheating should kill something…
jeremy: the way the food industry deals with bacteria and… [long discussion about pressure and temperature]
On a safer food note, I got a nutty idea in my head and tried a suped up version of smores. These are individual servings of a graham cracker crust with leftover boca negra and roasted marshmallows.

top view of fancy smores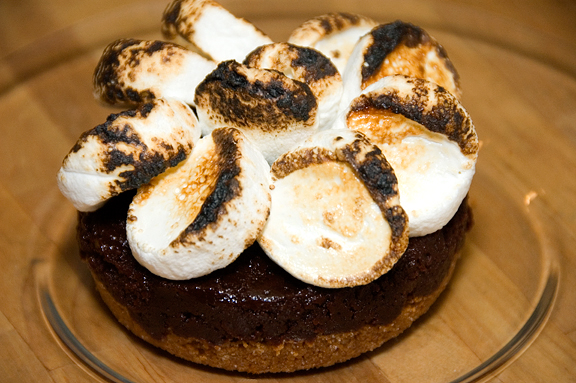 maybe next, i'll try a soft cookie base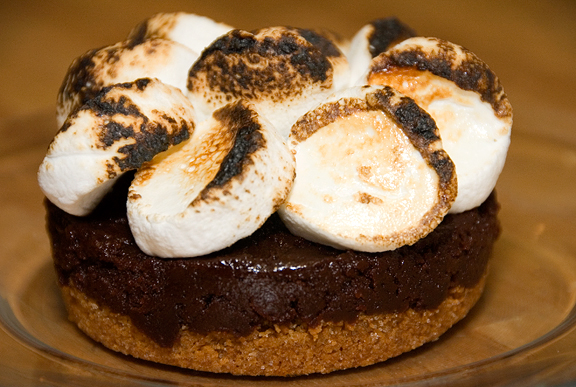 I got the hang of the propane torch after the first one. Sort of like getting miles on your skis, you need time with the torch. By the end of the second torching, I was no longer waving it around about to burn Jeremy's eyebrows to cinders. I like the torch.