Last night I had my last class and finished my pastry course! I felt both relief and sadness. Sadness, because I love the class and my instructor and most of the people in the class. Actually, we were missing several people (again!) last night. Everyone who showed up was pretty dedicated from the get go, and it was nice to bake with all of them one last time. I was relieved because I have been acquiring so much information that there is a backlog of stuff I need to process and ingest on my own before I feel I've mastered it and can move on. While we sat around eating our light dinner of soup and salad and bread, three of us were analyzing the soup, trying to pinpoint all of the flavors and the sources of those flavors. I like foodies. There aren't enough of them in my life. Elena lives in the next state, Kell is in the next hemisphere, Nicole is moving to Seattle, Fiona moved to Australia… and everyone else is scattered like gunshot (i.e. not here). *sigh*

shan demos string work with royal icing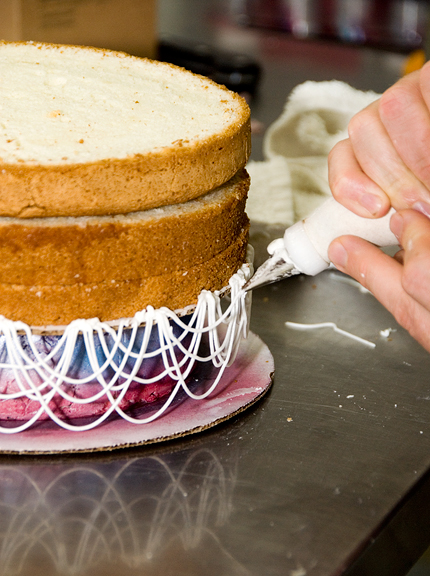 We finished decorating our cakes. Fondant and royal icing are so nasty to work with and even more disgusting to taste – blegh! Allison and I kept to a simple plan and it turned out… okay.
our cake: silver and matte white with a lot of screw ups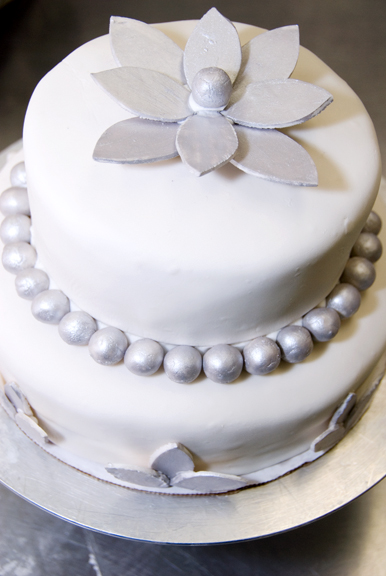 I'm sure the innards were delicious because we made a dense chocolate cake soaked in almond syrup, layered with chocolate almond buttercream! But I'll never know because I sent the whole thing home with Allison. I couldn't bear the thought of cutting the cake. I am convinced though, that collaborative artistic ideas never come out better than single artistic ideas (if someone actually has a plan). At least with pastry people, they each have a vision, and it's best to let the vision drive and the passive partner takes orders. If it's not my vision, I go into support mode, which is fine, but completely uninspired. I think I'm too careful to offend (believe it or not!) my partner and just want them to be happy with it. Designing web pages goes similarly… Just give me the damn keys and buckle your seatbelt.
final: casino cake, buxom bodice cake, silver and white, ladies hat cake