With the trails on the upper mountain closed due to snow (sheesh), we could have attempted another steep trail this morning, except I was tired of the frenetic pace of waking early to hike hard and fast only to return to the timeshare to entertain my parents for the rest of the day. This morning I took my parents to Brandywine Falls, a nearby short hike to what turned out to be the best waterfall I've seen in the area.

brandywine falls – a spectacular display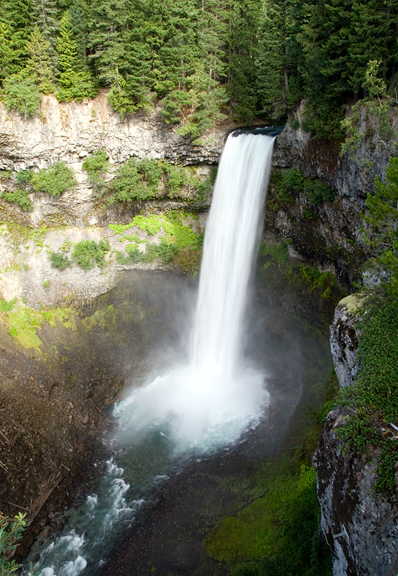 It was thankfully cooler, but muggy and extremely buggy. The mosquitoes are quite large here and although they weren't attacking and buzzing around kamikaze style (like they always seem to do in the backcountry), they would land on you and take a nip if you weren't vigilant. A high pressure system has been sitting atop Whistler for the past couple of days and that is something to really enjoy. Just that when it's nice and sunny, it gets to be warm and sometimes the air is that awful still, thick, suffocating air. My parents liked the falls and then we took them for a short hike to lava lake, which was neither lava nor really a lake. Still, I think my parents aren't paying that much attention to where we hike or what we see, rather they like to just get out, be active, and talk with us.
mom and dad getting into the whole woods and scenery thing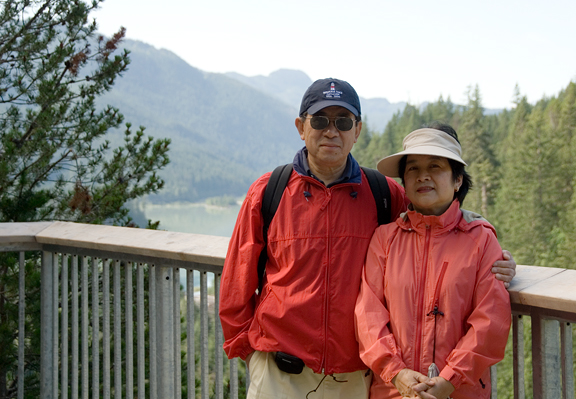 We returned to the time share so I could make lunch for everyone and then Jeremy and I left for the shelter.
We went to volunteer walk a dog at the Whistler Animal Shelter. As we pulled up to the building and parked along the side, we caught a glimpse of one of the dogs in the outside run. It had a cute face. Whistler's animal shelter is a no-kill shelter, in other words, they do not euthanize animals if they can't find a home. The new building is really nice and they have indoor and outdoor runs for the dogs, a cattery for people to go and give kitties some love and affection, and this awesome volunteer dog-walk program. After handing over my driver's license, we were presented with Bodie. He's a white husky mix and a handsome boy at that. Very sweet and mellow, yet extremely excited about his walk.

bodie and jeremy on one of many trails in whistler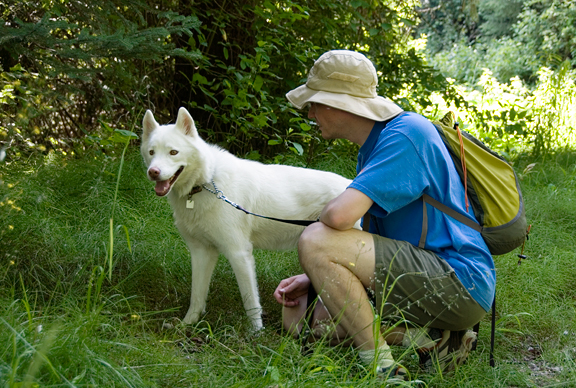 Bodie was good at stay, sit, come, heel, wait. He looked up at me (or Jeremy – whoever was walking Bodie at the time) on occasion to make eye contact. I can't believe he hasn't been adopted yet. Such a sweet and obedient dog. Jeremy led the way along the creek then up to a network of trails near the village. When he went to check a mapboard, Bodie and I waited in the shade. I knelt down to pet him and he looked at me and began to cry. He definitely wanted to keep walking – what's with the standing around crap?! So we went on some multiuse trails and Bodie wasn't bothered by the mountain bikers at all. He was so happy to just keep walking and walking and sniffing and walking.
bodie loves his walks
After a few hours, we had to get back, so we brought Bodie back to the shelter. The woman behind the counter came around to get him while thanking us and asked if he was good (absolutely). Bodie immediately turned around and bounded toward the door as if to say, "Okay! another walkie!" I wanted to cry.
For dinner, we took a chance on Zen Whistler, a sushi bar. I was understandably gun shy about dining out in Whistler, but this one came through for our last evening. As expected, it was ass expensive, but the quality was quite good and our server was incredibly well-informed and polite.

zen whistler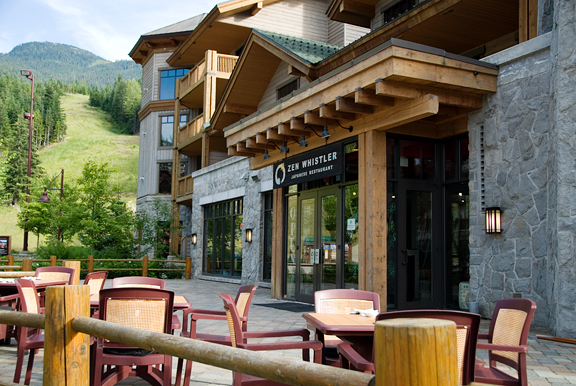 the east meets west roll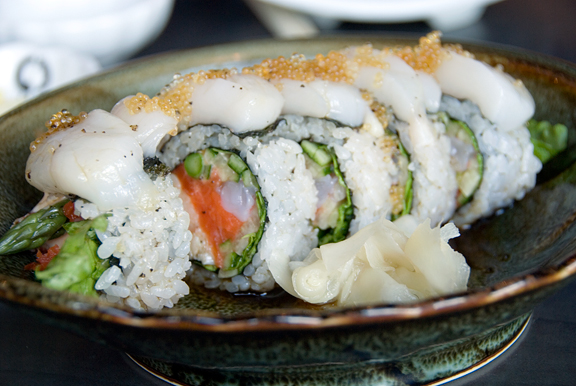 chef's assortment of sashimi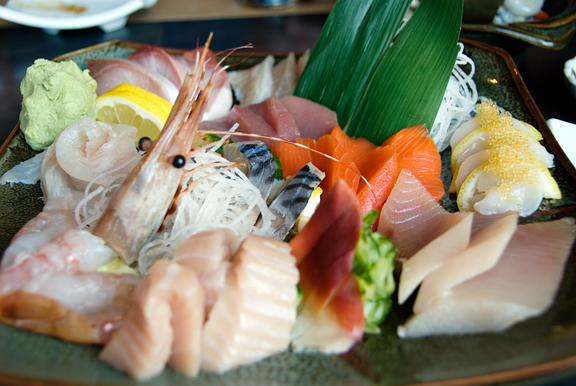 Definitely looking forward to heading back to Seattle tomorrow. I am not sure I'll ever come back to Whistler. My memory is long and there were just too many things that pissed me off here. Whistler is fine, but personally, I can get just as good (if not better) with more solitude and peace right at home – and that's why I live where I live.