What to do with fresh figs? I bought about two dozen of these babies the other day because I really do like fresh figs. Most of the recipes call for cooking them, and I think that's a bit of a shame because I really like them raw.

figs are delicate when ripe
Well the California board of fig growers had one suggestion for raw figs – prosciutto. Honestly, I like prosciutto with just about anything and also with nothing. Sounded like a nice and easy starter for dinner tonight which was a repeat of eggplant parmigiana using that second eggplant and yes – covering with foil for the first 35 minutes makes the cheese melt much nicer – so do that and then uncover for the last 10 minutes to crisp it up.
perfect with prosciutto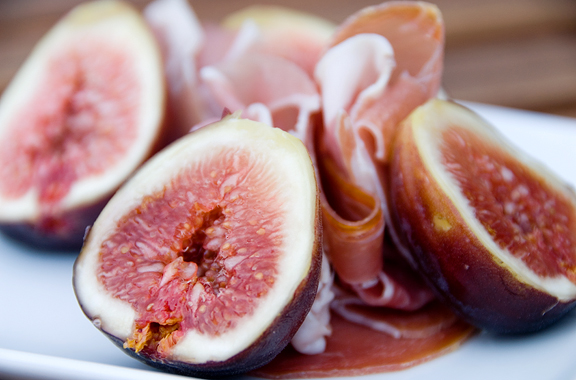 It's a hands down winning combination in my book. Too bad fresh figs have such a small window of availability. And you don't need all that much prosciutto to go with a fig quarter (we didn't eat all of that prosciutto). It paired beautifully with a fruity sauvignon blanc too. I could have eaten just that for dinner.