Recipe: chocolate-dipped strawberry cake
Figs are not only delicious on their own or with prosciutto, but they are also fantastic with balsamic vinegar! Case in point, I put some in our salad tonight:

salad of goodness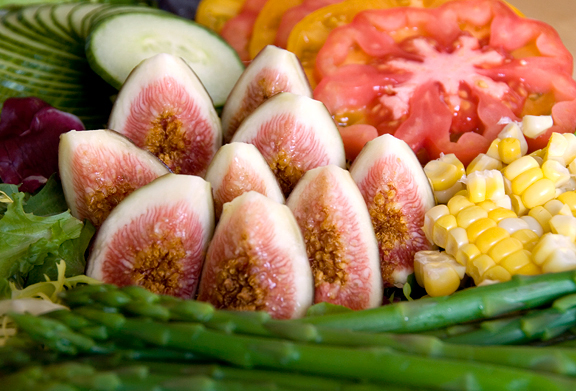 I love fresh figs.
Found a recipe that uses a lot of egg yolks (8!) besides tiramisu and crème brûlée. It's a three-truffle recipe in Chocolatier – a hazelnut espresso chocolate torte of sorts. It looks fanfreakingtabulous as well as like a lot of work. Chocolate genoise, chocolate ganache, hazelnut meringue, espresso pastry cream… So I guess whenever I make buttercream or chiffon cake, I'll make that simple little thing as well.
Tonight, I played with some leftovers I had from last weekend's strawberry everything cake. I hate throwing food out, hate to waste food. That means Jeremy gets to enjoy random little desserts and experimental assemblages. Tiny 6-inch or 4-inch cake pans come in very handy whenever there is extra cake batter. I had a 6-inch round in the freezer of the strawberry chiffon cake, some extra strawberry buttercream and strawberry jam in the fridge.
I cut the round into horizontal thirds. Then I layered cake, smeared some jam, then a layer of buttercream. Repeat then top with third layer of cake… No soaking syrup this time (too lazy). I trimmed the round to a square so I could get some practice cutting right angles. Let's just say I still need practice. I didn't have enough strawberry buttercream to frost the whole thing, but enough to crumb coat. It went into the freezer for a few hours while I figured out what to do. I eventually decided to glaze it.

dark chocolate glaze goes on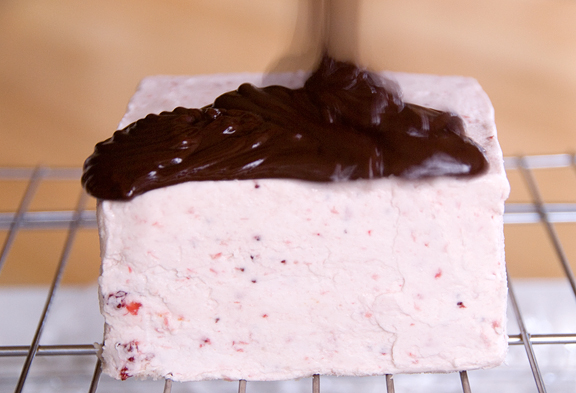 The glaze cooled too quickly because our windows were open and the cake was still frozen (easier to work with when cutting). I wound up frosting the thing with glaze which doesn't have the same effect as glazing with glaze. I guess that's why it's called a glaze and not frosting…
square cakes leave more room for screw ups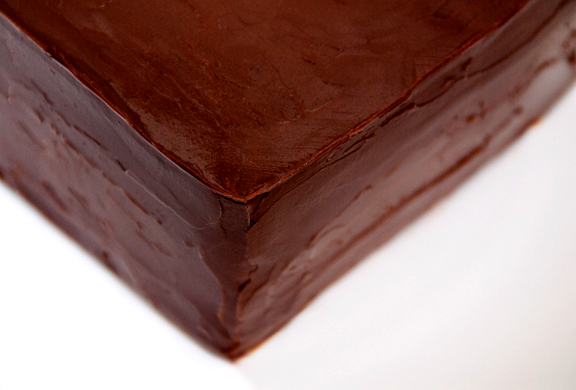 I wasn't sure if the combination would be good because I tend to like my fruity confections unadulterated with chocolate. I forgot how nice a strawberry cradled in a delicate shell of chocolate can be. This chocolate pairs well with the strawberry although I wouldn't glaze any thicker – in fact, I might be tempted to glaze thinner next time.
chocolate-dipped strawberry (cake)
Chocolate-dipped Strawberry Cake
[print recipe]
1 strawberry chiffon cake (9-inch or whatever you want)
1-3 cups strawberry swiss meringue buttercream (depending on size of cake)
strawberry jam
chocolate glaze
strawberry chiffon cake
makes 2 9×3-inch rounds
this recipe originally intended for baking at 5300 ft.
14.5 oz. cake flour
8.75 oz. confectioner's sugar
6.75 oz. whole milk
6 oz. canola oil
3.25 oz. eggs
0.5 oz. baking powder
13 oz. egg whites
9.5 oz. granulated sugar
1 tsp vanilla extract
3-4 oz. strawberry purée
Oven 375°F. Prep pan by butter bottom and sides. Place parchment in pan and butter the parchment. Sift dry ingredients (except granulated sugar) into a large bowl. Mix all ingredients (except the 13 ounces of egg whites and granulated sugar) in the large bowl until combined. Whip whites and granulated sugar to medium peaks. Fold into batter gently. Bake until set, about 20-25 minutes. Remove from oven and remove from pan. Let cool on a rack. Wrap the cakes in plastic and freeze (one will be for later use of your choice). After two hours, remove one cake from freezer and cut into 3 layers with a sharp serrated knife.
strawberry swiss meringue buttercream
8 oz. egg whites
16 oz. sugar
1 lb. butter, room temperature
1/2 cup strawberry purée
Combine egg whites and sugar in a Kitchenaid mixing bowl. Whisk constantly over a bain marie until 140°F is reached. Place on mixer with whisk and whip until stiff. Turn down whip speed to 3rd and whip until cool to the touch (this takes a while – should be cooler than your hand). Change to a paddle and gradually add soft butter by tablespoon pieces. Mix to emulsify. Once desired consistency has been reached, add purée.
chocolate glaze
halve this recipe if you are making the 6-inch cake
6 oz. heavy cream
8 oz. semisweet chocolate, chopped
4 oz. unsalted butter, cut into 4 pieces, softened
In a small saucepan over medium heat, bring heavy cream to boil. Remove from heat and add the chocolate, gently stirring until incorporated. Blend in the butter while still gently stirring (don't incorporate air). Temperature should be around 110-115°F.
assembly
Set first cake layer down, then spread a thin layer of jam and then spread a layer of buttercream. Repeat again and then top with the last layer of cake. Trim to desired shape (square or leave round). Crumb coat the cake with buttercream. Refrigerate for an hour. Remove cake from refrigerator and set on a rack over a pan or wax paper (to catch the drips). Pour warm glaze over the cake from the center and radiate outward until entire cake is glazed.