[Go to the updated posole post.]
I'm not sure where I got my recipe for posole, but I know who introduced me to it. Jeremy is a native son of New Mexico (which is one of the 50 states and not a separate country as some US citizens might think). Despite being a white boy, he is particular about New Mexican food and scoffs at what Coloradoans try to pass off as Mexican food. I love Colorado, but damn it if these people don't know how to cook…
Okay, so with the cooling temperatures and changing aspens comes my appetite for hot soups and stews – things I generally avoid during our warm months. Posole is incredibly simple and yet it produces such a satisfying and hearty meal. It is named for the star ingredient: hominy or posole. I use whole dried red New Mexican chile pods for this stew. I've substituted with other dried chiles before and I didn't like them so much. So if you can get your hands on some New Mexican reds or bribe a friend in the state to send you some, it's worth the trouble. I also like to add roasted Hatch green chiles (of New Mexico – see a pattern here?) at the end of the cooking.

crock pot or stove top, your choice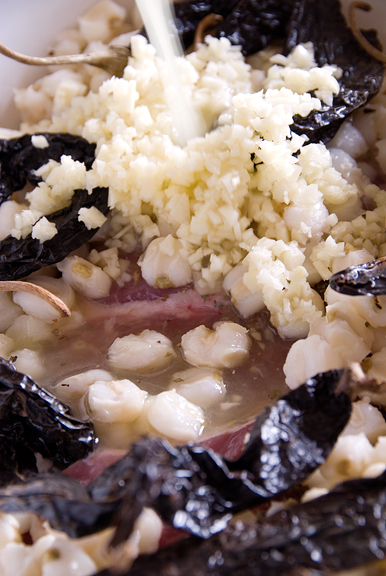 The whole recipe is fairly straightforward: dump most of the ingredients in a pot and cook for a long time. I add a few more annoying steps just because I prefer to defat the stew and skin my chiles. My extra steps mean that the stew takes at least a day to make. If you plan ahead, it's really quite simple.
defat the broth after chilling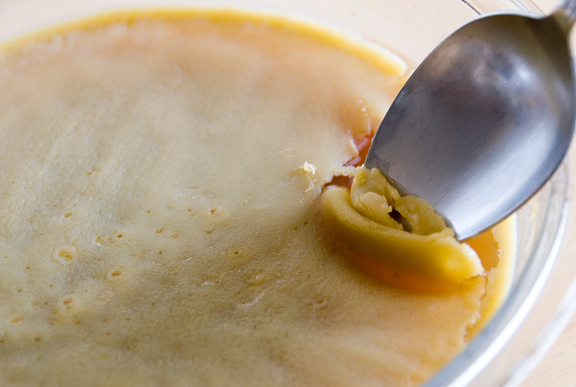 shredded pork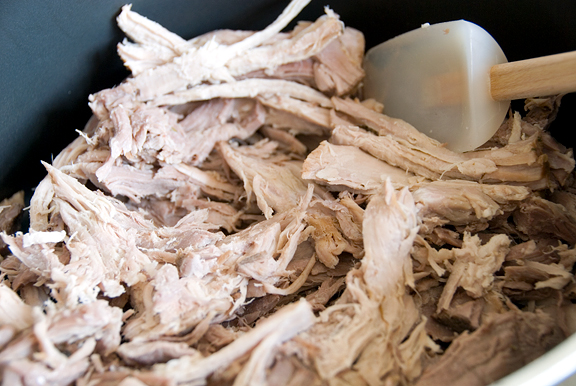 posole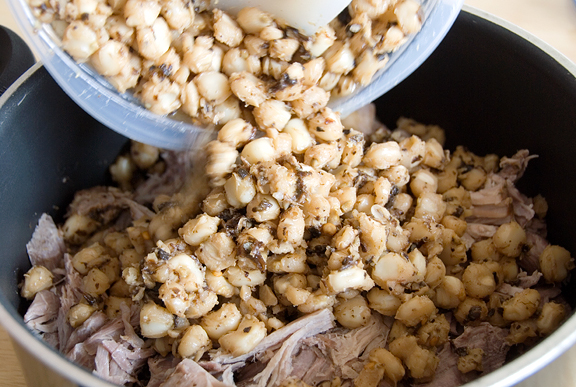 add the defatted broth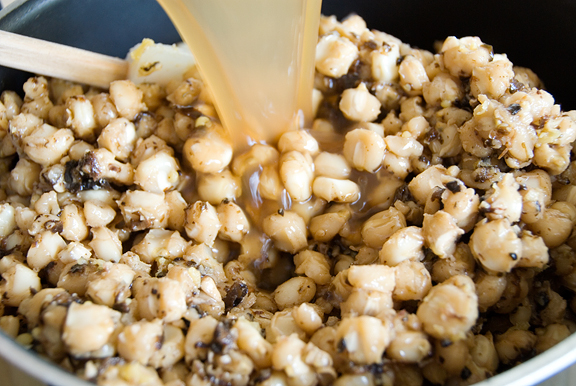 After cooking the posole, I remove the red chiles and split them open with a sharp knife. I scrape all of the chile meat from the skins and chop it up very fine. Next, I remove the pork from the broth and pull off all of the meat, throwing away the bone and any fat or connective tissue. I shred the pork and set it in a tupperware in the fridge. Finally, I strain the broth and store it in a glass bowl for refrigeration. I store the remaining posole, garlic, and chiles in the same tupperware as the pork. When the broth is cooled (this I usually do overnight) there should be a soft layer of fat on top that you can easily remove and discard. After reuniting all of the stew ingredients in a large pot, you can heat it up and serve. I like to garnish with diced tomatoes and avocado. Jeremy likes to have a bowl of posole with a warm flour tortilla or two.
a satisfying bowl of posole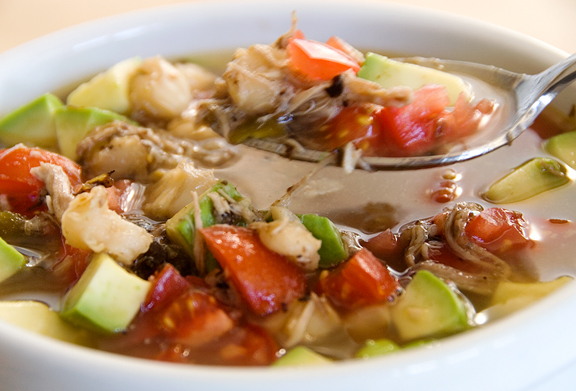 Posole
2 cans hominy, drained
1 1/2 lb. lean pork shoulder
1 lime, juiced
4 dry red New Mexican chile pods, tops removed and seeded
3 cloves garlic, chopped
1/4 tsp oregano
3 tsps salt
4-6 roasted Hatch chiles, seeded, skinned, and diced
tomatoes, diced (optional)
avocado, diced (optional)
First method: Put pork, hominy, lime juice, and red chiles in a pot. Fill with enough water until all ingredients are covered. Bring to boil then cover. Simmer for 3 hours (add water as needed). Stir occasionally. Add garlic, oregano, salt, and green chiles. Simmer for 30 minutes.
Second method: Dump everything except the salt and green chiles in a crock pot. Set on high for 7 hours. Add salt and green chiles and let cook for another hour.
Both methods: Remove pork and shred it. Set aside. Remove red chile pods and slice open, scraping the meat from the skins. Discard skins. Chop the red chile meat into a paste and add to the pork. Strain the broth and add the solids to the pork and store in refrigerator. Store broth in glass bowl and refrigerate until fat solidifies. Remove fat, discard. Return the broth to the solid ingredients and reheat. Serve with diced tomatoes, avocado, and warm flour tortillas.