Recipe: choco-crisp cookies
One night during my pastry skills course, I was in a discussion with two other classmates over cookie recipes and how to achieve the proper texture at elevation. I've learned from Shan to try removing the leavening agent for my elevation and it seems to work well with most of the cakes I bake. He was passing by during our conversation and couldn't help but interject, "freeze the dough". I made a mental note to give it a try.
I used to bake a lot of cookies. It was easy in graduate school because I could bring in a double batch of cookies, set them in the office, and send the email out to the department. They'd be gone in a couple of hours. Graduate students are always hungry. I made cookies at least twice a week for stress relief and I fine tuned my recipes to the perfect texture – at sea level. When we moved to Colorado, I was disappointed with how many of my recipes had to be readjusted. I didn't feel like wasting my time because I didn't know where to start tweaking.
Since we're hitting the road tomorrow, I thought Jeremy might like to nosh on some good old choco-crisp cookies. And I finally felt I could handle messing around with the recipe. I originally got this recipe from my ex-boyfriend's mother. But… I didn't like how buttery it was. It spread too thin and was on the overdone side, in my opinion. I modified it after we broke up, with a better cookie dough that had more body. *snicker* The key ingredient that most people are unable to pinpoint is cornflake crumbs. I find great satisfaction in smashing the cornflakes with a rolling pin.

add to the dough right after the chocolate chips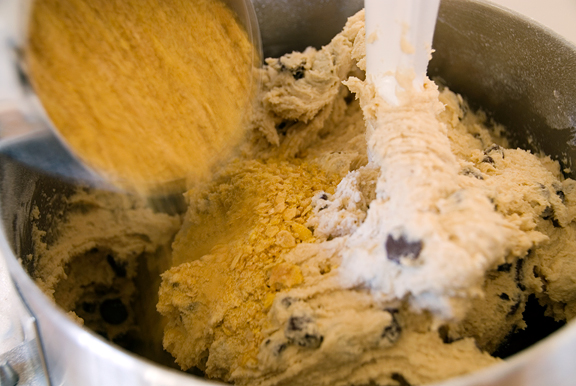 This time, I omitted the baking soda and tried baking a sheet of room temperature dough and a sheet of frozen dough (well, i popped the sheet into the freezer for 20 minutes).
testing… 1, 2, 3, testing…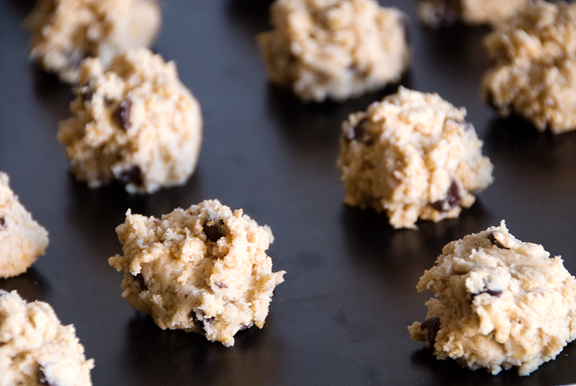 What I found (and independently verified with Jeremy's feedback) was that the frozen dough cookies had a superior texture: crispy outside and soft, chewy inside. The cookie had much better structure too. The regular dough cookies were more uniform, a little hard, and slightly dense. The taste was the same, although I think because I omitted the baking soda, I should have increased the salt a tad.
in search of the perfect cookie texture
Choco-crisp Cookies
[print recipe]
2 cups flour (2 1/4 cups @8500 ft.)
1 tsp baking soda (1/2 tsp @8500 ft.)
1/2 tsp salt (1/4 tsp @8500 ft.)
1/2 cup dark brown sugar (1 cup light brown sugar @8500 ft.)
1 cup white sugar (1/2 cup @8500 ft.)
1 cup butter, softened (3/4 cup @8500 ft.)
2 eggs, large
1 tsp vanilla (2 tsps @8500 ft.)
1 cup corn flake crumbs
1 1/2 cup semi sweet chocolate chips
Oven: 350°F (325°F @8500 ft.). Cream together butter and sugars. Beat in eggs one at a time and then add vanilla and mix well. Add the flour, soda, and salt and mix. Then add the chocolate chips and cornflake crumbs. Drop by rounded spoonfuls onto a baking sheet. Freeze the baking sheet for 20 minutes. Bake 15 minutes at sea level. Bake for 15-20 minutes @8500 ft. (check for the bottoms to turn golden).