Recipe: tender potato bread
The
Daring Bakers
strike again! Our hostess,
Tanna
of
My Kitchen in Half Cups
challenged all 400+ Daring Bakers with Tender Potato Bread this month – a
savory
recipe. Delightful, really. I like to make sweets, love to eat savories!
potato bread requires… potatoes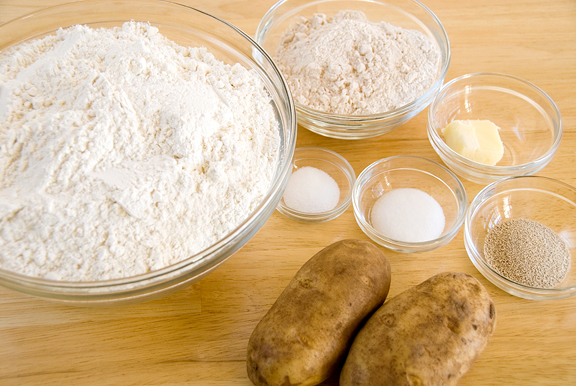 I peeled, chopped, and boiled the potatoes in water with salt until they were tender enough to mash. Tanna suggested beginners start closer to 8 oz of potatoes and experts closer to 16 oz. My potatoes weighed in at 13.5 oz and I'm no expert bread baker. But I dove in head-first. It was a reckless kind of morning. I like my mashed potatoes to be chunky, but that wasn't going to cut it for the bread. After mashing the potatoes, I ran them through my Cuisinart to smooth it up more (good idea).
okay… here's a reason to get a food mill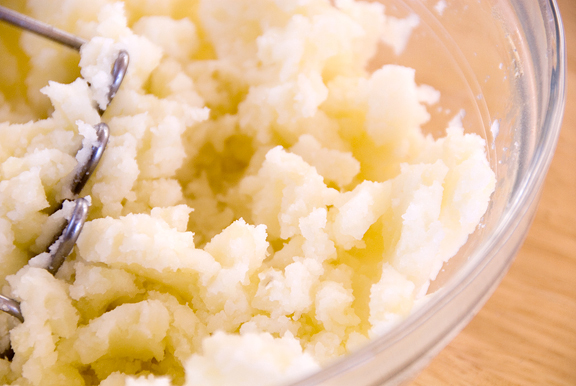 I measured out three cups of the potato water and added it to the mashies. I waited for what seemed like forever before the temperature finally came within the range (70-80F) for me to add active dry yeast. They say a watched pot never boils… well, there may be truth to the inverse too.
measure the temperature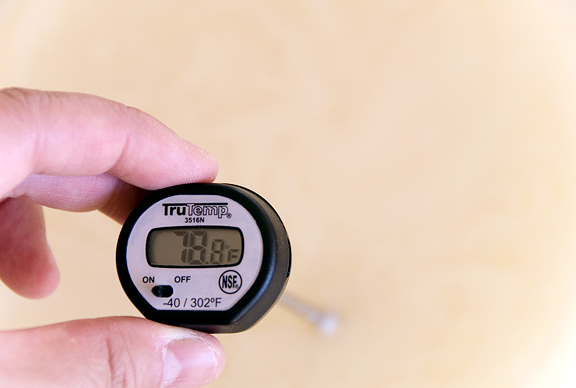 After stirring in the yeast and letting it sit for 5 minutes, I stirred in 2 cups of flour and let it rest for about 7 more minutes. I love the smell of yeast breads.
add salt and butter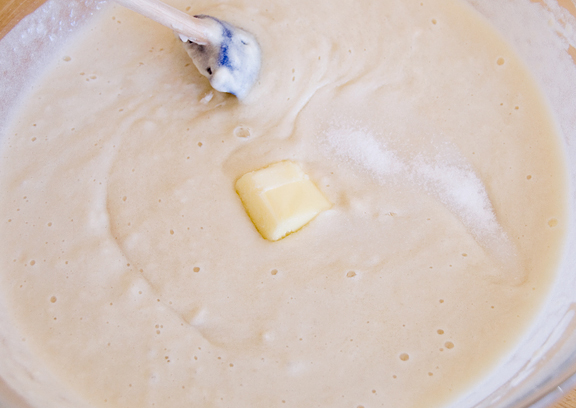 Next I incorporated a cup of whole wheat flour and then 2 more cups of flour. Sounds like a lot of flour right? Hardly. It was frighteningly sticky to me (I've baked real bread twice in my life). I mean, it was like the black hole of stickiness – right there in my kitchen.
and you thought quicksand was bad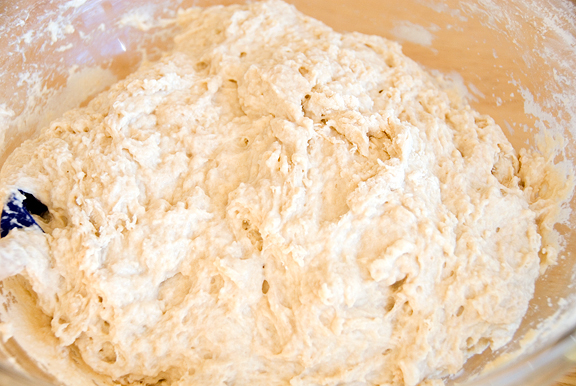 But Tanna warned us about the dough being sticky. I was cautious not to add too much flour to avoid ending up with a hot brick of… brick. I wound up adding another 2 cups of flour during the kneading process. Despite my lack of bread experience, I know how to knead clay. I just treat bread like delicate clay that I plan on eating. I knew it was on the shy side since the dough was still quite sticky. It would feel smooth to the touch and then stick to me like an alien.
we knead to bake… we knead to bake…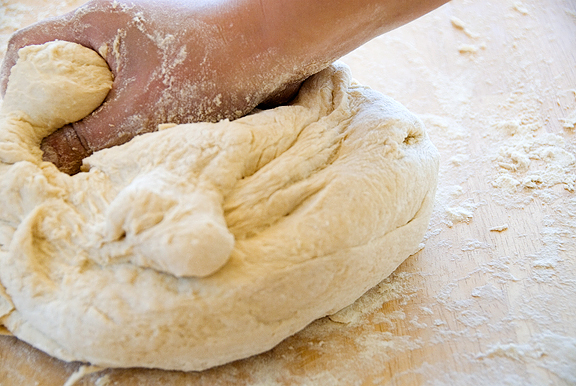 time out: now you sit there and rise and think about what you just said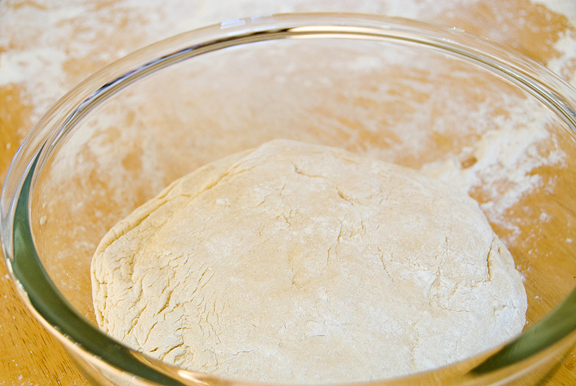 My dough doubled in size within an hour, but that probably has a lot to do with my 8500 ft. elevation. This time I wised up and did the second kneading on a marble board that I could wash off in my sink, because it took me a while to clean up the kitchen table after the first kneading.
still sticky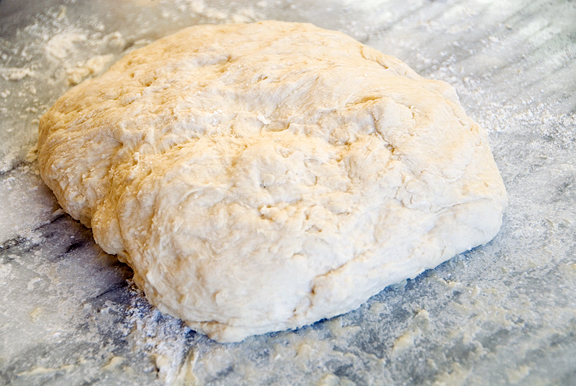 I kneaded in about 1 more cup of flour, so my total on the all-purpose flour was 7 cups out of 8 1/2. But I didn't care at that point, I just wanted to shape the bread and bake it. I decided to make largish rolls and focaccia. Splitting the dough roughly in half, I began with the rolls.
brushing butter after the second rise on the rolls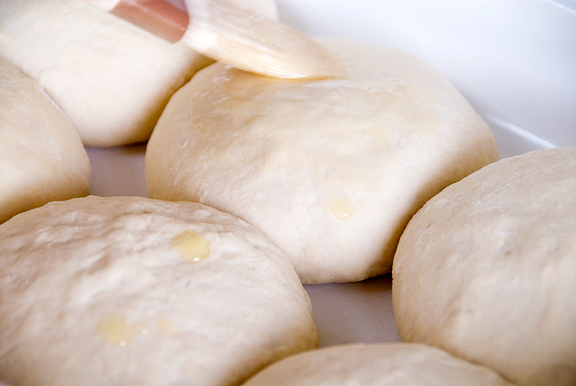 brushing olive oil on the focaccia dough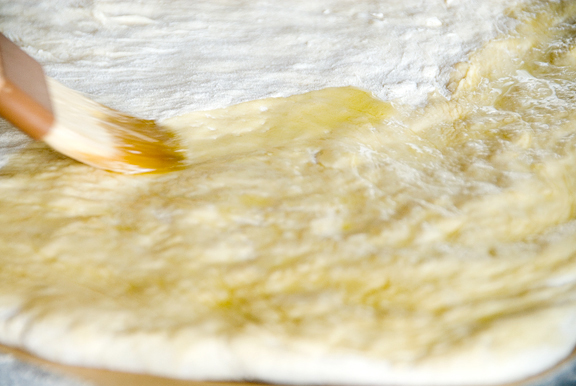 sprinkle sea salt, rosemary, poke your finger into the dough and hear it giggle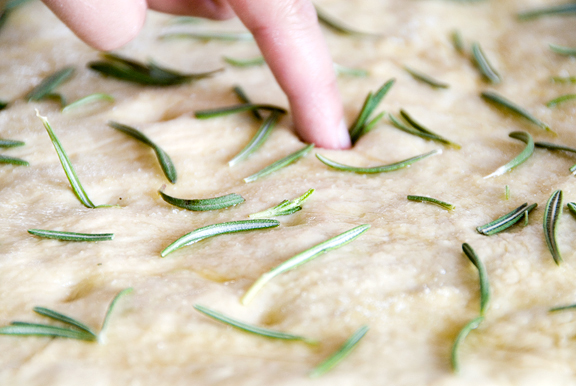 Tanna gave us free reign on the focaccia toppings as long as it was savory. I've always loved kalamata olives and feta. They are a happy combination in my mind and in my mouth. I added some fresh diced tomatoes for color and fruit.
they look like little jewels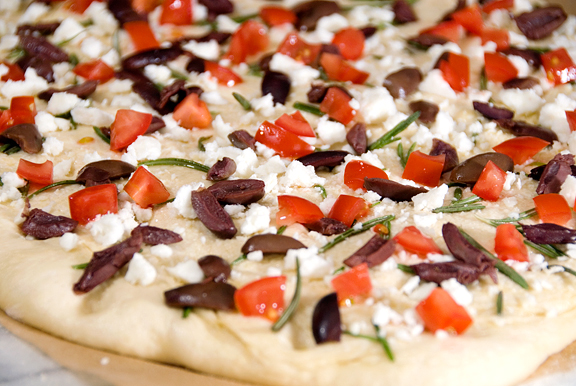 Everything baked up beautifully and the smell of fresh bread lingered in the air long into the evening. Working with this dough, I definitely gained confidence in the bread baking department.
focaccia with rosemary, kalamata olives, feta, and tomatoes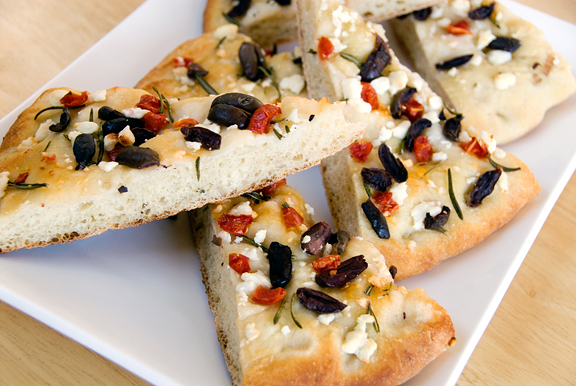 more like buns instead of rolls
I'm really tempted to try folding in pancetta, cheese, sun-dried tomatoes, perhaps some artichokes… Did I ever mention my love affair with the sandwich? Love sandwiches. The moment Tanna announced potato bread, I knew –
I knew
exactly what I wanted to have with my potato bread…
barbecue pork and cole slaw on potato bread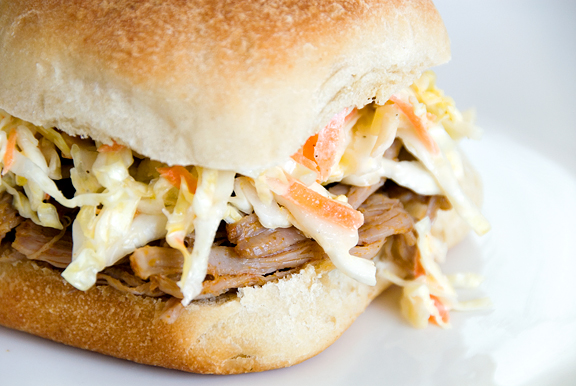 A huge thanks to Tanna for hosting and challenging and helping the Daring Bakers become better Daring Bakers. Be sure to check out everyone else's creations. It's a creative and talented group of people who love to bake!
Tender Potato Bread
[print recipe]
from Home Baking: The Artful Mix of Flour & Tradition Around the World by Jeffrey Alford and Naomi Duguid
makes 1 large tender-crumbed pan loaf AND something more; one 10X15 inch crusty yet tender foccacia, 12 soft dinner rolls, or a small pan loaf
4 medium to large floury (baking) potatoes, peeled and cut into chunks.
[Tanna Note: For the beginner bread baker I suggest no more than 8 ounces of potato; for the more advanced no more than 16 ounces. The variety of potatoes you might want to use would include Idaho, Russet & Yukon gold, there are others.]
4 cups (950 ml) water, reserve cooking water
1 tbsp plus 1 tsp salt
2 tsps active dry yeast
6 ½ cups to 8 ½ cups (1 kg to 1350g) unbleached all-purpose flour
1 tbsp unsalted butter, softened
1 cup (130g) whole wheat flour
making the dough (directions for making by hand):
Put potatoes and 4 cups water in a sauce pan and bring to boil. Add 1 tsp salt and cook, half covered, until the potatoes are very tender. Drain potatoes, SAVE POTATO WATER, and mash potatoes well. Measure out 3 cups (750ml) of reserved potato water. Add extra water if needed to make 3 cups. Place the water and mashed potatoes in the bowl you plan to mix the bread dough in. Let cool to lukewarm (70-80°F/21 – 29°C) – stir well before testing the temperature. If using active dry yeast or fresh yeast, mix & stir yeast into cooled water and mashed potatoes & water and let stand 5 minutes. Then add 2 cups of flour to the yeast mix and allow to rest several minutes. If using instant dry yeast, add yeast to 2 cups all-purpose flour and whisk. Add yeast and flour to the cooled mashed potatoes & water and mix well. Allow to rest/sit 5 minutes. Sprinkle in the remaining 1 tbsp salt and the softened butter; mix well. Add the 1 cup whole wheat flour, stir briefly. Add 2 cups of the unbleached all-purpose flour and stir until all the flour has been incorporated. Turn the dough out onto a generously floured surface and knead for about 10 minutes, incorporating flour as needed to prevent sticking. The dough will be very sticky to begin with, but as it takes up more flour from the kneading surface, it will become easier to handle; use a dough scraper to keep your surface clean. The kneaded dough will still be very soft. Place the dough in a large clean bowl or your rising container of choice, cover with plastic wrap or lid, and let rise about 2 hours or until doubled in volume. Turn the dough out onto a well-floured surface and knead gently several minutes. It will be moist and a little sticky.
forming the bread:
Divide the dough into 2 unequal pieces in a proportion of one-third and two-thirds (one will be twice as large as the other). Place the smaller piece to one side and cover loosely.
To shape the large loaf:
Butter a 9 x 5 x 2.5 inch loaf/bread pan. Flatten the larger piece of dough on the floured surface to an approximate 12 x 8 inch oval, then roll it up from a narrow end to form a loaf. Pinch the seam closed and gently place seam side down in the buttered pan. The dough should come about three-quarters of the way up the sides of the pan. Cover with plastic wrap and let rise for 35 to 45 minutes, until puffy and almost doubled in volume.
To make a small loaf with the remainder:
Butter an 8x4X2 inch bread pan. Shape and proof the loaf the same way as the large loaf.
To make rolls:
Butter a 13 x 9 inch sheet cake pan or a shallow cake pan. Cut the dough into 12 equal pieces. Shape each into a ball under the palm of your floured hand and place on the baking sheet, leaving 1/2 inch between the balls. Cover with plastic wrap and let rise for about 35 minutes, until puffy and almost doubled.
To make focaccia:
Flatten out the dough to a rectangle about 10 x 15 inches with your palms and fingertips. Tear off a piece of parchment paper or wax paper a little longer than the dough and dust it generously with flour. Transfer the focaccia to the paper. Brush the top of the dough generously with olive oil, sprinkle on a little coarse sea salt, as well as some rosemary leaves, if you wish and then finally dimple all over with your fingertips. Cover with plastic and let rise for 20 minutes.
baking the bread:
Note about baking order: bake the flat-bread before you bake the loaf; bake the rolls at the same time as the loaf.
Note about baking temps from Tanna: I believe that 450°F(230°C) is going to prove to be too hot for the either the large or small loaf of bread for the entire 40/50 minutes. I am going to put the loaves in at 450°(230°C) for 10 minutes and then turn the oven down to 375°F (190 °C) for the remaining time.
Note about cooling times: Let all the breads cool on a rack for at least 30 minutes before slicing. Rolls can be served warm or at room temperature.
For loaves and rolls:
Dust risen loaves and rolls with a little all-purpose flour or lightly brush the tops with a little melted butter or olive oil (the butter will give a golden/browned crust). Slash loaves crosswise two or three times with a razor blade or very sharp knife and immediately place on the stone, tiles or baking sheet in the oven. Place the rolls next to the loaf in the oven. Bake rolls until golden, about 30 minutes. Bake the small loaf for about 40 minutes. Bake the large loaf for about 50 minutes. Transfer the rolls to a rack when done to cool. When the loaf or loaves have baked for the specified time, remove from the pans and place back on the stone, tiles or baking sheet for another 5 to 10 minutes. The corners should be firm when pinched and the bread should sound hollow when tapped on the bottom.
For focaccia:
Place a baking stone or unglazed quarry tiles, if you have them, if not use a no edged baking/sheet (you want to be able to slide the shaped dough on the parchment paper onto the stone or baking sheet and an edge complicates things). Place the stone or cookie sheet on a rack in the center of the oven and preheat to 450°F/230°C. If making focaccia, just before baking, dimple the bread all over again with your fingertips. Leaving it on the paper, transfer to the hot baking stone, tiles or baking sheet. Bake until golden, about 10 minutes. Transfer to a rack (remove paper) and let cool at least 10 minutes before serving.