Recipe: peanut butter dog treats
I'm sorry, were you expecting something to eat? Errr, it's not terribly tasty but… my best girl loves them. I'll be honest though, she loves anything. She'll eat rocks and sticks if you let her. I don't let her.
Kaweah, has made a few guest appearances on this blog in the past. She's my furry and somewhat faithful companion. Her faithfulness increases with the amount of food I am preparing. There are two behaviors she exhibits that amaze me (there are a lot of behaviors that make me nuts). Normally, she won't let us pet her unless she's lying on the bed with us. She'll even duck away when you try to pet her – unless there is food – see a pattern? But the couple of times I have received devastating news, she was there and she knew. She leaned against me and let me cry into her scruff. Best.Dog.Ever.
The other behavior is *knowing* when I'm baking something for her to eat. Like I said over Thanksgiving, I bake and cook all the time while she snores her brains out nearby. As soon as I make anything intended for the dog, she's right there – like Chucky from those horror movies.
I found this recipe on this website with a nice selection of dog treat recipes. It's not as hard or brittle as I was hoping. Maybe I just need to bake them longer. They taste dull and flavorless, but we all know labs could care less about taste – the act of scarfing down food is their raison d'être!

a simple dough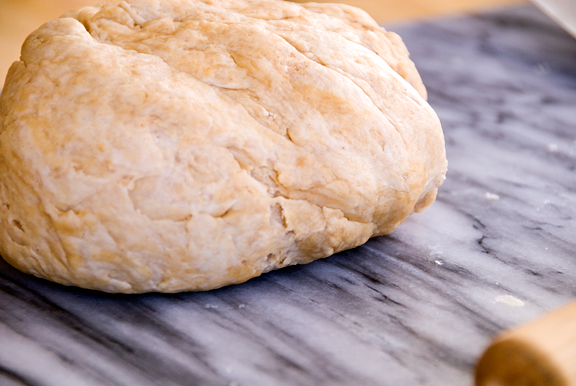 Over 20 years ago, I bought a collection of random cookie cutter shapes and made sugar cookies TWICE. I never threw them out despite the several times we've moved around the country. Good thing too, because what dog wants to eat dog biscuits that aren't in the shape of their favorite critters? Actually, she doesn't care about that either, but she humors us.
kitty cats and squirrels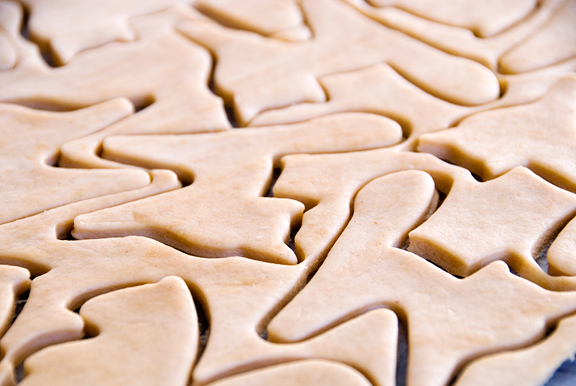 ready to bake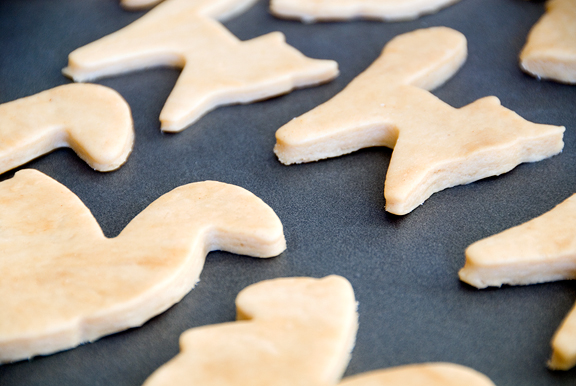 Since the dog isn't really a connoisseur of biscuit texture, I used all of the cuttings and re-rolled to cut out more shapes and eventually used the remainder to roll out strips of biscuit. They baked up just fine, but were a sort of soft cookie instead of a snappy one. Next time I will bake them longer to let them crisp up and dry out more. We got 3-4 dozen out of this recipe.
a bowl of doggy joy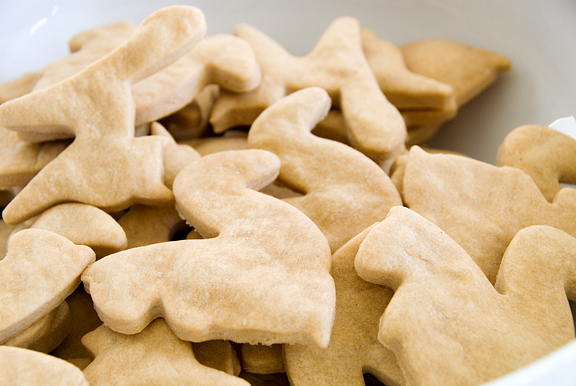 had to shoot the pic quickly before the fountain of drool turned on
Peanut Butter (Dog) Treats
[print recipe]
2 tbsps corn oil
1/2 cup peanut butter
1 cup water
1 cup whole wheat flour
2 cups white flour
Preheat oven to 350°F. Combine oil, peanut butter, and water. Add flour 1 cup at a time, then knead into firm dough. Roll dough to 1/4 inch thickness and cut with small bone shaped cookie cutter (I used squirrel and kitty shaped). Bake at 350°F for 20 minutes. Makes 2 1/2 dozen.