Recipe: quinoa, fruit and nut salad
I first read about quinoa three years ago in a food article and I tucked it away in my head. It is a great Scrabble or Tiles word to use up that Q, and everyone around you who isn't a food dork declares it isn't a word. What do they know? Quasar is another good one, but that has nothing to do with food. I only sampled quinoa a few times in restaurants, but lately I've been trying to work more grains into my diet because I love them and it is really a lack of exposure that has kept me from experimenting in the kitchen more than anything else.

dried quinoa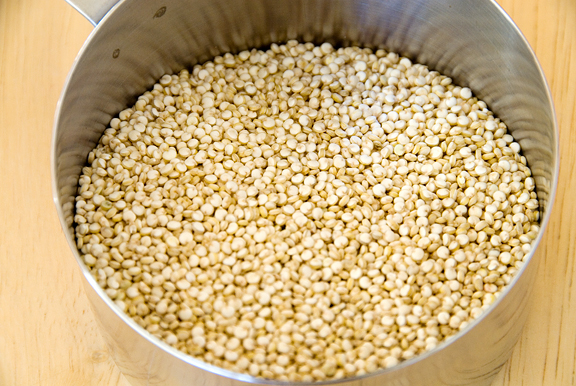 Most recently I whipped up a batch of leftover soup – all of the frozen and fresh vegetables I could find tossed in with some chicken, in a half beef half chicken broth (ran out of one, had more of the other…). Fiona told me she pours a cup of quinoa into any old soup and it's great. She was right. I loved it. Jeremy loved it. Loved it. Feeling more familiar with this tiny complete protein seed, I next thought of a sweet take on it.
fresh fruit – one of the many joys in my life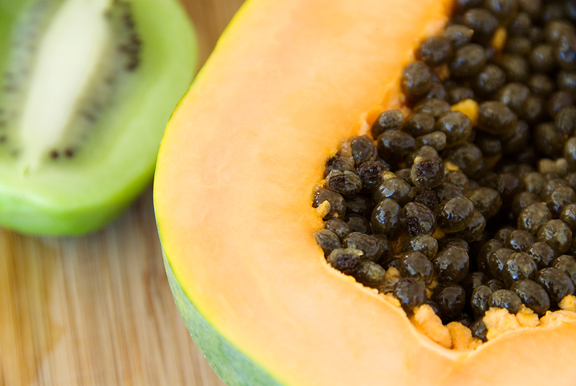 There was a terrific fruit and nut salad I used to order from Aladdin's in Ithaca, New York. Loads of fresh fruit topped with yogurt, honey, and walnuts. Perfect for those low energy times – a true pick-me-up. It's an easy recipe to reproduce, mutate, improve upon.
a few walnuts add extra texture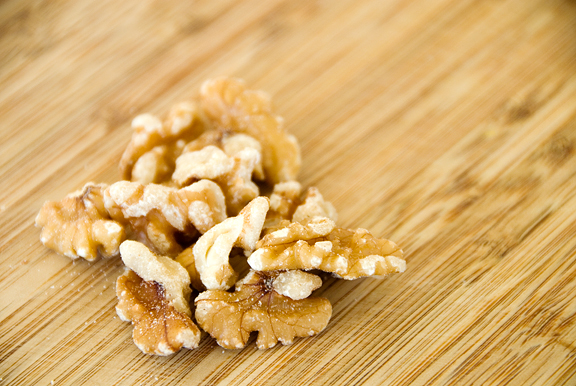 I figured I could set the entire fruit and nut salad on a small bed of cooked quinoa for a powerhouse meal. I had a bowl of this after a 2-hour cardio workout yesterday and it was incredibly satisfying. Now that I think of it, there are a lot of things that would have been satisfying after my workout, like a bowl of chili cheese fries, or sticky cinnamon buns, or some pad thai… But I'm talking about satisfying in the "I am feeling superior for not delivering all of the calories I just burned straight back to my ass" sense.
cooked quinoa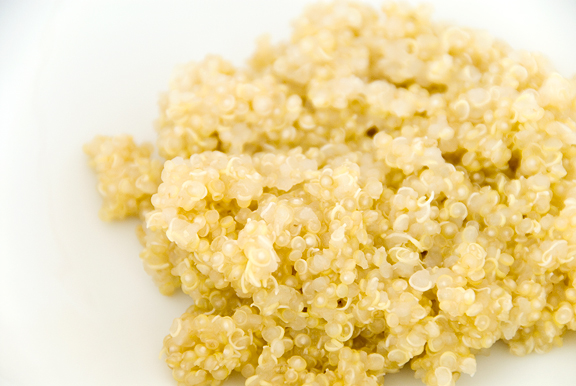 While cooking the quinoa, I noticed the smell of it was similar to the smell of cooking Chinese sweet red beans (aka azuki beans) or sweet green beans (they are similar to the red ones, except they are green and smaller). It's a pleasant odor that is both nutty and tea-like. The quinoa is a breeze to cook and I am a huge fan of the flavor and texture. It works well with this salad.
a bowl of healthy goodness
Quinoa, Fruit, and Nut Salad
[print recipe]
1 cup quinoa
2 cups water
dash salt
plain yogurt (I use non-fat)
honey
fruit, washed, peeled, diced
chopped walnuts
Rinse the quinoa for a minute or two under cold water. Bring the quinoa, 2 cups of water, and salt to a boil in a saucepan. Reduce to simmer and cover. Cook for about 20-25 minutes until tender. Spoon 1/2 cup of quinoa into a bowl. Top with fruit and plain yogurt (the amounts are up to you). Drizzle honey over the salad and top with chopped walnuts.