Recipe: roast chicken artichoke pasta
You're probably familiar with artichoke dip. It's a great goto appetizer for guests and especially when I used to host stitch-n-bitches. It really boils down to a lot of fat with fiber, I mean a lot of delicious fat with fiber! I've had it in restaurants and I can't stand their versions because they skimp on the arties and load it with even more creamy filler. Blegh.
I made so much soup and stew and curry last week that we were working on leftovers when I remembered I had planned on roast chicken. The chicken wouldn't wait and I didn't want to chuck it in the freezer, so I went ahead and roasted it, then put it in the fridge. Instead of having it straight, I had a smack of inspiration.

preparing to harvest the meat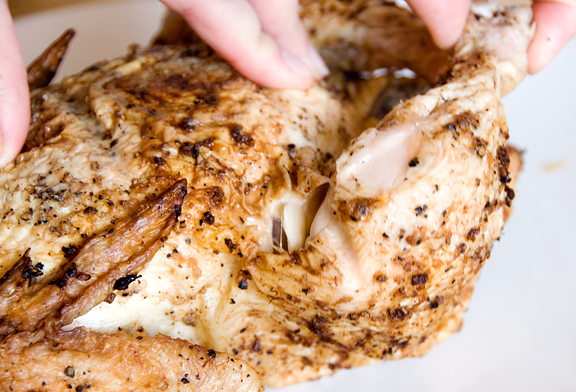 I stripped the bird of the meat and saved the carcass for chicken broth like any good cook would. I decided to make a twist on the artichoke dip and turn it into a hearty pasta dinner on the fly. I'm sure fresh artichokes would have been heavenly, but I was running short on time because I spent most of the day skiing with a bunch of tele babes – whoosh! I used trusty canned artichokes in the interest of time and less swearing.
quartered artichoke hearts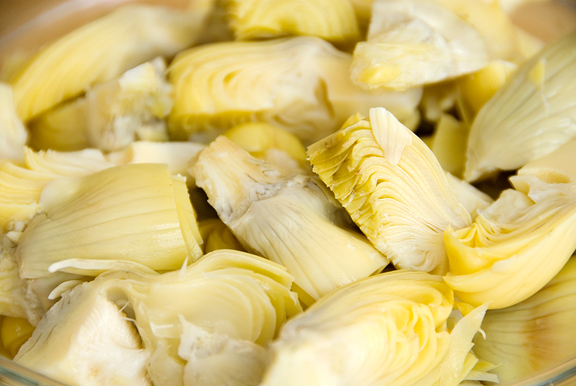 The dip recipe calls for blending everything together and baking it to heady goodness. I wanted to incorporate all of the flavors without baking anything. So I started with the minced garlic, except I used a lot more garlic than is called for in the dip recipe.
sauté garlic in olive oil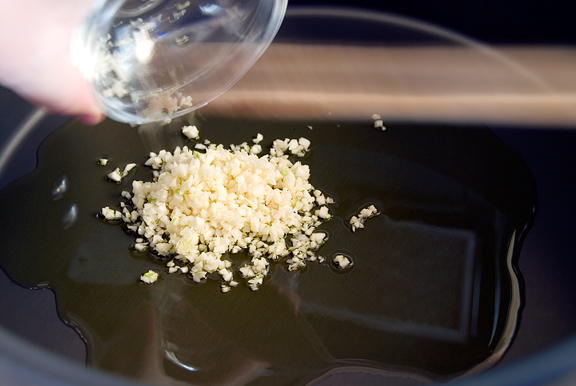 Once the sautéed garlic was fragrant, I added cooked penne and sautéed that for a few minutes before adding the chopped roast chicken and artichokes. You can add salt and pepper at this point, but since my roast chicken is typically well-seasoned, I don't.
the hot mix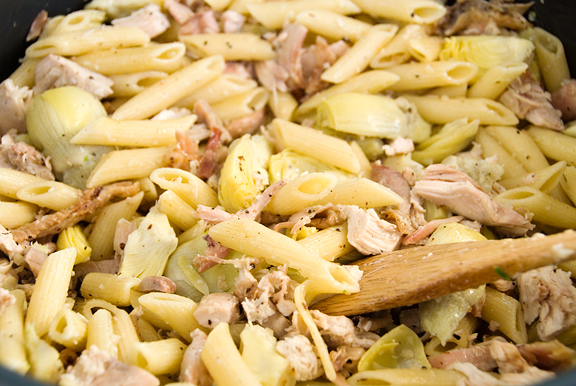 I removed the pot from the stove and grated about 2 cups of parmesan cheese over the pasta. I added 1.5 cups of mayonnaise as well as 1/2 cup of lemon juice. Most of these ingredients should be adjusted to your taste. I think I may have added a little more lemon juice – I love that stuff.
grating parmesan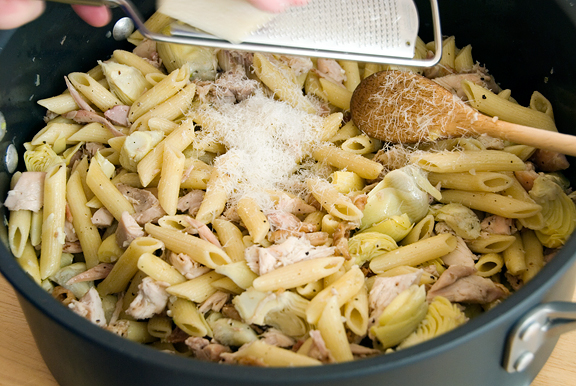 mixing in the mayo, parm, and lemon juice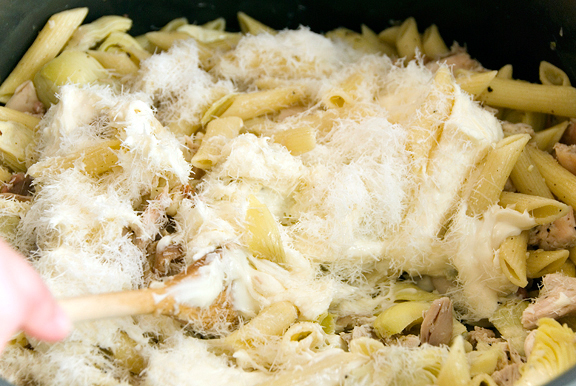 It's a bit of a warm pasta salad dish. I guess I think of it as salad since it has mayo. It would have been great with a cream base sauce, but I'm trying to avoid dairy and the mayo lends more to the original artichoke dip.
artichoke dip as dinner
Roast Chicken Artichoke Pasta
[print recipe]
1 lb. roast chicken, chopped
24 oz. artichoke hearts, cooked, drained, quartered
1 lb. penne, cooked and drained
3 tbsps olive oil
8 cloves garlic, minced or crushed
2 cups Parmesan, grated (to taste)
1 1/2 cups, mayonnaise (to taste)
1/2 cup lemon juice (to taste)
1/2 cup fresh parsley, chopped
In a large sauté pan heat olive oil on high flame. Add garlic and sauté until fragrant. Add the drained penne and sauté for a few minutes. When the pasta is well-coated, toss in the chicken and artichokes and stir until thoroughly heated. Remove pot from heat. Toss in the Parmesan, mayonnaise, lemon juice, and parsley. Stir well and serve hot.