Recipe: blueberry muffins (cake)
My days have been up and down. When they are down, I lay low and listen to my body and just try to recover. When they are up, I'm brimming with ideas and raring to go. Yesterday was a seriously up day for me. I was able to cook a ton of food and feel as if the kitchen was mine once again. Of course, there were a few changes to work through – like the fact that my taste has been heavily wankered, that my GI tract now rejects about 70% of what I typically love to eat (spicy, sour, salty, fatty, all that good stuff), and that I can't eat berries. Well, I CAN eat berries, but I've been strongly advised to avoid eating raw berries (among other raw foods) for my own well-being.
I had bought some blueberries before my treatment began last week and Jeremy was taking a hell of a long time to finish them off. I really wanted those blueberries. And then I really wanted some… cake. And then I began flipping through my cookbooks and wondering what ingredients I had to make some cake with blueberries. I mean, if they're cooked then I can eat them, right?

donna to the rescue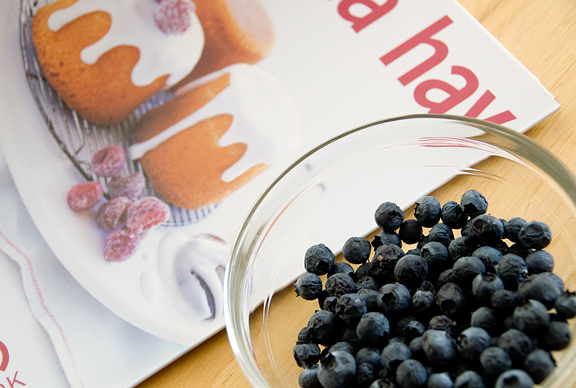 I don't do celebrity chefs. I don't ooh and ahh famous chef names. I just don't pay enough attention and we also don't own a brain rot box. [Side note: Oddly, I have been asked by several strangers if I know, am related to, or am Kylie Kwong. I had to google her to find out who the hell they were talking about.] So it was with great curiosity one evening a few years ago when I was at Nicole's house for an awesome dinner of homemade butternut squash ravioli, that I flipped through some of her Donna Hay cookbooks. Never heard of the woman. But I loved her simple style and many of the recipes piqued my interest.
dry ingredients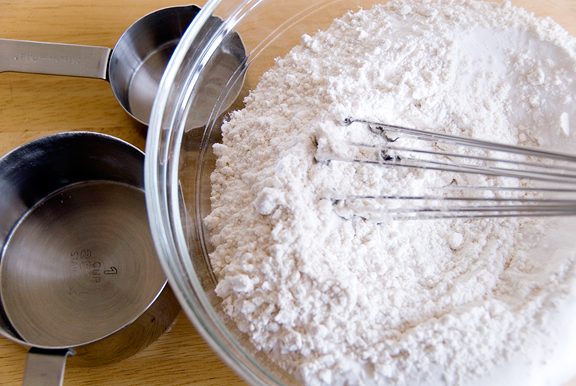 I saw the delightful little blueberry muffins recipe in Donna's Modern Classics 2. So simple to whip together and it called for lemon zest. Love lemon zest, you know.
zing!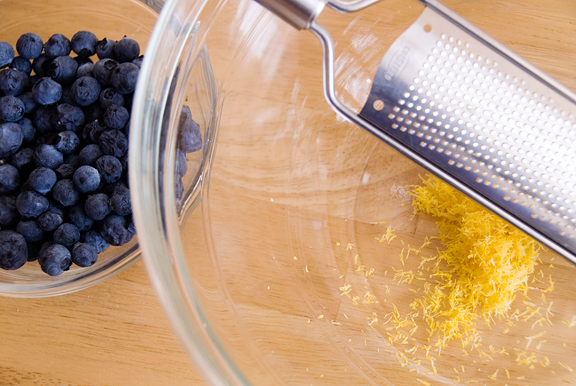 When I last baked, I made those little lemon meringue tartelettes for the DB challenge. I felt so ill during that whole process. I mean, I felt like I wanted to keel over into the meringue and my OCD self didn't care if I made a mess. That made me sad because I love to cook and bake – it brings me a lot of gratification and joy. The simplest thing was so labored both mentally and physically. But the blueberry muffin recipe… felt as natural as breathing!
mix up the wet ingredients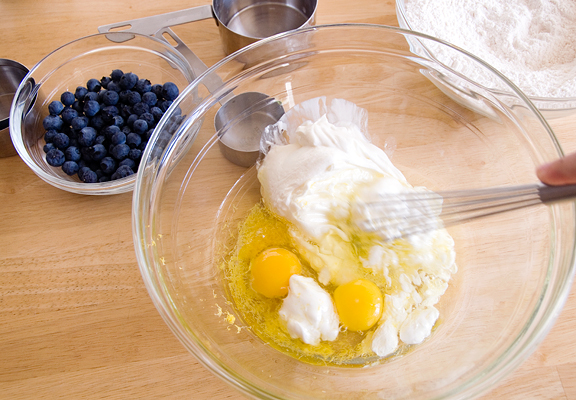 fold in the blueberries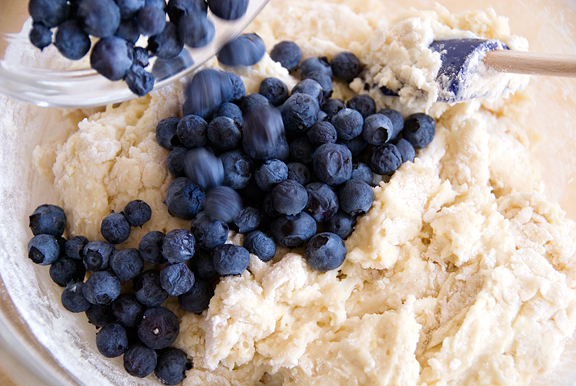 At the last minute, I opted to make a cake instead of muffins. Maybe because washing little muffin tins makes me a little nutty and I wanted to use my flower-shaped cake pan because I paid so damn much for it in my student years.
everything feels like sunshine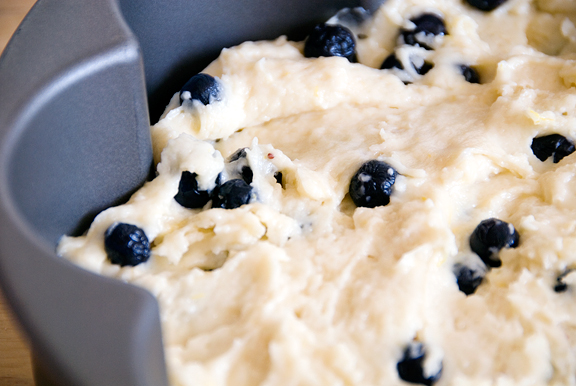 Although the muffins were to bake for 15-20 minutes, this cake took about 40 minutes, but the edges were beautifully golden and crisp while the inside was fluffy, steamy, moist. Here's the sad part: I couldn't taste much of it. I tried. No really, I tried. I typically have a most discerning palate. My taste buds are hosed for now. The cake had almost no flavor and the blueberries blended in with the rest of it. I poked my tongue around my mouth trying to identify the lemon zest, but nada. I was bummed. Still, the making is 90% of the fun for me so it was definitely worth it. When Jeremy got home I forced him to try a slice and he quite liked it. So it was not for naught and now I can share it with you, right?
blueberry muffin cake
Blueberry Muffins (Cake)
[print recipe]
from Donna Hay Modern Classics 2
2 cups all-purpose flour
2 tsps baking powder (I used 1 tsp because of my elevation)
3/4 cup superfine sugar
1 cup sour cream
2 eggs
1 tsp finely grated lemon rind
1/3 cup vegetable oil
1 1/4 cups fresh or frozen blueberries
Preheat oven to 350°F. Sift flour and baking powder into a bowl. Add sugar and combine. Whisk sour cream, eggs, lemon rind, and oil together in a bowl. Stir in the dry ingredients until just combined. Fold in the blueberries. To make a 9-inch round cake: spread batter into pan and bake for 40 minutes or until toothpick comes out clean. To make muffins: fill a dozen 1/2 cup muffin tins about 2/3 full and bake for 12 minutes or until clean toothpick stage.