The love is right here, kids. I am getting it by the boatloads!
I'm finally getting around to a handful of wonderful awards bestowed upon me by some superb fellow bloggers. I seem to have let some slip for over a month and I plan to remedy that immediately.
First off, I was tagged by the ever charming Francesco of The Food Traveller and the lovely Shell of Fiber Among The Roses for the You Make My Day award! Thanks guys, you really flatter me :)


The rules are to list up to 10 blogs that rock your world, blogs that make you happy and inspire you. Leave a comment on that blog to let them know about the award.
This is tough, because there are so many blogs out there and it's hard for me to keep track – especially right after a treatment. But there are those blogs that always cheer me up when they pop up on my feed and I can't wait to hop over and see the latest.
1. Deb at Smitten Kitchen: Everyone has their reason for loving Deb. I find her posts to be sunny and clever, always delicious, always entertaining. She's so genuine and playful – I love that about her.
2. Christine (aka HolyBasil) at Hot.Sour.Salty.Sweet. and Umami: Christine outclasses just about everyone. Her photography is art and so is her food. She's hip, smart, she's got a great sense of humor, and she's married to a French gazelle (we love you, Pierre!). She is my home girl.
3. White on Rice Couple: I can't believe I just discovered this fun and lively pair. Where have you guys been all my blogging life?! They have such spunk and a great attitude about life and food, serving it up in gorgeous full color images that you can practically smell and taste off the monitor. And they ski. That's big.
4. Peabody at Culinary Concoctions by Peabody: Peabody is a rebel and that's only one of the many reasons I adore her. I like the fact that she can beat up men on the ice and crank out some kick ass desserts. The woman has her feet firmly on the ground and head solidly on her shoulders. Don't mess with girlfriend or I'll have to put your ass in a sling!
5. Fanny at Foodbeam: Fanny is the cutest thing ever. She makes masterful pastries and has a smile that could melt the polar caps. She's an absolute sweetheart and her blog is a joy to read. Her blog makes me happy.
Now for the next round of lovin'. I was tagged with an E for Excellence by Susan of Wild Yeast, Susan of Sticky, Gooey, Creamy, Chewy, and Linda of make life sweeter!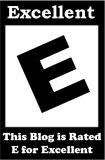 Ladies, are you conspiring? Thank you so much. To be deemed excellent by these accomplished and very talented women is quite the honor. And it is my honor to pass this award along to five more blogs I deem Excellent. Since the five above make my day every time they post, it's a given that they are *excellent*. But we're sharing the love here…
1. Jaden's Steamy Kitchen: The woman is a hoot! Not only that, but she sizzles and so do all of those delectable dishes she whips up in her kitchen. And she's got kids. How can a blog (and a woman, for that matter) look so incredibly gorgeous when you have spawnlings?!? Sistah needs to write a book, no?
2. No Special Effects: Mark is a nut. I loves him. He serves up some pretty fancy foods while writing candidly about his feelings, his fears, his hopes. Guy has many talents beyond delicious foods and nice photos. He is my favorite goofball chef on the web :) We need to find him a nice (but not too nice) girl, okay?
3. Rasa Malaysia: In my book, Bee holds the title of Prawn Queen. I sometimes think she is purposely posting those prawn porn photos just to twist the knife a little more – you know, that knife she plunged into my gut… the knife of "you don't live on the coast and could never score seafood this fresh!" Seriously, she's a sweetheart and she knows her food AND she knows what everything is called in Chinese. Puts me to shame, really.
4. What's For Lunch, Honey?: You really can't go wrong with the word "lunch" in your blog title. It is my all time favorite meal. Wonderful Meeta makes gorgeous food and then takes even more gorgeous photos of the food in such lovely colorful arrangements. I can tell already that she wears smart outfits that match while I'm tooling around with a threadbare free t-shirt and skanky sweat pants.
5. Tartelette: Even though I *know* she's already received this award, it just wouldn't be right not to include her in my list of Excellents, because she is not only excellent, but smart, beautiful, talented, creative, thoughtful, and so full of love. Helene produces one hell of a mouth-watering blog, and once you're hooked reading it, you will soon discover that she is one of the Ten Nicest People on the planet. I say so.
There you have it. Some of my favorites. I know there are many more out there… can't wait to find them!