I shuffled through a half inch of snow this morning on my way out the door. I told you the weather in April is psycho around here. Halfway down the canyon to Boulder, the sun was shining as tiny grauple pelted the windshield. Yay spring! I met with Beth for brekkie at the South Side Walnut Café. The menu is très Boulder with plenty of veggie, vegan, and omnivore eats on the menu. I chose the quiche. I chose poorly. The quiche was fine, but my digestive system can't handle green chiles quite as well as it does when healthy. Okay, but it's the company that matters most.
Just a few days ago, Boulder was full of nearly naked people sauntering about the downtown pedestrian mall because of the warm temperatures. Today, folks donned hats and down jackets to ward off the cold, wind, and light snow. It looked like a typical day in January at the Boulder Farmers' Market – except the market isn't open in January…

love the cello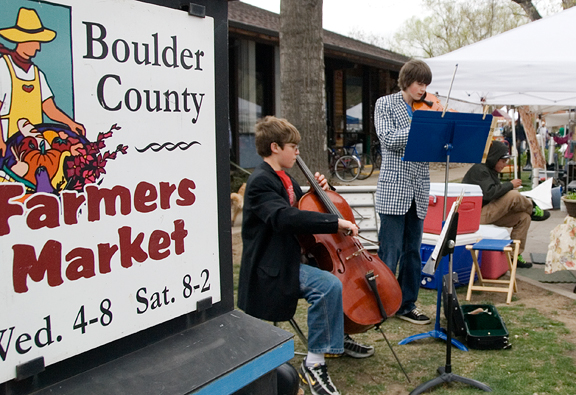 My first exposure to a farmers' market was in Pasadena, California at PHS. Boat loads of produce, fresh fish, breads and baked goods, honey, plants, tamales (oh, the tamales!). One of my favorite things to buy was a 10 lb. bag of oranges for $2. These oranges were green-skinned from the San Joaquin Valley, but when you sliced them open you were treated to jewel orange flesh that was as sweet as sugar and juicy beyond imagination. Perfect for those weekend grass double volleyball tourneys.
a splash of floral color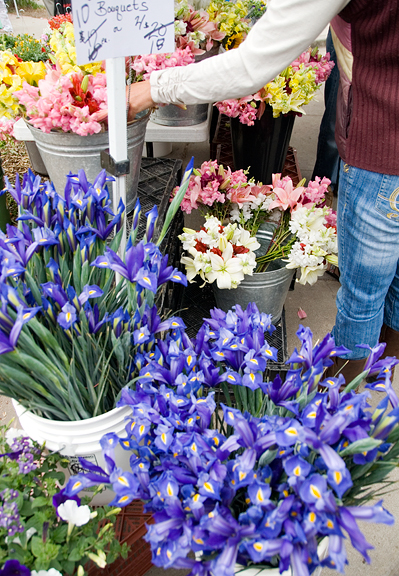 When we moved to Ithaca, New York, I was surprised to learn that the farmers' market (like most) is seasonal. That is, it isn't open year-round. I guess living in Southern California warps your perspective on the seasons seeing as there are only two: pleasant and bloody hot – and things grow year round. I have to say I was rather disappointed in the Ithaca Farmers' Market. It was heavily weighted in the arts and crafts vendors than people selling actual food. Well, people sold prepared food, but the presence of farmed produce was paltry in comparison to the bounty of So Cal.
the market was busy considering the unseasonable cold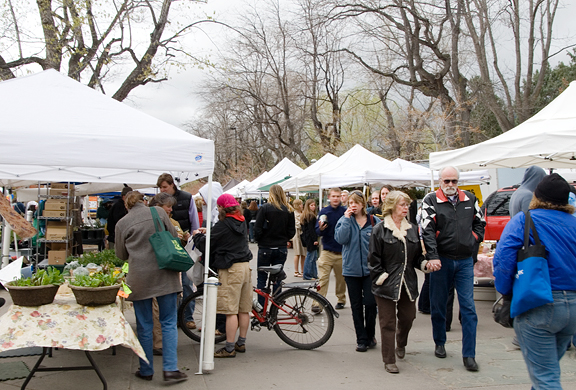 And then we find ourselves in Boulder with a farmers' market that appears to be an integration of the Pasadena and Ithaca markets with a healthy dose of Boulder activism and weirdness tossed in for good measure. Boulder is also a seasonal market, having just opened a few weeks ago it closes in the fall. Organic is big here. You can buy grass-fed bison and elk meat. One of the booths sells microbe brew – for plants! There is a gluten-free bakery stand as well.
a local csa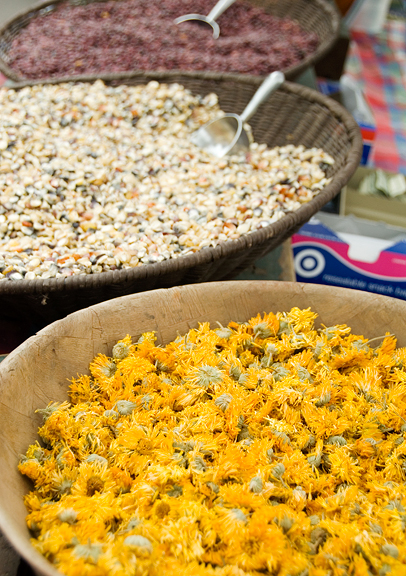 Beth and I decided to mosey on through the market after brekkie. One of the reasons Jeremy and I rarely make it to the Boulder Farmers' Market is because we're usually hoofing it in the mountains before the Crack Ass of Dawn on Saturdays. But Jeremy's off mentoring one of his grad students and an undergrad on a giant radio dish across the country this weekend. So it was a nice chance to chill with Beth, who is one of the more mellow people I know.
she is also a little crazy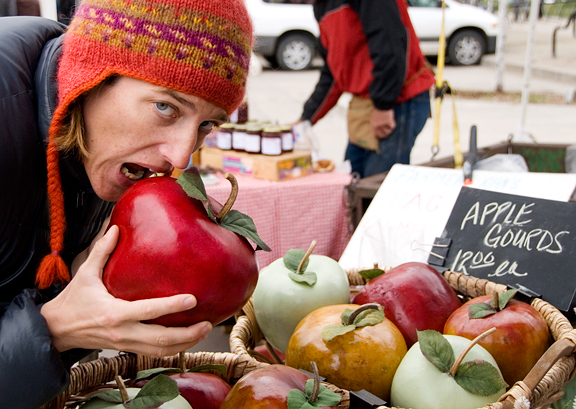 We wandered through the prepared food vendors' section and sort of wished we hadn't eaten breakfast. Each booth elicited a "mmmmmm… hot dogs" or "mmmmmm… dumplings" or "mmmmmm… falafel" or "mmmmmm… tamales" from one or both of us. Beth hovered around the Haystack Mountain tent as did everyone else for samples of their fantastic goat cheese. Good stuff. Local.
beth samples at one of the cheese tents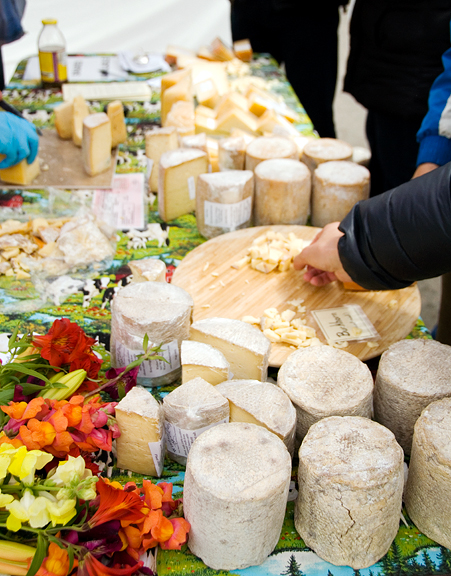 I'm looking forward to the market as the season matures and brings those lovely stone fruits from the western slope, melons, Asian greens, and I'll be all over the heirloom tomatoes. It was snowing back home as I topped the canyon and got a splendid view of our beloved (but closed) local ski hill.
it looks skiable to me