I need a favor here, folks.
I'm a pretty independent chick, ask anyone who knows me. It's a fairly small circle of people that I allow myself to rely upon – that I allow myself to feel safe enough around when I'm vulnerable or in need. It is just my way. This was especially true during chemo. I made mention of how chemo kinda sucked and made a mess of my ski season and my food blogging but… I never talked about the other stuff like desperately holding back tears and an unexpected wave of shock when I left the hairdresser's after getting my head shaved despite not caring about the hair itself. Or trying to get sick as quietly as possible in the middle of the night hour after hour, night after night so I wouldn't wake Jeremy because he was exhausted from taking care of me and working 80+ hours a week on his own demanding job. Or feeling so hungry from not being able to digest solid food for 5 days that when I dared to nibble on soft bread it felt like razors going down my throat and racked my insides for hours. Or lying in so much pain at home alone that I couldn't get up to take my meds and I actually cried to the dog to fetch the bottle (it didn't work – she just kept pawing at me to be let up on the bed to snuggle).
But the worst was the mental and emotional isolation. Even though Jeremy tried to always be there for me, I could see he was giving more energy than he had. Did I mention that his sideburns have started to turn grey since I began chemo? Yeah, I've given my beautiful husband premature grey. I couldn't bring myself to ask more of him, to ask him to talk to me about my fears, my sadness – only to stress him out and force him to pile more on his plate – because he would do that for me. So I let those thoughts fester in my mind for a long time, alone.
And one night while I sat around waiting to get sick after my fifth round, I read on Married with Dinner that Bri's cancer had come back – this time in her bones, in her lungs… I don't know how dread affects you… I've experienced genuine dread a couple of times in my life and it's a sucking feeling in my gut that quietly, but instantly empties my body of breath. I had, until then, kept fears of recurrence and doubt of my own treatment under wraps – stuffing it down into the furthest corners of my brain – for my own mental well-being. I try to avoid histrionics and self-induced hysteria because I've seen it in others and it's really ugly, really destructive. I don't live that way. But I sat in the dark, in disbelief, tears rolling off my face – for Bri, for myself, for the bullshit that is cancer and the ridiculous treatment that isn't really a treatment but more like a blunt instrument where a precision tool is required. On Bri's blog she said, "I've been to a couple doctors, and one of my greatest fears has been pretty well confirmed."
I had asked my oncologist earlier what he would do if my cancer came back. He said it wouldn't. I was persistent and when I asked if I would have to do the chemo again, my voice broke. His jolly demeanor saddened and he softly told me I wouldn't do this chemo again, that there would be better treatments down the road. I thought it was a non-answer, but cancer treatment is a non-answer in my opinion. I went into round 6 with a positive smile and cake for my nurses. I joked with my dear oncologist and handed him a few thank you gifts: a photo of a lovely Colorado stream, some fishing flies, a book on cosmology that Jeremy had selected for him, and a card. In that card I told him I don't fear death so much as not being able to live a quality life. Yes, I know Bri's fear.
When my surgeon recently removed my port, I mentioned that I had felt a tiny lump in my left breast and I wasn't sure what it was. As I spoke, I couldn't keep that fear in check and it tumbled out into my words, into my tears. Luckily, the ultrasound was clean and I can get on with my radiation treatment and stop freaking myself out for a while. I know each person is different as is each case, but I can't help but feel a pang in my heart when I think of Bri and it is not sympathy, but empathy.
Bri was first diagnosed with breast cancer at age 28, two and a half years ago. I was diagnosed at 36 last year. [If I had been diagnosed at 28, the first thing I would have done was quit my PhD program and tell a certain faculty member where he could stick the dissertation and all of Northern Chile.] Bri had a full mastectomy of her right breast. For those who aren't in the know, a full mastectomy means no more right boobie, understand? This is almost guaranteed to throw any woman for a loop. And you thought hairloss was a big deal for a chick… So after this crude and barbaric surgery (I'm sure my surgeon would disagree with this characterization, but then again, he doesn't have boobies to lose) she underwent the suckiest chemo possible because she's young and they always come *this close* to killing you when you're "young and healthy". She was theoretically clean for 2 years and now it's back and the cancer is Stage IV. Again, for anyone who isn't up on the cancer lingo, there is no Stage V – Stage IV is teh suck. Bri has begun a different form of chemo, but it is still chemo and it still blows. In addition to the conventional methods of treatment, Bri is also attempting other alternative forms of treatment which her insurance company won't cover (big surprise!). I won't open up a tirade on health care in this country right now because I'd like to finish this post before summer begins…
This all leads to why I went rattling on and on for several paragraphs. Bee and Jai of Jugalbandi and many other wonderful food bloggers decided to help raise money to aid in Bri's medical costs. Jugalbandi has turned the monthly CLICK! event into a special fundraiser for Bri. The deadline for CLICK! is June 30, 2008. Part of the fundraiser is a raffle with prizes and I am contributing a matted photo to that bounty. You may recall from Menu for Hope that I offered this photo which had been featured on the NPR website:

the owl creek pass aspen stand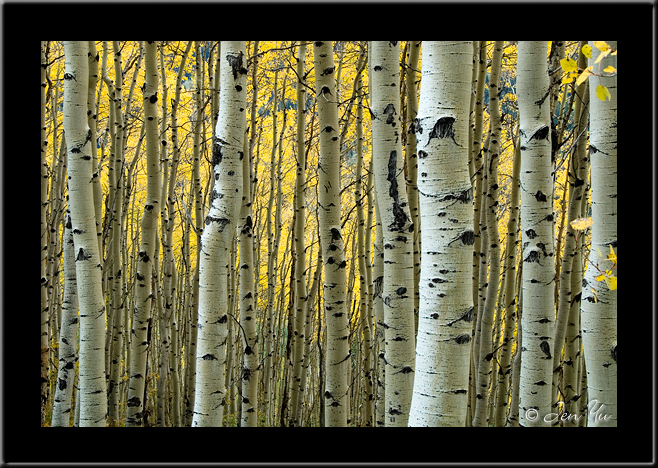 I'm offering this photo again because it goes so well with the yellow theme of CLICK! and LiveSTRONG. One raffle ticket costs $25 and this puppy will ship anywhere in the world. It is an original photo by yours truly at 12×18 inches matted to 18×24 inches with your choice (if you are the winner) of a black matboard with white core or white matboard with black core. I'll plant my l'il ole siggy on it too. All materials are archival. Really, you should go and peruse
all of the raffle prize offerings
. You have until July 15, 2008 to bid.
Seriously though, I could care less if you bid on my photo or not. What I really want is for you to consider making a donation either by buying a raffle ticket or just donating outright for Bri (but if you're going to donate $25, you may as well get the ticket unless we all agree that it's Christine's turn to win the photo!). It's obvious that I feel a connection to what Bri has gone through and is dealing with now. I want to help her. I guess I am hoping that we will all help her in some small way. Thanks for staying on the line this far.