Recipe: opera cake
To my Darling Daring Bakers: I made the cake yesterday and planned to have a post up by this morning, but I got really sick. I'm just posting the final pic and I will have the rest up at a later time. I am off to the ER. I'm sorry!! xxoo, jen
Update: May 30, 2008
I'm back, kids! Sorry to worry everyone. I had a 48+ hour bout of seriously bad stomach juju with fever to boot. Oncology doesn't like fever+chemo (no one seemed all that concerned with my debilitating stomach cramps) and sent me to the ER to check for infection. I mean, wouldn't it suck to finish 6 rounds of the toughest chemo regimen on tap only to die of some damn secondary infection at the very end? That answer would be a resounding hell yeah.
So thanks for all of the wonderful and kind comments you have left. It wasn't my intention to stress you happy bakers out.

the daring bakers: we knead to bake
As most of you have figured out, I *am* a Daring Baker. Daring Bakers kick ass and they are also spreading like a virus through the food blogosphere. If you aren't a Daring Baker (all two of you who are left) then you will be assimilated soon enough… oh yes… you will be. This month's challenge is: The Opera Cake. Our hosts for the challenge are our beloved Daring Bakers' founders Lis (
La Mia Cucina
) and Ivonne (
Cream Puffs in Venice
), and two of our newer DB members Fran (
Apple Peaches Pumpkin Pie
) and Shea (
Whiskful
). You can scope out all of the gorgeous Opera Cakes at the rest of the Daring Bakers' blogs on the
blogroll
. Thank you, ladies!
ground almonds are the base of the jaconde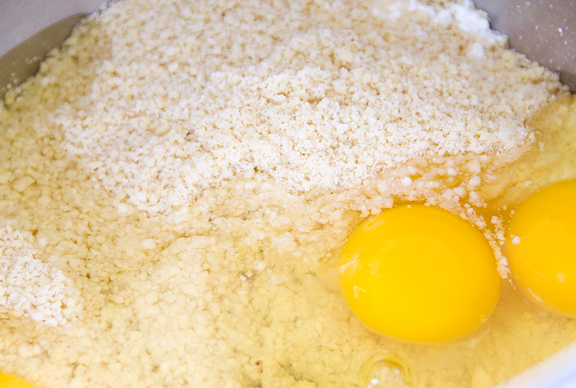 Now I, like my fellow kickass betty,
Peabody
, was very excited to see the May challenge was L'Opéra. And I, like my fellow kickass betty, Peabody, swore when I read that it couldn't be dark. Not morbid, mind you, but dark as in chocolate or coffee or cocoa. I have trouble thinking of an opera cake that doesn't have that
fantabulous dark chocolate glaze
and tantalizing layers. Okay, but I'm a sport… mostly. I hemmed and hawed for several weeks over what flavors to select because honestly, I detest white chocolate.
folding in the whites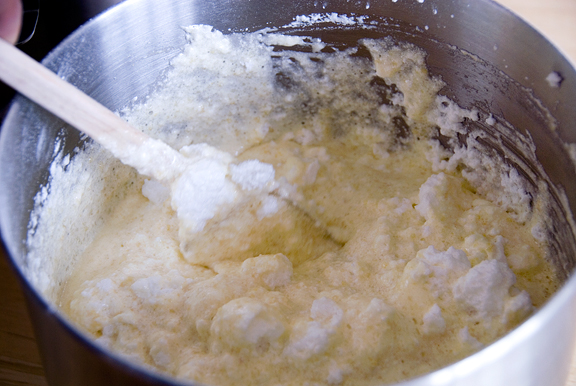 I left the jaconde with an almond base as I had never tried it before – plus I am a huge fan of almonds. That was simple enough and came together as easily as a chiffon cake.
pour the batter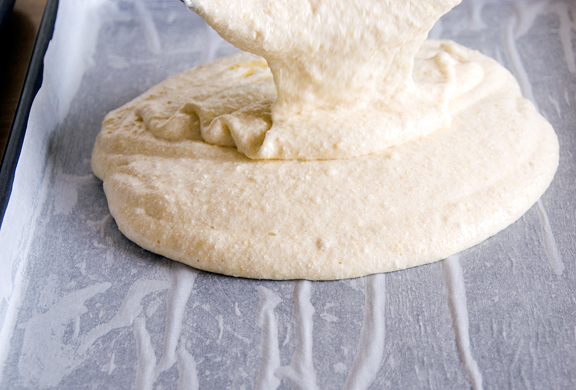 The first sign of trouble came when I decided to follow the instructions and bake both of my jelly roll pans in the oven at the same time. My oven is not an equal opportunity baker in that the bottom pan burned its base before the top pan even set. Surprisingly unphased, I decided to halve the recipe upon removing the cake from the oven. For the buttercream recipe, I resorted to my favorite Swiss meringue buttercream recipe, because it never fails me and we were given the freedom to make this substitution. I made a half batch and flavored it with Frangelico and a heaping tablespoon of hazelnut butter (from Whole Foods).
hazelnutty!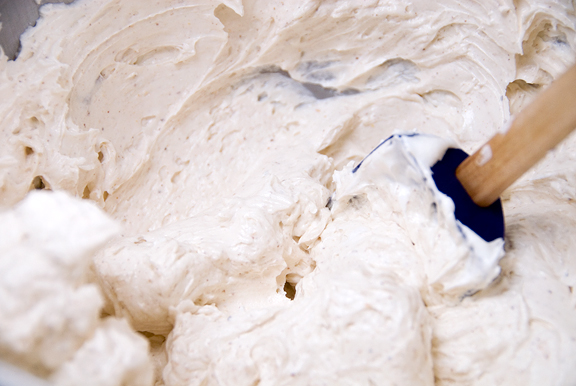 I flavored the simple syrup with Frangelico as well. My original plan was to have an orange-flavored (Grand Marnier) white chocolate mousse for my top layer, because I rather liked the combination of hazelnut and orange in
this brittle
. That tanked because my white chocolate separated too much (my fault – heat was too high) and the mousse never firmed up, insisting on remaining the consistency of vomit. Just reinforcing my already pissy feelings for white chocolate.
applying the simple syrup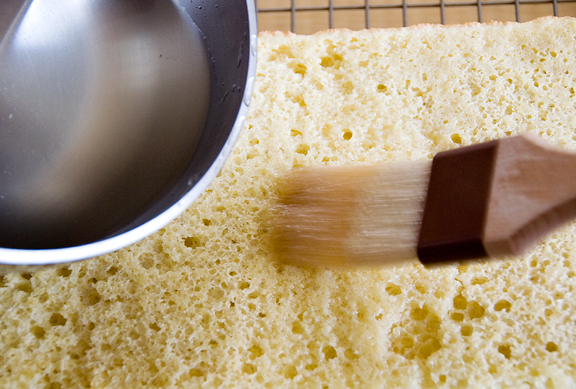 I left the glaze as a white chocolate ganache. In hindsight, I should have flavored it with orange and probably should have spread it as thin as humanly possible the way
Tartelette
did (she's brilliant, no?). I just cannot stand the stuff. It's too sweet and I feel it hijacks the other more subtle and pleasant flavors of the cake. Damn you, white chocolate!
glazing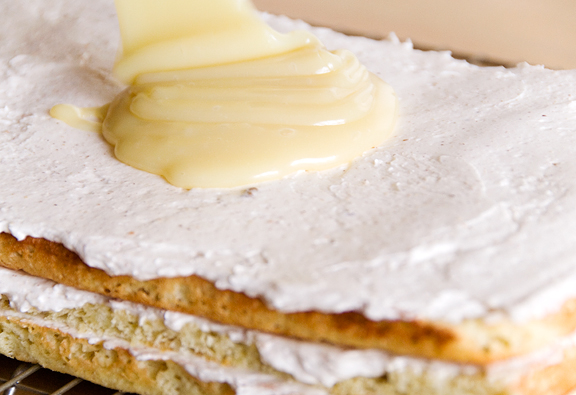 I haven't eaten the cake proper, only tasted the trimmings from the edges. I find the glaze to be narsty, but the rest of the cake is wonderful once you scrape the glaze off. Would I make this again? Not a white version and certainly not one with white chocolate, but I would most definitely go for a classic version with a twist.
hazelnut and white chocolate opera cake
Opera Cake
[print recipe]
based on recipes in Dorie Greenspan's Paris Sweets and Tish Boyle and Timothy Moriarty's Chocolate Passion
full recipe
jaconde
6 large egg whites, at room temperature
2 tbsps (30 g) granulated sugar
2 cups (225 g) ground blanched almonds
2 cups icing sugar, sifted
6 large eggs
1/2 cup (70 g) all-purpose flour
3 tbsps (1 1/2 oz.; 45 g) unsalted butter, melted and cooled
Divide the oven into thirds by positioning a rack in the upper third of the oven and the lower third of the oven. Preheat the oven to 425°F. (220°C). Line two 12 1/2×15 1/2-inch (31 x 39-cm) jelly-roll pans with parchment paper and brush with melted butter. In the bowl of a stand mixer fitted with the whisk attachment (or using a handheld mixer), beat the egg whites until they form soft peaks. Add the granulated sugar and beat until the peaks are stiff and glossy. If you do not have another mixer bowl, gently scrape the meringue into another bowl and set aside. If you only have one bowl, wash it after removing the egg whites or if you have a second bowl, use that one. Attach the paddle attachment to the stand mixer (or using a handheld mixer again) and beat the almonds, icing sugar and eggs on medium speed until light and voluminous, about 3 minutes. Add the flour and beat on low speed until the flour is just combined (be very careful not to overmix here!!!). Using a rubber spatula, gently fold the meringue into the almond mixture and then fold in the melted butter. Divide the batter between the pans and spread it evenly to cover the entire surface of each pan. Bake the cake layers until they are lightly browned and just springy to the touch. This could take anywhere from 5 to 9 minutes depending on your oven. Place one jelly-roll pan in the middle of the oven and the second jelly-roll pan in the bottom third of the oven. Put the pans on a heatproof counter and run a sharp knife along the edges of the cake to loosen it from the pan. Cover each with a sheet of parchment or wax paper, turn the pans over, and unmold. Carefully peel away the parchment, then turn the parchment over and use it to cover the cakes. Let the cakes cool to room temperature.
syrup
1/2 cup (125 g) water
1/3 cup (65 g) granulated sugar
1-2 tbspsflavoring of your choice (i.e., vanilla extract, almond extract, cognac, limoncello, coconut cream, honey etc.)
Stir all the syrup ingredients together in the saucepan and bring to a boil. Remove from the heat and let cool to room temperature.
hazelnut buttercream
8 oz. egg whites
16 oz. sugar
1 lb. butter, room temperature
2 tbsps Frangelico
2 tbsps hazelnut butter
Combine egg whites and sugar in a Kitchenaid mixing bowl. Whisk constantly over a bain marie until 140°F is reached. Place on mixer with whisk and whip until stiff. Turn down whip speed to 3rd and whip until cool to the touch (this takes a while – should be cooler than your hand). Change to a paddle and gradually add soft butter by tablespoon pieces. Mix to emulsify. Once desired consistency has been reached, add flavorings and beat until incorporated.
glaze
14 oz. white chocolate, coarsely chopped
1/2 cup heavy cream (35% cream)
Melt the white chocolate with the heavy cream. Whisk the mixture gently until smooth. Let cool for 10 minutes and then pour over the chilled cake. Using a long metal cake spatula, smooth out into an even layer. Place the cake into the refrigerator for 30 minutes to set.
Assembling the Opera Cake:
Note: The finished cake should be served slightly chilled. It can be kept in the refrigerator for up to 1 day.
Line a baking sheet with parchment or wax paper. Working with one sheet of cake at a time, cut and trim each sheet so that you have two pieces (from each cake so you'll have four pieces in total): one 10-inch (25-cm) square and one 10×5-inch (25×12 1/2-cm) rectangle. Place one square of cake on the baking sheet and moisten it gently with the flavoured syrup. Spread about one-third of the buttercream over this layer. Top with the two rectangular pieces of cake, placing them side by side to form a square. Moisten these pieces with the flavoured syrup. Spread another third of the buttercream on the cake and then top with the third square of joconde. Use the remaining syrup to wet the joconde. Spread the remaining buttercream on top of the final layer of joconde and then refrigerate until very firm (at least half an hour). Make the glaze and after it has cooled, pour/spread it over the top of the chilled cake. Refrigerate the cake again to set the glaze. Serve the cake slightly chilled. This recipe will yield approximately 20 servings.