Recipe: mussels in white wine sauce
My dad skyped me this evening and I was all giggles because Jeremy and I had already broken into the champagne. Even though we stay up past midnight most evenings, we usually turn in before the year flips on New Year's Eve. We enjoyed a bottle of bubbly with our dinner tonight.

i know this is a favorite of squid, barbara, and mollie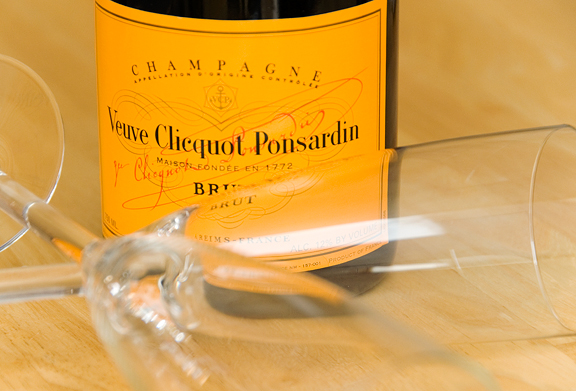 The typical thing to do at the close of the year is to reflect and perhaps list favorites or tick off milestones of the year. I feel I got a very good look at 2008 during 2008 – like traveling the road with my face 2 inches from the pavement. All of the bad times are quite fresh, but more importantly all of the good times are also vivid in my mind. I am really happy to not only be alive, but to be more or less healthy (it's hard to really know), and definitely living on my terms. In volleyball, we always used to tell each other, "on your toes!" so you'd be ready for anything the offense would dump over the net – a dink, off the block, hard line, cross court, six-pack in the face. I feel as if I live my life "on my toes" now. That comes with the territory when you lose someone close to you or don't know if you will survive your disease or experience one of those curve balls (I like to think of it as a wicked floater serve instead) that life pitches and sends you sprawling on your ass. Keep your eye on the ball.
back to breckenridge with my honey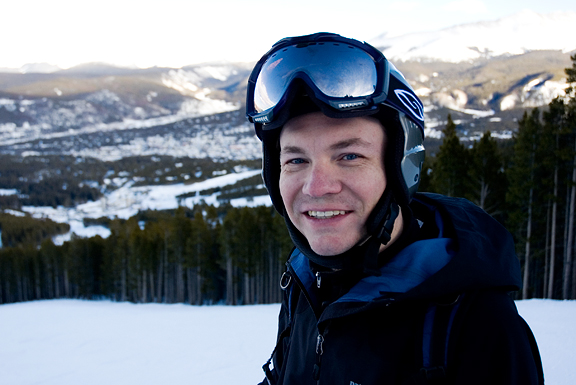 After picking myself up a couple of times now, I have learned to travel light. This may sound horrible, but it's actually good – I didn't go out of my way to be nice to everyone during my cancer treatment because some folks just suck the life out of you and will continue to be a black hole. According to my resident astrophysicist, "they never stop sucking." And then there are some folks who just plain suck. Either way, life is better without the assholes. I don't make New Year's resolutions because I think it's lame and arbitrary (when I resolve to do something, I do it – be it March, June, or whatever), but the close of 2008 seems to coincide with the end (I hope!) of my major cancer treatments… so in 2009, I plan to continue to keep assholes out of my life, but without the excuse of cancer treatment. I'm fine. You suck (not you, my readers, but You as in the Suck-ers). You are not a part of my equation.
kaweah enjoys the balmy 40°f after a little walkie today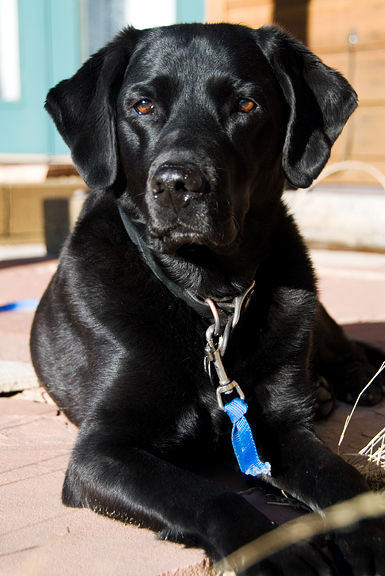 Jeremy and I spent the afternoon grazing on seafood, as that is our wont. Various courses were casually spliced into our day because we had things to do like culinary projects, Kaweah's maintenance (nail clipping and filing, ear cleaning), compost redistribution (it's generally a giant compost popsicle in winter), poop detail in the yard, cleaning the dog nose smudges off the back windows of the cars…
nibble on some shrimp cocktail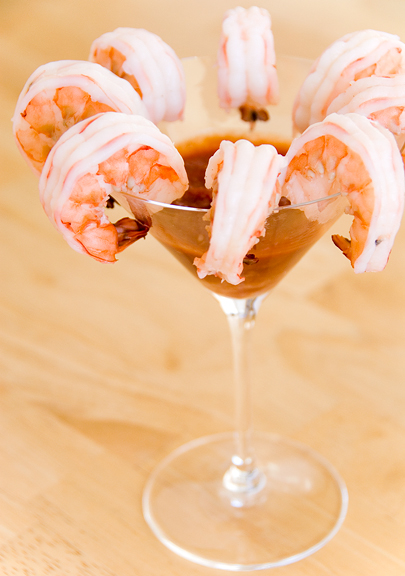 sweet, sexy king crab legs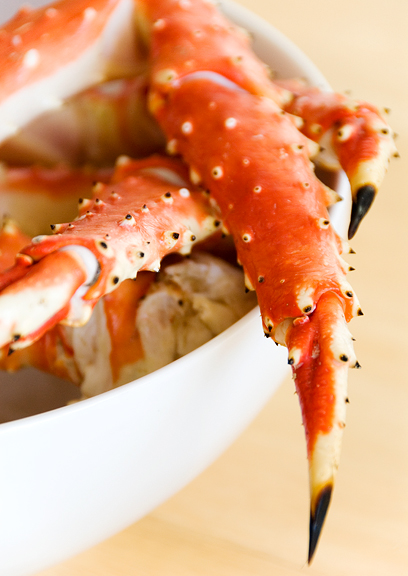 I feel that I'm in a good place now. Better than where I was a year ago when I had no idea what to expect of 2008 other than "it's going to suck". Despite the suckage, I think all in all, it was better than I expected and while I shook off the jerks in my life, I
acquired
several
new
and
improved
friends
. I have my life and more importantly, I am surrounded by many loved ones. Whatever time I've got, I'm just going to make the most of it. Happy New Year to all of you.
salud!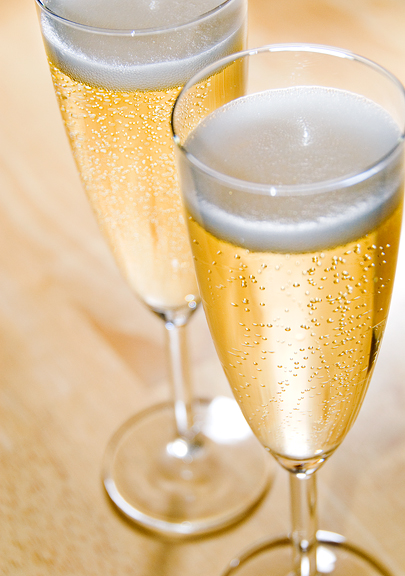 Oh, you're still here? Well good. Because I have a quick and easy recipe for one of our seafood grazing dishes we noshed on tonight. I give you…
mussels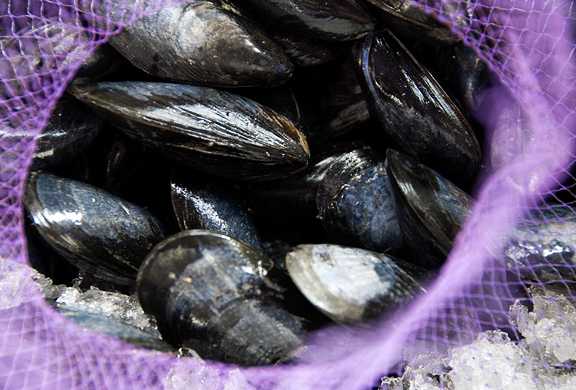 and pinot grigio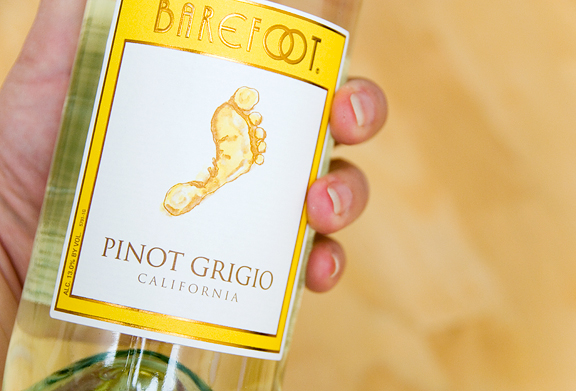 Wine and seafood are so fundamentally amazing together. I rarely drink wine for the sake of drinking wine. I am not a drinker per se (hence Tipsy Jen after one glass of bubbles). I like wine with food. I'm always about the food. Food food food food food. And some wine or booze. Desserts with booze. I'm all over that one.
dropping mussels into boiling water and wine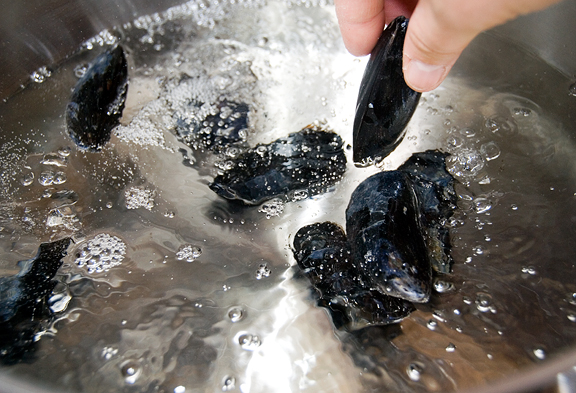 removed from the water as soon as they open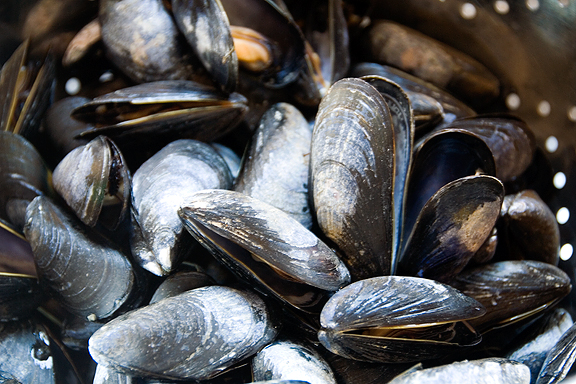 I had picked up two pounds of mussels from Whole Foods and patiently waited while those awesome fellas made sure every single one was live. They packed them on ice and handed me the lovelies. These mussels were tiny, but sweet. Perfect.
adding wine to sautéed onions and garlic in butter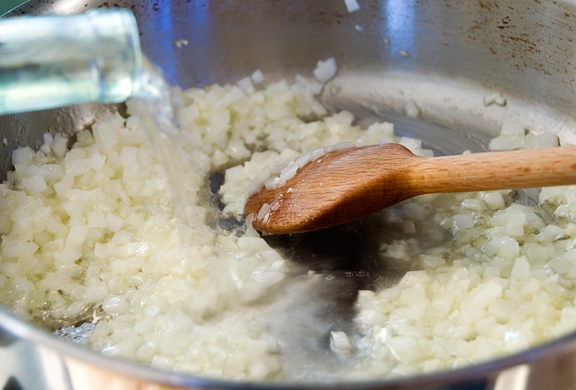 pouring the sauce over the mussels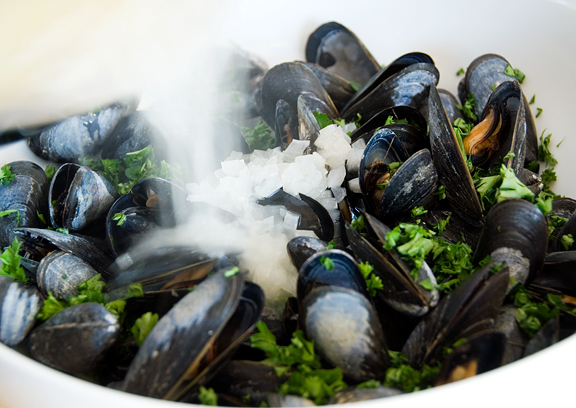 Jeremy and I order mussels occasionally in Boulder and they always come in a little pool of fantastic sauce. After making our own mussels in white wine sauce tonight, I had an epiphany, "The restaurants use an ass ton of butter!" Well, it's easy to make at home, much cheaper, and dare I say it – healthier and just as (okay, almost as) delish. It's terrific with some toasted baguette slices for sopping up the precious sauce.
it's like a party in my mouth!
Mussels with White Wine Sauce
[print recipe]
2 pounds black mussels, scrubbed and de-bearded
1/2 onion, diced
4 cloves garlic, minced
1 stick butter (I used a half, but I really believe 1 whole stick will send you to happy land)
1 bottle Pinot Grigio
salt to taste
parsley, minced (optional)
lemon wedges (optional)
baguette, sliced and toasted (optional)
In a large pot, bring water and 1 cup of wine to a boil (enough volume to cook all of the mussels). Toss out any mussels that have opened. Meanwhile, melt butter in a saucepan over high heat. Add onions and garlic to the melted butter and sauté until translucent. When the water has come to a boil, carefully pour in the mussels. Once the mussels open, remove them from the water to a large serving bowl (if you pour the whole pot into a colander, be sure to reserve 1 cup of the broth). When onions are cooked, pour 1 cup of the mussels' boil water in with the onions. Pour in 1-2 cups of wine. Let simmer. Add salt to taste. Stir in the parsley and remove from heat. Pour the sauce over the mussels. Serve immediately with toasted baguette and lemon wedges.