Recipe: asparagus soup
It is still winter here. I accept that with no problem whatsoever. It was snowing this morning and such a thrill to wake up to white skies and dusted pine trees on the hillsides. I embrace it with open arms. But… it has been warm for the past couple of days and I've been cooking and shooting lots of greens – feels suspiciously like spring. Kaweah certainly thought so yesterday. It was so warm in the house that I opened the deck door to let the cooler 60°F breeze in. Pup was overjoyed with the open-door policy and didn't know what to do with herself. She wandered in and out and in and out and when she realized I wasn't going to close the door, she finally settled on the deck for some good old-fashioned brain-baking.

a little toasty in my winter coat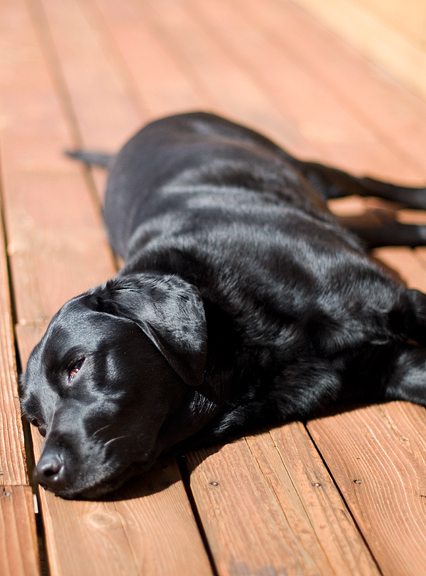 I remember when a month felt like an eternity as a kid and now as an adult, it just flies past before I know it. Is it because that unit of time grows shorter relative to our age or is it because we're so busy as adults? This flying of the time makes me a little nervous because I can never get all of the seasonal things in that I want to do. But I think it's better to have a long list of things to do than a list with nothing on it. Bored people make me batshit.
a forest of asparagus
My refrigerator is full of spring greens right now, which is odd for many many reasons, not the least of which is that we are technically a month out from spring (and where I live, spring doesn't make an entrance until May). So that, coupled with the weather, made me feel like I was jumping the gun a little. Out of respect for my cherished winter, I made a compromise.
cut the asparagus
I searched for a good asparagus soup recipe. Most of the ones I found called for cream or milk, which may taste good, but doesn't feel good when you are lactose intolerant (that, I am). Besides, I wanted something a little lighter.
garlic and onions give some depth to the body
Giving up on the recipes, I decided to wing it and make up my own non-dairy version. I just wanted it to be greenish. And delicious. Keeping in mind a few pointers from chef during our knife skills class, I decided to sauté the ingredients for better flavor.
sauté to a beautiful green color
finger on the button, ready to purée
When the vegetables were just done, I emptied them into the food processor and processed the hell out of them. I had to add a little chicken broth to help it along, but after a few minutes, I realized the soup would be more of a rustic purée rather than a silky purée. Perhaps next time I will employ my uber-wonderful food mill (which only occurred to me as I slurped the soup down…)
looks gorgeous, smelled fabulous
I heated some butter and flour together for thickener and used chicken broth for the soup base. The purée lost a tad of its greeness when I poured it back into the pot and brought it all to a boil. I think next time I will boil the chicken broth/flour/butter, then remove from heat and mix in the purée to see if that preserves the color a little better. A dash of lemon juice and some ground pepper were added and it was ready to serve. The soup itself was terrific, but I have to agree with Jeremy that the added sprinkle of bacon and the little grilled cheese sandwiches that I used for garnish rounded the whole thing out.
dress it up in a bowl
or party it up in shots with mini grilled cheese sandwiches
Asparagus Soup
[print recipe]
1 lb. asparagus spears, bottoms trimmed
2 tbsps vegetable oil
5 cloves garlic, diced
1 cup yellow onion, diced
salt
1 tbsp butter
2 tbsps flour
1 quart chicken broth
1-2 tsps lemon juice
pepper
Cut the asparagus spears into 2-inch pieces. Heat the vegetable oil in a large pan or pot. When the oil is hot, add the garlic and onions. Sauté until fragrant. Add the asparagus to the pot, season with salt, and stir-fry until the spears turn a deep green. Do not overcook! Remove from heat and empty the vegetables into a food processor or blender or food mill. Purée the asparagus (I added about a cup of the chicken broth). In the same pot, melt the butter. Add the flour and stir until it foams. Pour the chicken broth into the pan a little at a time and stir to incorporate (so you avoid chunks of flour-butter floating around in the broth). Pour in the remaining chicken broth and bring to a boil. Remove from heat and stir in the purée. Add lemon juice and pepper to taste. Serve hot.