Thursday, March 26th, 2009
Are you ready for your weekly dose of blogger kitchens? We are now entering week 4 of the tour and both of the kitchens featured this week are located in sunny, Southern California. While I don't really miss the kitchens I had in So Cal, I certainly miss all of the fine produce and access to awesome ethnic foods, and that weather (as long as it didn't get too hot)… ANYTHING grows in that weather! In contrast, I had a little victory of my own this week when I planted some mint in my window sill. Did I mentioned we're supposed to get 3-7 inches of snow today?
blog: Alosha's Kitchen
blogger: Melissa
location: Orange County, California
house: apartment, 35 years old
kitchen footprint: 12′x12′ (estimate)
photos: all photos of Alosha's Kitchen are courtesy of Melissa
Our first stop is Alosha's Kitchen where Melissa chronicles her culinary journeys from her apartment kitchen. I first became aware of her blog when she was picked on by the giant machinery that is Cooks Illustrated (America's Test Kitchen, Cook's Country) and the food blogging community rallied behind Melissa. [Personally, I am rather underwhelmed by their Chinese recipes.] What I love about Melissa's cooking is that she is learning and exploring and sharing with others – it's what makes cooking so fun. What I love about Melissa is that she has a lot of heart.
Tell me, what is your motivation for cooking?
Two reasons. One is that it's a challenge for me. Cooking doesn't come easily for me and until a year and a half ago when I started my blog, I knew very, very little. So it keeps my brain busy because I get to learn new things and expand my horizons almost every day. The second reason is for our health. Eating out every day or getting fast food just isn't an option. I won't put that junk into our bodies. So cooking means I am taking care of us.

enter the kitchen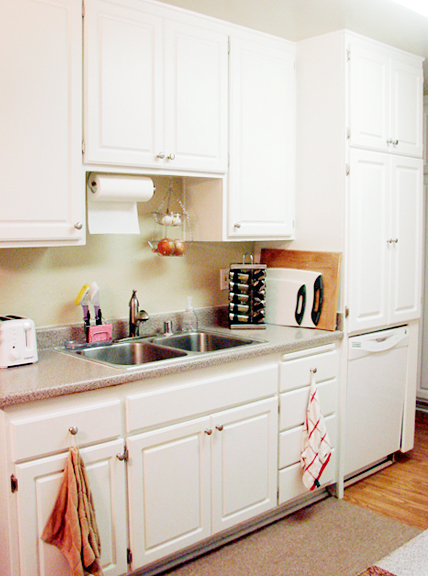 How much time do you spend in your kitchen?
An hour or two per night usually, whether that's making dinner or making lunches for the next workday. On the weekends, I've been trying to make more time-intensive meals. So that can mean 3 or 4 hours in the kitchen, making a soup in addition to a more complicated recipe for dinner. That's if I'm lucky though. I work a lot, including overtime on the weekends, and I don't spend as much time in there as I would like because of that.
Melissa had expressed some nervousness about showcasing her kitchen. Afterall, she told me, it's a tiny apartment kitchen. But I reassured her that there are so many apartment kitchen cooks out there – and I had my fair share of apartment kitchen cooking until I was 34! When I got her pictures, I nearly fell out of my chair – I would have loved such a nice space when I was living in apartments. She is pragmatic about her kitchen and also keeps things incredibly tidy, another big plus in my book.

the range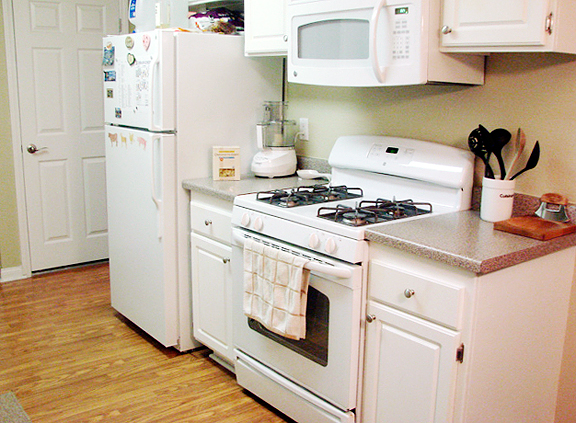 **Jump for more butter**