Recipe: cheesecake
We prepped a late dinner Sunday evening. As Jeremy opened the door to the deck to get the grill going, we noticed a nice little layer of snow everywhere. [I realize I talk about the weather a lot. It's not because I'm trying to be polite, it's because I am a bit of a weather dork.] Just a few hours earlier we were in Boulder, enjoying these:

tulips on pearl street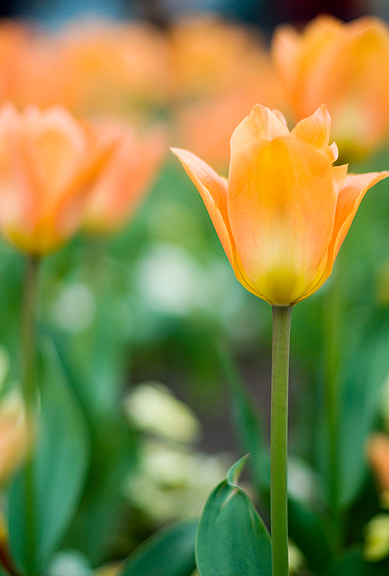 April is like that around here. Can't make up its mind about the seasons. That's sort of how I felt about this month's Daring Bakers challenge… I couldn't make up my mind about the flavor – so I did both.
daring bakers, baybeee – we knead to bake!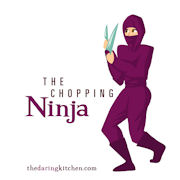 The official line: The April 2009 challenge is hosted by Jenny from
Jenny Bakes
. She has chosen Abbey's Infamous Cheesecake as the challenge. The unofficial line is that Jenny rocks it along with our Superstahhh founders, Lis of
La Mia Cucina
and Ivonne of
Cream Puffs in Venice
. I heart them all.
Ah yes, cheesecake. I always think that I like cheesecake until I take a bite and then it becomes clear that cheesecake and I are just friends, not lovers. I can appreciate a good, smooth, creamy, rich cheesecake, but I can't see us dating, you know? That doesn't mean I don't enjoy baking a stellar cheesecake and serving it to people who deserve the love.

crusts in ring molds: graham cracker and chocolate cookie
In my pantry is a bin full of baking pans including a dozen 4-inch springform pans. Those springforms are shalloooooow. I guess my idea of cheesecake is something tall that your fork has to travel through to get a bite. I gave my 2-inch and 3-inch ring molds a try – that's what the Daring Bakers are for, right? Since the ring molds don't have bottoms, I double wrapped the bases in foil and then pressed the crusts down with a shot glass. Making two flavors involved two types of crusts: the traditional graham cracker crust and then a crust made from crushed chocolate cookies (Trader Joe's Joe-Joe cookies with the creamy middle scraped off).
chopped dark chocolate
lemon
strawberries
I settled on chocolate-espresso cheesecakes and strawberry swirl cheesecakes. Chocolate-espresso because I knew Jeremy would actually eat them and strawberry swirl because I had a lot of strawberries in the refrigerator. For each batch I made a third of the given recipe. Each third would yield enough for two 2-inch molds and three 3-inch molds.
add melted chocolate, espresso, and kahlua to the base batter
purée the strawberries
If you decide to use ring molds, make sure the foil is not only tightly wrapped around the base, but that it won't leak water when you bake it in a water bath. So no seams lower than half-way down the mold or else you might cry like a big baby. I filled my ring molds nearly full and had no problems with overflow.
pour the batter into the molds
swirl strawberry purée onto the tops with a toothpick
My greatest fear was that the cheesecakes wouldn't unmold well and I'd wind up with what looked like cheesecake vomit on a plate. What I should have been worrying about was that hole in my ovenmitt I had neglected for several months. It came back to bite me in the ass… or rather, on my finger because I grabbed the oven rack with my bare finger which made the whole experience a lot more daring than usual. Aside from that, they unmolded beautifully (with some careful coaxing) and wound up with a most delicate, creamy texture – both flavors! I don't like those crumbly cheesecakes (overbaked!) – waterbath is the way to go. Seriously. Jeremy, who also maintains a platonic relationship with cheesecake, said this was fantastic. My betties loved the cheesecakes. I even took TWO bites this time. Awesome recipe. Thanks Jenny. It's going into the arsenal.
chocolate-espresso cheesecake (2-inch)
strawberry-swirl with mango and strawberry (3-inch)
Abbey's Infamous Cheesecake
[print recipe]
crust
2 cups / 180g graham cracker crumbs (or crushed chocolate cookies from Oreos or Joe-Joes w/o filling for chocolate-espresso version)
4 oz. butter, melted
2 tbsps / 24g sugar
1 tsp vanilla extract
plain cheesecake
24 oz. cream cheese, room temperature
1 cup / 210g sugar
3 large eggs
1 cup / 8 oz. heavy cream
1 tbsp lemon juice
1 tbsp vanilla extract (or the innards of a vanilla bean)
1 tbsp liqueur, optional, but choose what will work well with your cheesecake
strawberry swirl cheesecake
24 oz. cream cheese, room temperature
1 cup / 210g sugar
3 large eggs
1 cup / 8 oz. heavy cream
1 tbsp lemon juice
1 tbsp vanilla extract (or the innards of a vanilla bean)
1 tbsp Grand Marnier
1 cup strawberries, puréed
2 tbsps sugar
chocolate espresso cheesecake
24 oz. cream cheese, room temperature
1 cup / 210g sugar
3 large eggs
1 cup / 8 oz. heavy cream
4.5 oz. semi-sweet chocolate, melted
1 tbsp espresso powder
1 tbsp boiling water
1 tbsp vanilla extract (or the innards of a vanilla bean)
1 tbsp Kahlua or coffee liqueur
Preheat oven to 350°F. Begin to boil a large pot of water for the water bath. Mix together the crust ingredients and press into your preferred pan. You can press the crust just into the bottom, or up the sides of the pan too – baker's choice. [Jen's note: if using ring molds, tightly wrap double layer of foil around base making sure no seams in foil below the halfway mark or you might spring a leak in the water bath.] Set crust aside. Combine cream cheese and sugar in the bowl of a stand-mixer (or in a large bowl if using a hand-mixer) and cream together until smooth. Add eggs, one at a time, fully incorporating each before adding the next. Make sure to scrape down the bowl in between each egg. Add heavy cream, vanilla, lemon juice, and alcohol and blend until smooth and creamy. [For chocolate-espresso: combine boiling water with espresso powder. Add cream, chocolate, espresso, vanilla, and Kahlua to the cream cheese batter and mix until smooth and creamy.]
Pour batter into prepared crust and tap the pan on the counter a few times to bring all air bubbles to the surface. [For strawberry swirl: mix the sugar and the strawberry purée together then top the cheesecake batter with the mixture and create the swirl design by running a toothpick through the surface.] Place pan into a larger pan and pour boiling water into the larger pan until halfway up the side of the cheesecake pan. If cheesecake pan is not airtight, cover bottom securely with foil before adding water. Bake 45 to 55 minutes [25 minutes if using 2- and 3-inch ring molds], until it is almost done – this can be hard to judge, but you're looking for the cake to hold together, but still have a lot of jiggle to it in the center. You don't want it to be completely firm at this stage. Close the oven door, turn the heat off, and let rest in the cooling oven for one hour. This lets the cake finish cooking and cool down gently enough so that it won't crack on the top. After one hour [30 minutes for small ring molds], remove cheesecake from oven and lift carefully out of water bath. Let it finish cooling on the counter, and then cover and put in the fridge to chill. Once fully chilled, unmold and serve.