Recipe: bakewell tart
Just under the wire! I wasn't sure if I was going to make it this month, but luckily it turned out to be a relatively straightforward challenge. Whew!

the daring bakers knead to bake, damnit!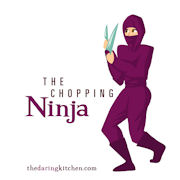 Here's the official line: The June Daring Bakers' challenge was hosted by Jasmine of
Confessions of a Cardamom Addict
and Annemarie of
Ambrosia and Nectar
. They chose a Traditional (UK) Bakewell Tart… er… pudding that was inspired by a rich baking history dating back to the 1800's in England. And of course, the unofficial line is that our founders, Lis of
La Mia Cucina
and Ivonne of
Cream Puffs in Venice
, are goddesses. I marvel at how those two women do it, but they do it – and they do it well. Thanks for the pastry love, ladies!
This dessert was not only straightforward (thank goodness, or someone would have been pitching a fit at 8500 feet) it was delightfully almondy and moist with bright hints of fruit. I'll have to be quick here before I nod off and wake up with little keyboard marks on the side of my face…

grating cold butter into the flour for the crust
whisking egg yolks and almond extract together
It's a wonder that I don't make pie and tart crusts more often because I could sit and eat them straight. I love them THAT much. Probably best for all involved that I don't. The sweet shortcrust pastry came together in no time, although I probably added a tad bit more water than I should have. It's a forgiving dough, though. Thank you, dough.
wrapping the disk in plastic for a little staycation in the fridge
next day: start the frangipane filling whipping butter and powdered sugar
There is a lot of butter in this recipe. Not a problem here, of course. I always have butter… I mean, buttah. And because I've been making macarons out the wahzoo (thanks to
Helen
) I also have a frightening stash of blanched almonds on hand at any given time. Good thing, since the frangipane called for ground almonds. Mmm, anything with ground almonds automatically moves up in ranking in my book.
spooning almond flour into the mixture
trimming the shortcrust dough in the tart pan
After pressing the dough into the pan, I chucked it into the freezer while I warmed some jam. The challenge said I could make my own jam. Alright, I know everyone and her sister is making jam these days from the mad loot they are scoring at the farmer's markets, but honestly now, I look at beautiful seasonal fruit and… I eat it. That's right, I eat it as is. Maybe this summer I'll get over my hangups with cooking perfectly juicy, ripe fruit, but in the meantime I spent (way too much) money on this lovely organic jam. I warmed it up and spread it over the frozen dough (work quickly or else it will become gloppy).
wild blueberry jam – from the great state of maine (that's a joke only five people in the world will get)
pour the frangipane on top
Once the filling was smoothed out evenly, the tart baked for a mere 30 minutes. I worried that the frangipane would puff up and jump ship, but it remained well-behaved and turned a golden brown on top. I even had enough leftover for a small 4-inch tartelette (well okay, I made sure I reserved enough for a small tartelette).
spread the filling
mini bakewell tartelette
I let the tarts cool down to warm before removing them from the pans. On the tartelette, the jam began to bubble up and surface in a few places, but the large tart was fine. I cut into the tartelette for a picture and then took a bite. I had zero expectations for this challenge, mostly because I wasn't expecting to ever getting around to making it this month. Oh boy. That was one pleasant surprise. Almonds and berries have a superhero partnership that launch any dessert into the stratosphere and beyond. So there I was. In the stratosphere. With my bakewell tart.
Thank you Jasmine and Annmarie for choosing and hosting this terrific challenge. This recipe is a keeper for entertaining! See what the other Daring Bakers have been up to here.

serve with fresh fruit and freshly whipped cream
cross section of the larger tart
Bakewell Tart
[print recipe]
a traditional (UK) recipe from the 1800s in England
1 sweet shortcrust pastry
bench flour
1 cup (250ml) jam or curd, warmed for spreadability
1 batch frangipane
handful almond slivers, blanched
sweet shortcrust pastry
8 oz. (225g) all purpose flour
1 oz. (30g) sugar
1/2 tsp (2.5ml) salt
4 oz. (110g) unsalted butter, cold (frozen is better)
2 egg yolks
1/2 tsp (2.5ml) almond extract (optional)
1-2 tbsps (15-30ml) cold water
Sift together flour, sugar and salt. Grate butter into the flour mixture, using the large hole-side of a box grater. Using your finger tips only, and working very quickly, rub the fat into the flour until the mixture resembles bread crumbs. Set aside. Lightly beat the egg yolks with the almond extract (if using) and quickly mix into the flour mixture. Keep mixing while dribbling in the water, only adding enough to form a cohesive and slightly sticky dough. Form the dough into a disc, wrap in cling and refrigerate for at least 30 minutes.
frangipane
4.5 oz. (125g) unsalted butter, softened
4.5 oz. (125g) icing sugar
3 eggs
1/2 tsp (2.5ml) almond extract
4.5 oz. (125g) ground almonds
1 oz. (30g) all purpose flour
Cream butter and sugar together for about a minute or until the mixture is primrose in color and very fluffy. Scrape down the side of the bowl and add the eggs, one at a time, beating well after each addition. The batter may appear to curdle. In the words of Douglas Adams: Don't panic. Really. It'll be fine. After all three are in, pour in the almond extract and mix for about another 30 seconds and scrape down the sides again. With the beaters on, spoon in the ground nuts and the flour. Mix well. The mixture will be soft, keep its slightly curdled look (mostly from the almonds) and retain its pallid yellow color.
Assemble the tart: Place the chilled dough disc on a lightly floured surface. If it's overly cold, you will need to let it become acclimatised for about 15 minutes before you roll it out. Flour the rolling pin and roll the pastry to 5mm (1/4") thickness, by rolling in one direction only (start from the centre and roll away from you), and turning the disc a quarter turn after each roll. When the pastry is to the desired size and thickness, transfer it to the tart pan, press in and trim the excess dough. Patch any holes, fissures or tears with trimmed bits. Chill in the freezer for 15 minutes. Preheat oven to 400°F (200°C). Remove shell from freezer, spread as even a layer as you can of jam onto the pastry base. Top with frangipane, spreading to cover the entire surface of the tart. Smooth the top and pop into the oven for 30 minutes. Five minutes before the tart is done, the top will be poofy and brownish. Remove from oven and strew flaked almonds on top and return to the heat for the last five minutes of baking. The finished tart will have a golden crust and the frangipane will be tanned, poofy and a bit spongy-looking. Remove from the oven and cool on the counter. Serve warm, with crème fraîche, whipped cream or custard sauce if you wish. When you slice into the tart, the almond paste will be firm, but slightly squidgy and the crust should be crisp but not tough. Makes one 9-inch tart.