Recipe: chinese spaghetti (zha ziang mien)
I believe Peabody is going to move in with us soon if the heat wave in Seattle continues and our cool spell in the Colorado Rockies lingers. As most of you know, sun and heat do not make for a happy me. Yes, I recognize how vital the sun is and yes, I do enjoy basking in the warm rays of sunshine… when it's 20°F out. We were beset with a few rather warm (okay HOT) days in the Colorado Front Range, but thankfully a string of overcast afternoons infiltrated our forecast. Along with the instability aloft, we got our light shows back!

in summer, we choose outside seating when it's cloudy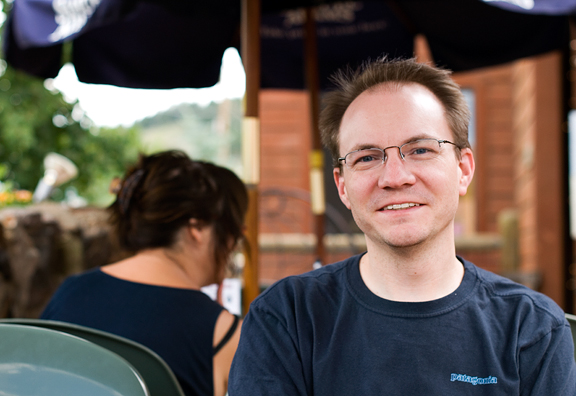 i have this thing for lightning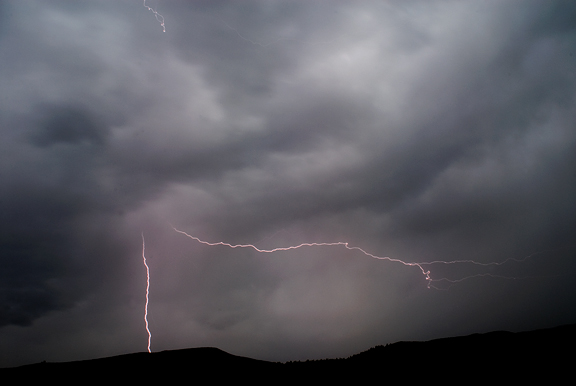 Now it is downright chilly. And I love it. My friend said it was snowing in the basin (I assume that is A-basin – a fine place to get your
ski
tele on). The deck read 32°F this morning. Unfortunately it wasn't snowing, just raining. That's okay by me. We need the rains.
fleece weather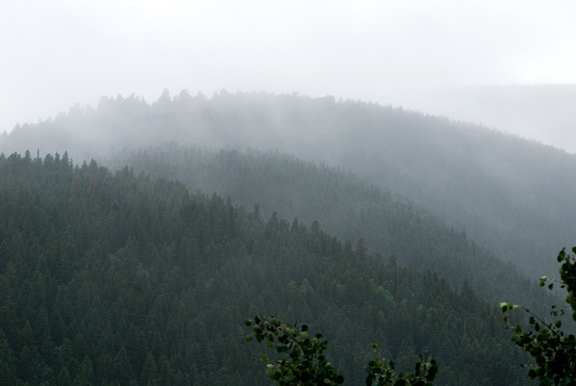 I think cooler weather jump starts my cooking/baking mojo too. When it's hot, I can't even THINK about blogging a recipe that requires stove or oven let alone make one. See here, I made this recipe a while back but could only bring myself to process the photos this week with the cool down. I got the idea to make this when Chuck and Hungry Bear posted their recipe for
zha ziang mian
last year. Zha ziang mian (or ja jian mien – my pin yin is non-existent as any of my Chinese friends know) is like Chinese spaghetti with meat sauce. My dad makes this dish on occasion and I had a mental note to ask for the recipe – an adventure in and of itself.
okay, there's ground pork, ginger, garlic, and green onions
preserved mustard green and dried tofu
My family does not cook from recipes, they cook by feel and memory. I cook by feel and memory too, but that's not a particularly useful way to share recipes with others and it doesn't lend itself well to photographing the process. It's a bridging of two cultures, reconciling two very different (and sometimes opposing) ways of doing things. That is in essence the story of my life. Somehow, I have muddled along thus far, to everyone's (including my own) astonishment.
picture of the preserved mustard green
dried tofu comes in blocks
If the above ingredients are easy for you to find, have a cookie. If not, I included pictures of the mustard greens and dried tofu so you can identify these things in Asian grocery stores the way I do – by sight. You can use regular pasta with this, but that's akin to using flour tortillas with
mu shu pork
. Kinda surreal and not quite right, you know? I prefer the Chinese flour stick noodles (see a
picture of a brand of noodles
I use). They are flour noodles. I call them flour stick noodles because that is how it gets translated on the packaging and we all know how fun and entertaining Chinglish can be!
chili garlic paste, black bean garlic paste, soy sauce, sweet bean paste, chinese cooking sherry
start sautéing the pork and vegetables
In the photo above, I have sweet red bean paste pictured. This is not what I was supposed to use (nor should you). My parents told me it should be a sweet bean paste – more like a sweet soy paste – that you can find in Asian grocery stores. They gave me a jar of it and then laughed at my mistake. Anyway, don't use sweet red bean paste.
My dad gave me two versions of this recipe. The first was off the top of his head, but I think he went back and made a batch in his kitchen because he sent me a revised recipe a few weeks later. Of course, my dad is the type of cook who can never reproduce a recipe because he's always tweaking it to make it better, hence many states of the recipe exist. It's like Schrödinger's cat, by virtue of asking him to write down a recipe, it forces him to choose one of many states and then we wind up with one recipe from a suite of many potential recipes. Go review your quantum, kids.

add the "sauce" ingredients
lastly, add the minced mustard green and dried tofu
I love serving up a hot bowl of these fragrant, spicy, satisfyingly meaty (and yet tofu-y) noodles on a cold and rainy day. My friend M gave it the thumbs up – and she's French!
one more way to love up my noodles
Zha Ziang Mien (Chinese Spaghetti)
[print recipe]
3 tbsps vegetable oil
2 tbsps fresh garlic, minced
2 tbsps fresh ginger root, minced
2 tbsps green onion, minced
1/2 lb. (250g) ground pork
1 tbsp Shaoxing cooking sherry
1/2 cup (110g) sweet red soy bean paste (optional)*
2 tbsps hot chili garlic sauce
2 tbsps black bean sauce (black bean garlic sauce is fine)
2 tbsps soy sauce
1/2 cup (75g) preserved mustard green, small dice (not the pickled kind, the preserved kind)
1/2 cup (90g) dried tofu, small dice
1 tsp water
Chinese flour stick noodles, cooked
* This is NOT sweet red bean paste, but sweet bean paste which is really sweet soy bean paste that I was supposed to have used. This was most certainly lost in translation. If you look for the ingredient, it is a sweet soy bean paste which is actually not sweet and probably not a paste, but more like a sauce.
Heat the vegetable oil in a large frying pan on high flame. Add the garlic, ginger, and green onion to the hot oil and stir fry until fragrant. Add the ground pork and sauté until halfway cooked. Pour in the cooking sherry, bean paste (optional), chili sauce, black bean sauce, and soy sauce and mix until the pork is cooked through. Add the mustard greens, tofu, and water. Stir and let simmer for a minute. Remove from heat and serve over hot noodles.