Recipe: vietnamese beef pho
NaBloWriMo day 14. I'm blogging daily and trying not to lose it.
Eat on $30 day 4. I'll cover what we ate on day 4 tomorrow since the Daring Cooks challenge usually goes live at midnight. This posting date was set in stone millennia ago, but I made it (and we ate it) last week, so it isn't part of the Eat on $30 challenge.
It's my Dad's birthday! Happy Birthday, Baba! I hope you have an awesome day. Love, JenJen.
Did you see the giveaway for 2 $25 Macy's gift cards? Go! Go enter! Then come back because this recipe RAWKS!

daring cooks – we slice, we dice, we sizzle, baby!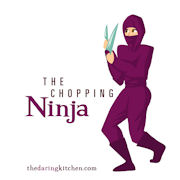 It's time for the Daring Cooks again after last month's hiatus. Let's pay proper homage to the ladies of the kitchen… the DARING KITCHEN, that is: lovable Lis of
La Mia Cucina
and irresistable Ivonne of
Cream Puffs in Venice
. Our hostess this month is one of my favorite chicas of the food blogging world, Jaden from
Steamy Kitchen
. I had the pleasure of meeting her in person last month at the
BlogHer Food conference
in San Francisco – such a sweetheart.
Here's the official line: The October 2009 Daring Cooks' challenge was brought to us by Jaden of the blog Steamy Kitchen. The recipes are from her new cookbook, The Steamy Kitchen Cookbook.
The challenge for October was Vietnamese pho. Jaden gave us a lot of options to choose from, but I went straight for the long version of the Vietnamese beef pho recipe. I have been wanting to make beef pho for years and this was the kick in the patootie I needed. I only made a half recipe since we had to empty our fridge of perishables before starting the Eat on $30 challenge. The first step was to roast the ginger and onion in the oven. While that was roasting, I parboiled the beef bones ten minutes for the precious broth then drained them and cleared the pot of scum.

halved onion and ginger
beef bones
I've never made broth with this combination of spices before and I was so excited! The parboiled bones went into a fresh pot of water and were brought back to a boil. I placed the spices in a little mesh pouch and chucked those in with the ginger, onion, fish sauce, sugar, and salt.
spices
my favorite brand of fish sauce (oddly enough, three crabs)
into the pot the onion goes
Jaden said for maximum flavor, simmer the broth for THREE hours. Yes, ma'am! It smelled like heaven. My house smelled like heaven. I wanted to swim in that aromatic broth, except it was scalding hot. Just before the broth was ready, I prepped the rest of the ingredients for the pho.
slicing half-thawed flank steak
the rice noodles i bought
Every time I have fresh basil, fresh mint, and fresh cilantro together, I think of my good friends, Todd and Diane over at
White on Rice Couple
because they introduced me to real Viet food. The
dinner they served us last year
puts a smile on my face whenever I think back to it. So Jaden's recipe gave me the warm fuzzies.
fresh produce ready to serve
ladling the piping hot broth
I blanched my rice noodles in boiling water for a minute and then drained them. The hot broth is supposed to cook the beef, but Jeremy and I like our beef rare – REALLY rare, so I don't let it cook too much. I added a little hoisin sauce and a generous squeeze of hot chili sauce and the soup was PERFECT. I am so very very happy to finally know how to make pho. Thank you, Jaden! Be sure to check out the rest of the
Daring Cooks challenges
.
out of this world amazing beef pho
Vietnamese Pho: Beef Noodle Soup
for the recipe, please visit Steamy Kitchen