Recipe: ma pu tofu
NaBloWriMo day 29.
Okay, I have caught up on answering questions in the comments. Sorry about falling behind. *pointing finger at NaBloWriMo*
The day after my grandma's 88th birthday while I was still in California, Jeremy relayed the sad news that his own grandmother had passed away that morning. It was a shock as I cried into my aunt's shoulder. I call my MIL, Mom. I call my FIL, Dad. I called Jeremy's grandfather, Grandpa and I called his grandmother, Grandma. She was my grandma too.

she loved pink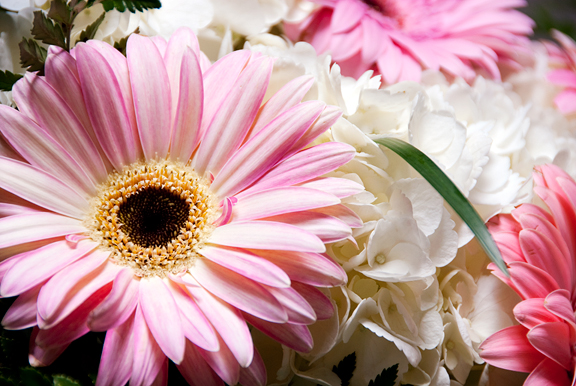 Not long after Jeremy and I started dating almost 17 years ago to the day, we took a trip to New Mexico and I met his family. And then I went to Sunday dinner at Grandma and Grandpa's house to meet all of the aunts, uncles, cousins… We paid a visit before dinner and his grandparents treated me like one of their own. It probably won't surprise anyone to learn that these two very special people were the sweetest, most gentle souls in Jeremy's life. He would go to their house before and after school, every day from age 6 to 16. He even kept his bike there (which Jeremy informs me is a big deal). Jeremy told me they always had the good sugary cereals in their cupboards. And of course, he spent every Sunday at his grandparents' house – the whole clan did. They didn't just go for Sunday dinner, they went in the morning and played cards and games. It was the hub of activity for the family.
Sunday dinners continued after Grandpa passed away twelve years ago. Whenever we were in town, we always reserved Sundays for Grandma's house. If we weren't staying over a Sunday, we'd make a point of visiting with Grandma. She loved chocolate, loved the color pink, loved having her grandchildren around, loved to eat out with friends. Grandma was an ace bowler, did the crossword puzzle every day, beat the pants off of everyone at Gin Rummy, won first place regularly at the state fair for her handwork… but most of all, she gave good hugs and had a smile that lit up the room. In the morning, we drive to New Mexico to be with Jeremy's family and to say good-bye to this beautiful woman whose love nurtured three generations.
It's been cold and snowy here. While cross country skiing yesterday, Jeremy and I silently made our way through the woods both lost in our own thoughts, both thinking about his grandmother. It only made sense that dinner tonight should be a comfort food – one that warms the body and sets the mind and heart at ease.

pork, bamboo shoots, green onions, chinese black mushrooms, chili-garlic sauce, tofu
minced black mushrooms (rehydrated), green onions, bamboo shoots
Jeremy loves ma pu tofu for the textures, the spice, the stew-like nature. I love it because my mom and grandma both made this when I was growing up. When I eat it, it feels like a hug from home.
pouring chicken broth into the sautéed pork and vegetables
adding soy sauce, sesame oil, and tofu
Most people who dislike tofu usually complain that it has no flavor. To that, I say, "You clearly don't know how to cook tofu." Actually tofu DOES have a subtle flavor, but I won't get into that right now. Ma pu tofu packs a lot of great warm flavors and you can make it as spicy or mild as you like (but I tell ya, spicy is gooooood). I like to add a few spoonfuls of both the garlic black bean sauce and the chili garlic sauce. Oddly enough, when I was looking for the jar of black bean sauce in my refrigerator today, I found not one, not two, but THREE open jars. You can never have enough, really.
garlic black bean and chili garlic – like peanut butter and jelly, yo!
stirring in the extra kick
In case you do decide to rush out and make this, I highly recommend buying firm tofu (not extra firm, just plain old firm) instead of silken or soft tofu. This is mostly because when you stir the pot, the cubes of tofu don't fall apart as easily with firm tofu. I've made this with silken tofu before and the resulting dish, while delicious and perfectly edible, had an uncanny resemblance to vomit. Don't say I didn't warn you.
serve hot
also particularly satisfying over steamed rice
Ma Pu Tofu
[print recipe]
this one is straight from my head
1 tbsp vegetable oil (NOT olive oil)
3 oz. ground pork
1/2 cup bamboo shoots, minced
1/2 cup Chinese black mushrooms, rehydrated, rinsed, cleaned, and minced
1/2 cup green onions, minced
20 oz. chicken broth (homemade is better, but canned is okay), add more if you like it soupier
1 tbsp soy sauce
1 tbsp sesame oil
2-3 lbs. firm tofu, cut into 1-inch cubes
2 tbsps corn starch
1/4 cup water
2 tbsps garlic black bean sauce
1-2 tbsps chili garlic sauce
In a large saucepan, heat the oil over high flame. Add the pork when the oil is hot and sauté. When the pork is barely pink, add the bamboo shoots, mushrooms, and green onions and stir-fry until fragrant. Pour the broth, soy sauce, and sesame oil into the pan. Let it come to a boil and add the tofu. Cover the pot and let it simmer for 10 minutes. Mix the cornstarch with the water and stir it into the pot. Let the mixture return to a boil and stir in the garlic black bean and chili garlic sauces to taste. Serve over steamed rice.