Recipe: friands
It's rare that we get completely overcast days around here. The sun almost always makes an appearance. Even with clouds plastering the sky, the light is rather bright – especially when it is reflected off of all that snow in winter. We've had snow all weekend with only a couple of sucker holes (windows of blue sky) in an otherwise monochromatic landscape. Our snow is fluffy and squeaky – *squeak* *squeak* with each step. It offers no resistance when you kick through it and it sticks to Kaweah's schnoz when she sniffs about for dead things.

that bright blob is the sun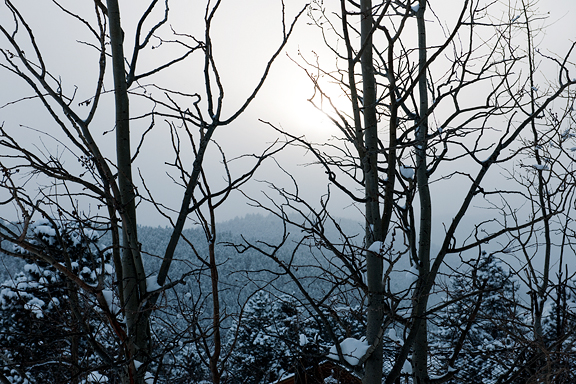 on our walk this evening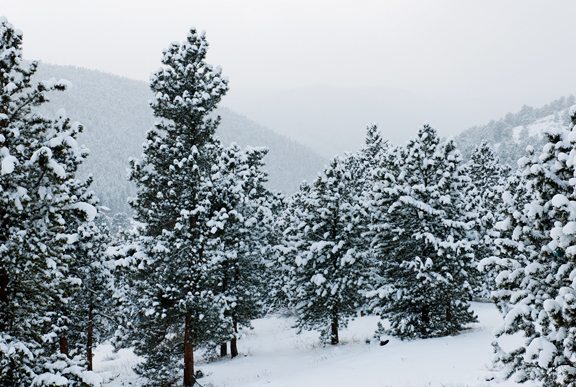 she may be getting old, but she still loves to romp in the snow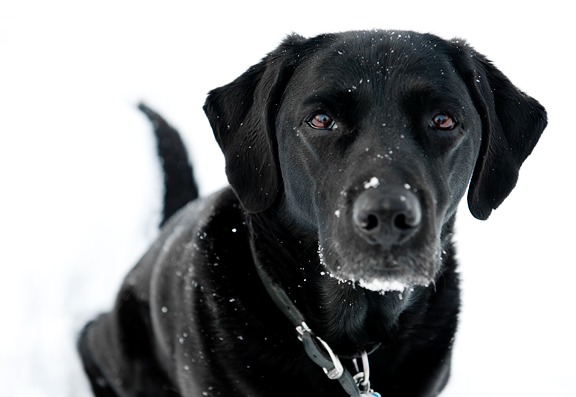 A few weeks ago I was testing out a recipe I had been wanting to make for years. Friands. I had heard about them, seen them, even have several recipes for friands in various books, notes, and bookmarked blog posts. They are so cute that it's hard to believe I didn't get around to making them sooner. They are based in large part on almond meal and almond is one of my favorite flavors.
mix the almond meal with the powdered sugar and flour
stir in the egg whites
I made these friands
several
times. The first time, I spooned too much batter into the forms and the fruit became completely enveloped such that you never knew they were there until you bit into one. The second time I made them, they turned out beautifully and were distributed to neighbors, and Jeremy's department. The third time I made a double batch so there were enough to hand out at Chinese New Year's Eve (for folks to eat first thing in the morning on Chinese New Year's Day so sweet things come out of their mouths all year) plus extras for Jeremy to enjoy – which he did. It's so simple to make.
combine the butter with the batter
set the fruit on top
This recipe also leaves you with a lot of egg yolks, which is why I was making four different flavors of ice cream the same week I made the friands. For me, it's a moist cake version of a French macaron because it is based on egg whites, almond meal, powdered sugar… And I love the fact that they are cute, short, tiny cakes. The combination of the almond and the raspberries is my favorite. A perfect little present.
they look like they're smiling at you
great for breakfast, tea, any time
Friands
[print recipe]
slightly modified from Donna Hay's Modern Classics 2
4 oz. (125g) butter, unsalted
1 cup almond meal
1 2/3 cups confectioner's sugar
3/4 cup flour
1/2 tsp baking powder
5 egg whites
1/2 tsp almond extract (optional)
1/3 cup raspberries, fresh (or any berries)
Preheat oven to 350°F (180°C). Place butter in a saucepan over low heat and cook until melted and a light golden color. Set aside. Place the almond meal, confectioner's sugar, flour, and baking powder in a bowl and whisk to combine. Stir the egg whites into the dry mix until combined. Pour in the butter and stir until completely combined. Stir in the almond extract (optional). Grease a dozen 1/2 cup capacity muffin tins or tins of any type. I like my square tins better (grease more as needed – Donna says ten in her recipe, but I made 14). Spoon 2 tablespoons of batter into each tin and plop the a few berries on top. Bake 15-20 minutes or until the tops are golden and spring back when you touch them. Makes a dozen (or more).