Recipe: tortilla de patatas (spanish omelette)
Um, the cost of spring is apparently $8.50 for one adult! That was the price of admission to the Butterfly Pavilion in Westminster. I took my aunt who was in town on Tuesday. We had a blast checking out the incredible displays of insects, spiders, millipedes, scorpions and I even held Rosie, the Chilean Rose Hair tarantula. Her feet were so soft and furry and her step was light on the palm of my hand. What a truly gorgeous and amazing creature! But the real reason we went: the butterflies.

paper kite butterfly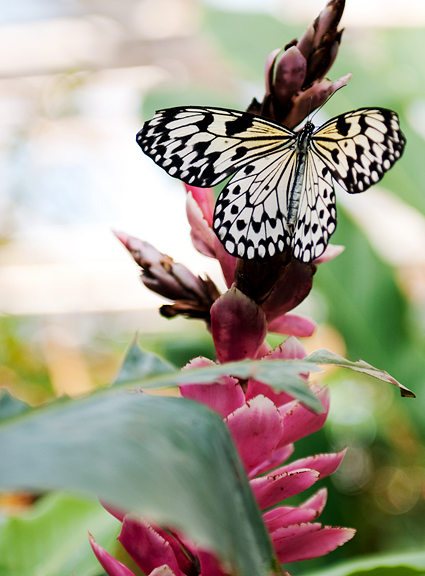 The moment I removed my lens cap, my filter fogged up. It was so warm (dare I say, hot!) and humid in the Wings of the Tropics Conservatory compared to the cold and dry Colorado winter air outside. I suppose the word
Tropics
should have clued me in, no? Good thing I had a short sleeve t-shirt under my pullover. I was sweating within minutes. We enjoyed the variety of tropical plants almost as much as the variety of butterflies. Everywhere we looked we saw butterflies flitting, chilling out, taking off, landing, spazzing, sipping up nectar. They were enormous, delicate, exotic, simple, brilliant, striking, mellow, ADD (the postman butterflies were seriously spaz), but each one was fascinating. Every now and again I would look past the dense growth of flowering plants and catch a glimpse of the sunny, but snowy landscape through the glass.
Oh yeah – it's winter.
postman butterfly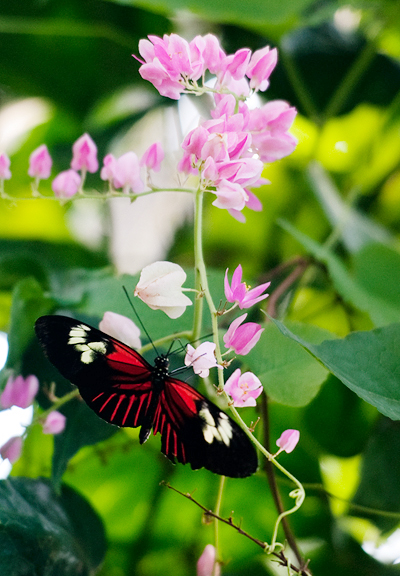 But I like winter :) So for me the foray into this world of the colorful, humid tropics was nice in part because it was so stunning AND because it was short-lived. You can see more photos from the afternoon
on my photo blog
.
I'm unclear if it's the whole Easter Bunny hoopla or just the association with the color yellow, but eggs have always been a springy and cheerful food to me. I love when Helen or Aran post their beautiful creations and have eggs littering the pages. They make me want to jump up and down like a kid and go running over to their respective kitchens to get my paws into the baking and my spoon in for a taste! So Aran has been tempting me for nearly a year with talk of her beloved tortilla de patatas.

simply put: eggs, onion, potatoes
medium dice on the onions
The first time I tasted this treat (and for someone who loves savory food, this is most definitely a treat to me) was back in college when my friend's mother had come out from Spain for his PhD graduation ceremony at Caltech. As I stepped into the house for the celebratory party, his mother greeted me with a plate of tortilla de patatas, cut into small cubes and speared with toothpicks. Heavenly! Years later and 3000 miles across the country, I was in a lecture on fracture dislocations in the complex plane when the Chinese professor paused and turned to the handful of graduate students trying to understand his light-speed train of thought. He shouted (he always shouted, there was no other volume), "Do you know how to cook Spanish Omelette?!" He was asking a Spanish woman sitting next to me. She shrank in her chair (there were only 8 of us), smiled and shook her head. "Oh, because I LOVE Spanish Omelette. I want to learn how to make it." Then he resumed telling us how you can solve ANYTHING in the complex plane… except for how to make tortilla de patatas.
onions, potatoes, eggs, and olive oil at the ready
sweating the onions
You can just imagine how happy I was when Aran
posted a recipe for this on her blog
. I'm not going to use just any recipe! She's the homegirl from Spain AND she's a trained chef. I used Yukon gold potatoes instead of russets because I'm crazy for the flavor. I went with the traditional version of just potatoes and onions (Aran's recipe includes watercress and parsnip which I'm sure is awesome). I used both a "stick" and a non-stick pan and the non-stick is most definitely the way to go. Don't ask.
let the potatoes poach in the olive oil
pouring the egg mixture into the pan
Absolutely delicious. How something so simple can wind up being so incredible is the magic of a great recipe. It's fantastic warm or cold. I feel like I've been given a gift. Thanks, Aran!
go get your own!
Tortilla de Patatas
[print recipe]
modified from Cannelle et Vanille
1/2 cup olive oil, extra virgin
1/2 medium onion, medium dice
2 medium russet potatoes, medium dice (I used 3 medium Yukon golds)
1 tsp salt
4 eggs
1/2 tsp salt
Heat the olive oil in an 8-inch non-stick frying pan on medium heat. Add the onions to the pan and sweat them for about 2 minutes. Add the potatoes and 1 teaspoon of salt to the oil. Let the potatoes cook for a couple of minutes and then reduce the flame to medium-low for 15 minutes. Aran says the point is not to fry the potatoes, rather to poach the potatoes in the olive oil. In a medium bowl, whisk the eggs and remaining 1/2 teaspoon of salt together. Drain the potatoes and onions from the oil and add them to the eggs. Don't worry if the egg starts to cook. Remove all but a teaspoon of oil from the pan and set the heat to medium. Pour the egg mixture into the pan and stir the center until the egg begins to scramble. Then leave it be. Use a wooden or rubber spatula to tuck the edges in neatly and let cook for a few minutes. I waited until mine was still runny, but solid enough to invert onto a plate and return to the pan to cook the other side. Serve hot or cold.