Recipe: chile-lime chicken tacos
I love a good day!
1) I like waking up early in the morning and getting heaps of things done. It makes me feel like my days are fuller… I guess they ARE fuller because I don't go to sleep any earlier (that's the vicious sleepless cycle of summer).
2) While I did my sit ups, Kaweah sat at my feet and licked my shins. Every time I laughed, she wagged her tail and stamped her front paws because she wanted to play.
3) I tried out a new recipe that rocked my socks.
4) My lens is under full warranty for major repairs. Yay!
5) I bought another camera. The circuit is now complete. Something something Dark Side…
6) Met with Dan of Savory Spice Shop in Boulder to discuss sponsorship of the Food and Light workshop. I picked up several beautiful herbs and spices to boot. And my girlfriend, who was passing by on the street, saw me and popped into the shop to pinch my bum! Wooooo!
7) Had dinner with my buddy Jason while he helped me get my new search tool installed on the blog, and then we went to a local blogger meetup.

at the meetup (jason was still working on the search tool)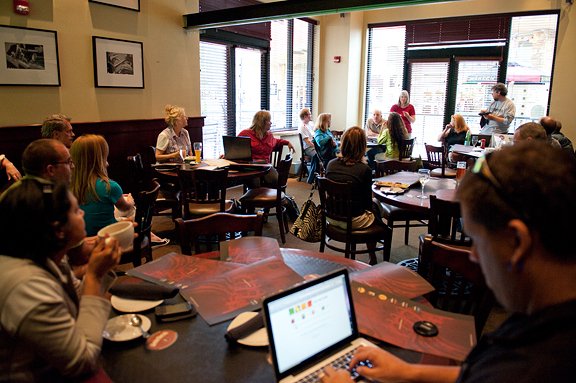 8) I brought fresh baked
cranberry oatmeal cookies
(and chocolate oatmeal cookies) for Jason and my pals
Manisha
and
Kath
at the meetup.
actually, these garlic fries weren't so good, but jason liked his mojito(s)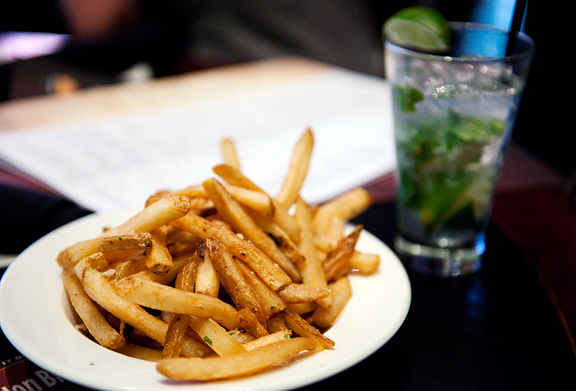 iphone whore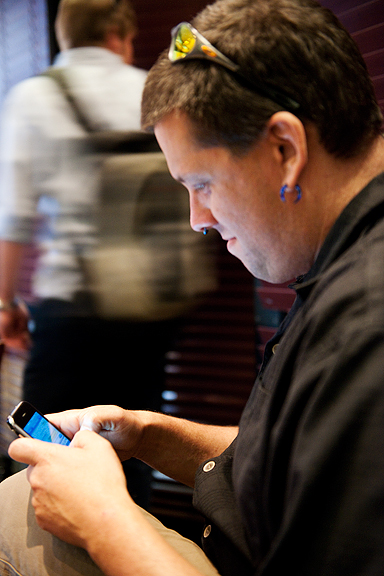 9) Ran into my friends
Jo
and
Jeremy
plus a fellow Ignite Boulder speaker
Peter
! Met several local bloggers including a darling woman
Rose (Rosie?)
.
lovely manisha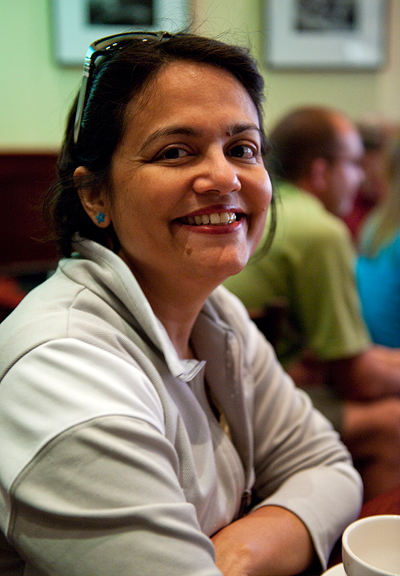 rosalicious addresses the group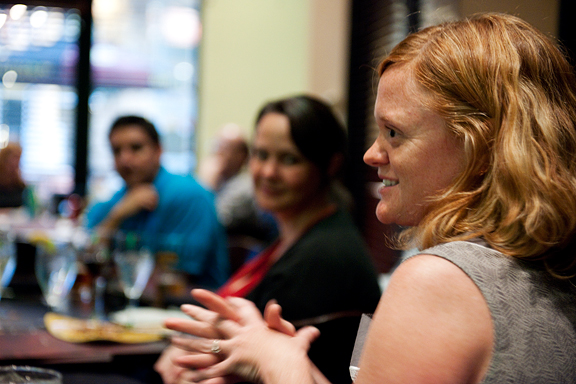 And those were just the highlights of the day! But wait, here's another highlight: chile-lime chicken tacos. After downing an exquisite taco from a taqueria in California's Central Valley, I began thinking about all manner of Mexican food that I hadn't had in a while. It's just not the same in Colorado, you know? At least not until my friend opens his new Mexican Taqueria in Boulder – but I'll tell you more about that later!
fresh lime juice
trimmed chicken thigh meat and chile powder
This is a fairly quick recipe I like to whip up when time is short. The key to it is the chile powder. I buy a lot of red chile powder when I'm in New Mexico and the flavor is far better than any
chili
powder I have tried at the standard grocery store. The quality of the chile powder determines the awesomeness of the chicken.
sauté the chicken
add the goodies to the pan
Another factor in the awesomeness of the chicken for me is the meat. I buy organic and I prefer chicken thigh meat. Chicken breast meat works just fine, but it tends to be more dry. The problem with chicken thigh meat is that it is riddled with little bits of fat which I meticulously remove. That can be a drag when you're in a hurry. Seriously though, it's just chicken, lime juice, oil, chile powder, salt, water.
chicken is done
fixins: queso blanco, guacamole, shredded cabbage, salsa
Equally important are the fixins. People put lettuce on their tacos, but I really like the crunch of cabbage. Of course, what is a taco without some cheese, guacamole, and salsa? In our household, we have a split. Jeremy is a fan of flour tortillas and I am a loyal corn tortilla girl. I say, go with what you like best because this filling is awesome no matter what kind of tortilla you choose.
i like the double corn tortilla taco
loaded and ready to go (in mah belly!)
Chile-Lime Chicken Tacos
[print recipe]
2-3 tbsps olive oil
1 lb. chicken breast or thigh meat, trimmed and sliced into strips
1-2 limes, juice of
3 tbsps chile powder (I like to use medium hot red chile powder – not chili powder)
salt to taste
1/4 cup water
corn or flour tortillas
queso blanco, fresco, or whatever cheese you like on your tacos
shredded cabbage
guacamole
salsa
Heat the oil in a medium saucepan over high heat. When the oil is hot, add the chicken and stir until the outsides are partly cooked. Stir in the lime juice, chile powder, salt, and water until well mixed. Reduce heat to a simmer and cover. Let simmer for 20 minutes then give it a quick stir. Most of the liquid should have cooked down, and if it hasn't you can let it simmer with the lid off until you have a thickish sauce remaining with the chicken. Heat the tortillas (warm the flour tortillas, lightly pan fry the corn tortillas) and load them up with the chicken, cheese, cabbage, guacamole, and salsa. Makes 8-10 tacos.
Note on chicken meat: I prefer to use chicken thigh meat because I think it has better flavor and is more moist than chicken breast meat. That said, trimming thigh meat of fat and connective tissue takes more time and makes you just a little insane. Okay, it makes me a little insane(r). And of course, I prefer organic whether I use chicken thighs or chicken breasts.