Monday, August 16th, 2010

Recipe: salsa del norte
Ever since Thursday night, when I was on the deck all bleary-eyed at 4 am trying to capture some astronomical magic, my sleep schedule has been completely whack. Since my parents are visiting, we're dining out at some of our favorite places. I feel like I won't want to eat for about a week after they leave. They go to bed on the early side (around 10pm) and then Jeremy and I stay up working late. But then Dad wakes up bright and early and well – Jeremy and I make it a rule to be awake when guests are awake. So you see, I am brain-function-impaired more and more each day. I suspect I'll be stumbling around like a drunkard tomorrow.

i don't even have emotions about these seared scallops right now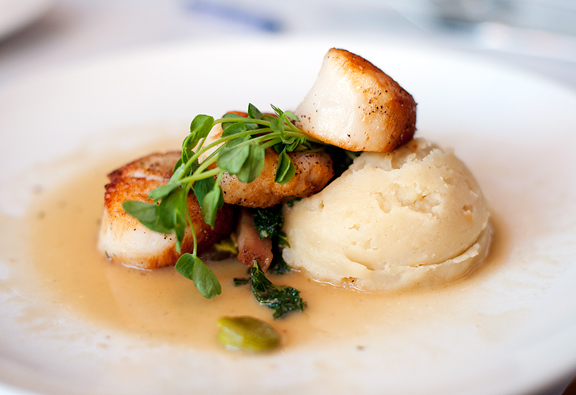 So normally, I keep my mouth shut about all of the people who tweet and post and Facebook about their
gardens
. You see, I'm lucky to not have killed off my little potted mint plant in the window sill yet (trust me, its days are numbered). I am so very green with envy of
my
many
friends
who
not only live in a climate conducive to gardening, but know how to garden and then go and make gorgeous food with their bounties. Yes well, I'm the sucker who pays at the market for what she can't grow. I long for the old days when my girlfriend at Clusters-R-Us came in with a bag of heirloom tomatoes from her yard and shouted, "Take them! I have so many I don't know what to do with them!" It's better than winning the lottery, in my opinion.
my store-bought produce
tomatoes are precious gems
**Jump for more butter**