Recipe: salted caramel ice cream
Remember my plan to keep things low key and unbusy this month? Well, that hasn't happened so far and I think it's mainly because I am not a low key kind of person. But whatever. As long as things get done and we're all having fun, then it's cool, right? And it's time for those end-of-the-year type of activities like squaring away annual financial records, shipping presents to the niece and nephew, and our new year's photo card to share with everyone. That includes you, dear reader. Go on and click over – the post will still be here.

happy holidays and let's rawk the new year!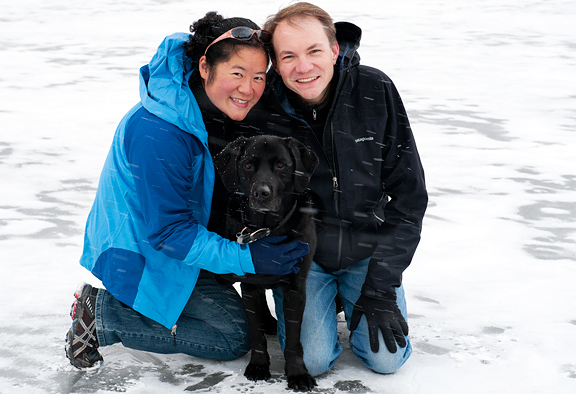 Then there is the business of the winners for Michael Frye's book(s) giveaway. You know that a random number generator is just too pedestrian in the House of Butter (and it's not truly random according to the resident astrophysicist, "It will produce a nice and uniform distribution of numbers that will pass most tests for randomness, but it's a repeatable process given the same seed." Thanks, Jeremy.) We are all about introducing as much randomness as possible. Jeremy started with ten three-digit numbers taken from the least significant bits of independent channels of a gravitational lens spectrum about half-way back to the Big Bang. All you need to know is that it is RANDOM. I then took the NUMBER mod NUMBER OF ENTRIES (=127) to determine ten semi-finalists from the comments. Then Jeremy assigned ten of Kaweah's toys to a number 1-10, which I assigned to the corresponding semi-finalists in random order. Then the final act of pure randomness…
kaweah just wants a treat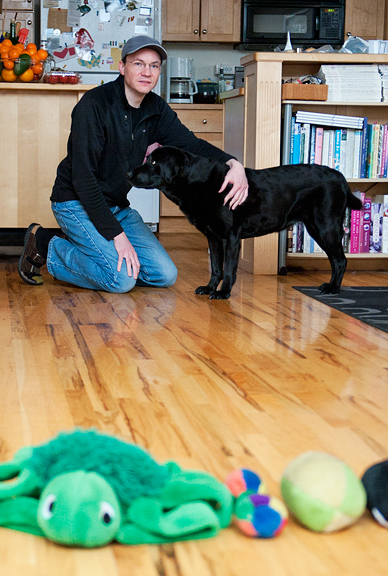 the dumbbell!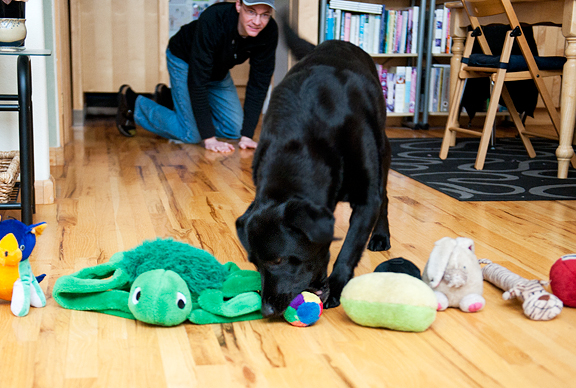 the dog! (with an inadvertent paw at the fish)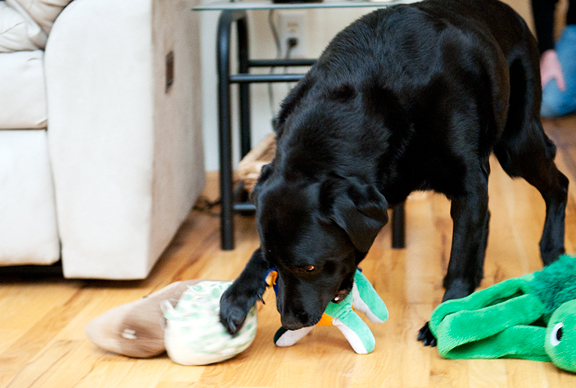 jaws of death in action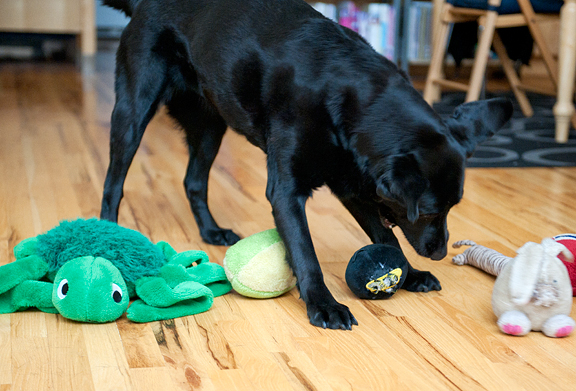 ninja!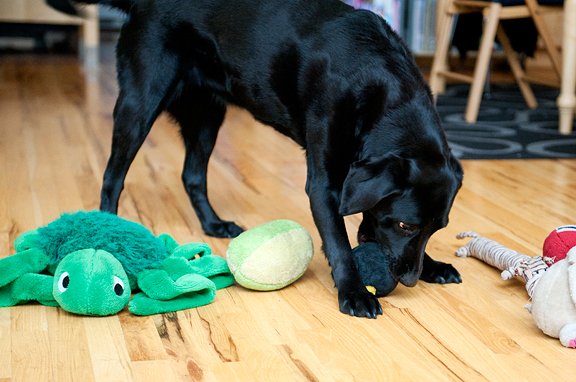 and finally the bone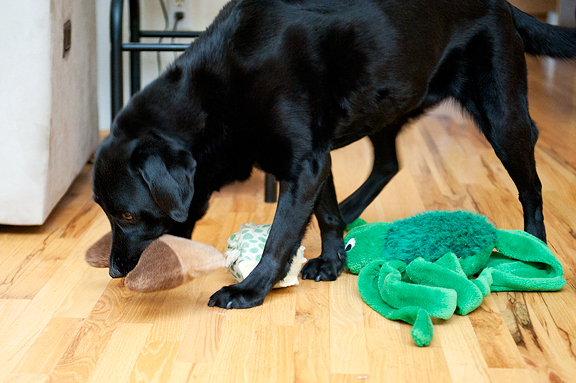 Are you lost yet? The winners of the three
Light and Land
ebooks are: dumbbell =
Michelle
(mountains, Cascades), dog = Audra (Colorado/Hawai'i), and ninja =
Emily
(Ireland). The winner of the signed copy of
Digital Landscape Photography
is bone =
Jason
(Pripyat, Ukraine). Congratulations to our winners and I will email everyone about their prizes shortly! Thanks to everyone for sharing the places they want to photograph and big thanks to Michael for generously providing the prizes and his incredible knowledge.
here's the paperwork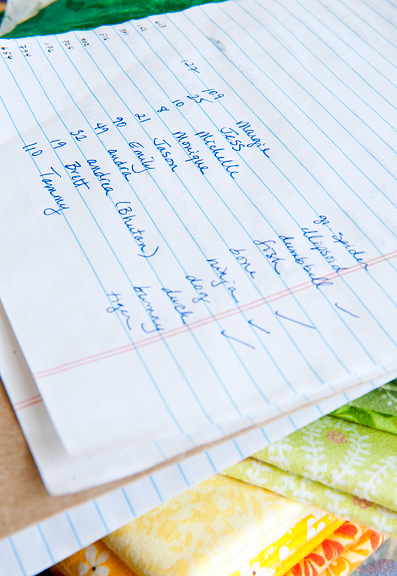 And now it's time for something sweet… and salty. I made this back in August, but salted caramel ice cream has no season as far as I'm concerned. Caramel is timeless and salted caramel is sexy timelessness. Salted caramel ice cream? Um – sexy, timeless and indulgent!
place the sugar in a pan (preferably a wide one)
the edges turning brown and melting
I perused several salted caramel ice cream recipes before settling on
this one
from the adorable Gaby at
What's Gaby Cooking
.
add butter, milk, and cream
temper the yolks with hot caramel-cream mixture
The first time I made the recipe, the caramel was burnt because the pan I used to caramelize the sugar was too small. This essentially meant the edges burned while the center remained unmelted.
Helen
recommended using a large shallow pan to caramelize the sugar, which worked perfectly.
adding salt
strain the custard
While I like the idea of salted caramel ice cream, I think I prefer to have my unsalted caramel ice cream served with a few sprinkles of flaked salt. Or perhaps I'll try making it with less salt next time. Even though the salt interferes with the ice cream's ability to freeze well, the texture is still smooth, creamy, and buttery all at once.
here's your bowl of timeless, sexy indulgence
Salted Caramel Ice Cream
[print recipe]
from What's Gaby Cooking
12 oz. sugar
2 oz. salted butter
1 1/2 cups cream
1 1/2 cups whole milk
6 egg yolks
2 tsps vanilla extract
1 tsp fine sea salt (I prefer to omit and add the salt when serving or reduce by half)
In a wide heavy saucepan, cook the sugar over medium high heat until the edges begin to turn golden brown and melt. You can stir a little to incorporate the dry sugar as it melts. When all of the sugar has caramelized, but before it begins to burn (turn dark brown – this really doesn't taste very good… ask me how I know this), add the butter, milk, and cream. It will sputter and bubble, so take care, but it shouldn't boil over. Reduce heat to medium flame and stir until all of the caramel has melted (it will harden and stick to the pan at first) and the liquid is barely simmering. In a small bowl, whisk the egg yolks, vanilla, and salt together until it becomes light yellow and thickens. Slowly whisk in a cup of the warm cream mixture into the eggs and whisk until incorporated. Pour the mixture back into the pan with the rest of the caramel/cream. Set the pan over medium heat and stir constantly (scraping the corners and bottom of the pan with a rubber spatula or wooden spoon) until the custard thickens to nappe consistency. Remove from heat and strain through a fine-mesh sieve. Cover with plastic wrap and refrigerate until completely chilled. Churn per your ice cream machine's instructions and freeze. Makes a quart (it's pretty soft).