Recipe: blackberry curd cheesecake in a jar
Boy, that was a busy weekend! And I'm not even talking about Easter since the Sunday prior I said, "I think it might be Easter today." Then I looked online and found out it was another week away. And all of that Easter candy in the stores didn't go on sale the following week. I don't do well with holidays whose dates float. That's another reason why Halloween is my favorite holiday.

fresh snow on easter?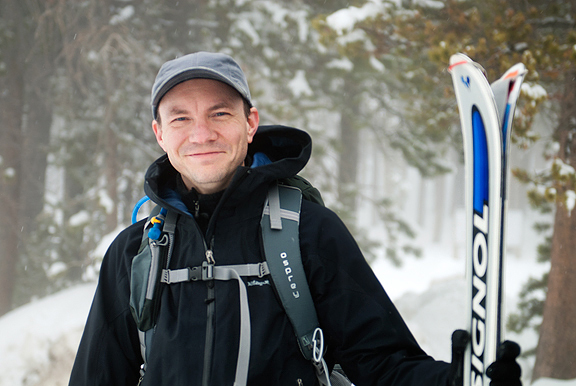 woohoo!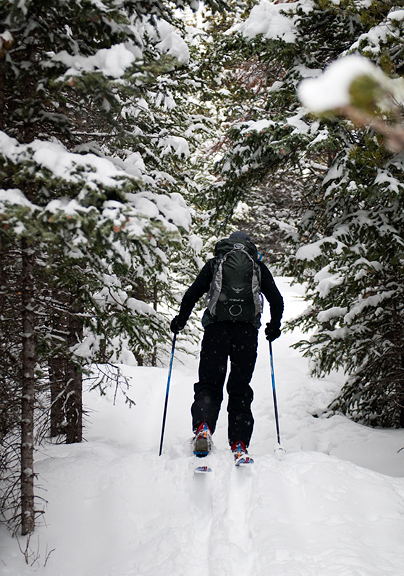 We had snow all weekend, and it was great! We donned our boots, packs, skis, skins, and finest Patagonia for a lovely day in the backcountry – practically all to ourselves except for the yahoos firing rifles somewhere in the distance (because THAT'S what some folks do on Easter Sunday, I suppose?). When we came home, we chowed down on dinner party leftovers from Saturday night. It only took us a year to get around to inviting our new neighbors over for dinner. Hey – we're all busy people… plus it was a good nudge to finally clean the house.
I kicked my weekend off a tad early on Friday with an afternoon gathering of my stitch-n-bitch crew which involved absolutely zero stitching. Someday we'll fix that, but for now we're having too much fun doing the nosh-n-slosh. It was nice to finally see Marianne, who had been in Antarctica for several months. And also to see Beth who has been in Boulder the whole time, but could have just as easily been in Antarctica with Marianne for all I knew. Like I said, we're all busy people.

fab food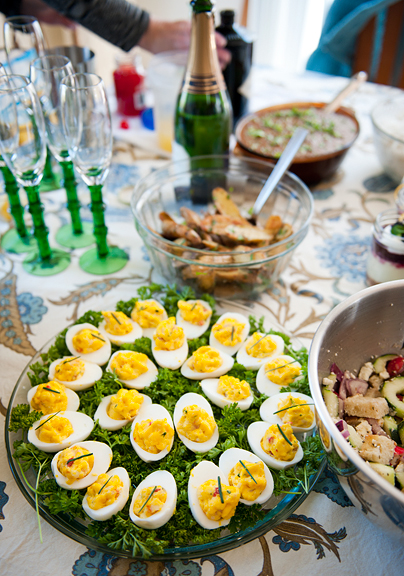 kitt made french 75s for everyone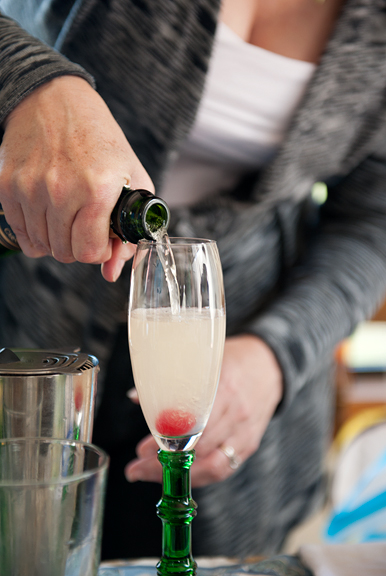 these were my contribution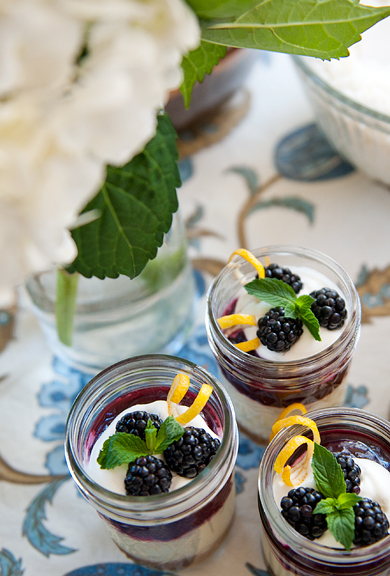 hmmm, seems to be a nikon-centric crowd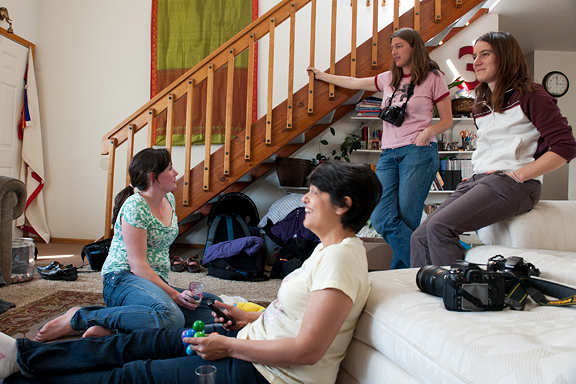 and we all wanted to spend time with this handsome little guy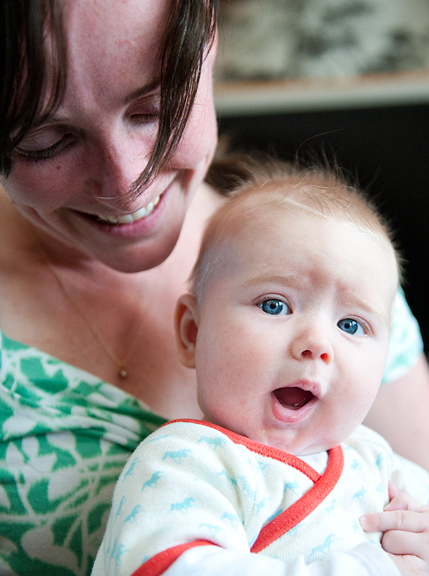 Besides catching up with this group of witty, fun, and smart women, I love that we always have a great spread of homemade food. People bring whatever they feel like and it always works out. Kitt usually brings cocktail fixings as she is our resident mixologist. You can always count on
Manisha
to bring amazing Indian food. And me? Typically at least one dessert. I meant to bring two this time, but spent Friday morning dumping an entire batch of baklava into the trash (bad walnuts). Good thing I had cheesecake!
my motley collection of jars
mixing graham cracker crumbs, sugar, and butter
I like to bring individual servings over one giant cake if possible. It's not always possible or worth the extra headache, but I always try. My first thought was to use cake rings, which I've done before, but I didn't want the hassle of unmolding and I was running short on time last week. Jars… jars… Didn't
Pim
recently post about cheesecakes in jars? I went to look and discovered that
she posted about them last summer
. I guess recent is a relative term for me!
scoop a little into each jar
gently press down
The jars I used were just random jars I have in my recycled jar cabinet. It's an eclectic mix of shapes and sizes that I tried to keep to around 8 ounces or less in capacity. Ideally, I would have liked to use some of my nicer little serving glasses, but I don't think they would have survived the oven – even in a water bath. Pim had said jam jars or any jar should work, which makes sense since they have to withstand certain temperatures and pressures.
cheesecake: milk, flour, cream cheese, sugar, lemon zest, egg yolks, eggs
mix until smooth
So you can't go and toss these jars into the oven straightaway or else the glass will likely crack or shatter. Then you'll be left with glass cheesecake and no one recommends serving and eating that. The best and smoothest cheesecakes I've enjoyed have always been baked in water baths. Water baths will also make it possible for you to bake your cheesecakes in a jar. Full. Double. Rainbow. All. The. Way.
pour batter into each jar
bake in a water bath
Cheesecake, for me, is not about cheesecake. It's about the fruity pairings. The weather had been so sunny and warm in Boulder that I couldn't resist getting a pint of fresh blackberries at the store. However, a pint wasn't enough to make the blackberry curd that I wanted to put on top of the cheesecakes. I picked up a (giant) bag of frozen organic blackberries. They were sweet and plentiful, so I doubled the recipe – because you never know when you need more blackberry curd! [Actually, I just re-read the curd recipe and see that I doubled the amount of berries accidentally – but it was GREAT.]
blackberries
bring to boil with orange zest and water
If you've ever had to press cooked berries through a sieve, you know it's a long, tiring, and messy process. Ever since my high school pal sent me a food mill (because he read that I swore excessively the last time I pressed berries through a sieve), the process of making seedless berry purées has been reduced to merely messy. I'll take it! I really love that food mill. Really, I do.
make a (delicious) mess pressing the blackberries through a food mill
add butter and sugar to make the blackberry curd
Plop some butter and sugar into the purée then add cornstarch to thicken and you should wind up with a smooth, gloppy dark reddish-purple curd. It's lovely. I could have had the curd and omitted the cheesecakes altogether. When the cheesecakes have cooled, top them with the curd and garnish as you like. And you don't have to make blackberry curd (although, I can't think of a reason why you
wouldn't
). You can top the cheesecake with any fruit curd, roasted fruit (like Pim did), fruit compote, fresh fruit, drunken fruit (hmmmm, that's an idea!), chocolaty something or other, caramel, etc. The sweeter toppings would probably make me go blind, but the beauty of making your own food is that you can put what you want on it.
it will be thick and velvety
top cheesecakes with curd and garnish
It was a tad sugary for me, so I might reduce the sugar in the crust and the cheesecake next time. But Jeremy and my girlfriends gave them the thumbs up and I have four more in the refrigerator to be delivered to our other neighbors this evening. Share the love (and calories), right?
dessert in a jar, just for you
Blackberry Curd Cheesecake in a Jar
[print recipe]
cheesecake from The Good Housekeeping Book of Illustrated Desserts and blackberry curd from Renaissance Culinaire
crust
2 cups (250g) graham cracker crumbs
6 tbsps (85g) sugar
6 tbsps butter, melted
cheesecake
40 oz. (1.15kg) cream cheese, softened
14 oz. (400g) sugar (I'd reduce this to 12 ounces next time)
5 large eggs
2 oz. (60 ml) milk
3 tbsps all-purpose flour
2 large egg yolks
1 lemon, grated peel of
blackberry curd
2-4 cups blackberries, fresh or thawed (I used 4 cups)
1/2 cup water
1 tsp orange zest
1 cup sugar
2 oz. butter
4 tbsps cornstarch
4 tbsps cold water (originally 2 tbsps, but was impossible to mix)
Preheat the oven to 325°F. Have approximately 12 8-ounce jars clean and dry at the ready. You don't need the lids (unless you want to seal them for transport). Boil a pot of water.
Crust: Mix the graham cracker crumbs, sugar, and melted butter together. Press enough crust into the bottom of each jar about a half-inch thick (it really depends on how big your jars are).
Cheesecake: In a large bowl, beat the cream cheese until smooth and slowly beat in the sugar. Scrape the sides down periodically to avoid any cream cheese lumps. Beat in the eggs, milk, flour, egg yolks, and the lemon peel. Continue beating until uniform and smooth, scraping down the sides as necessary. Pour the batter into each jar about 2-3 inches deep. Tap the base of the jars on a counter or table to get the air bubbles out of the batter. Place the jars in a roasting pan and carefully pour the boiling water into the pan avoiding getting any water into the cheesecake jars. The water should come up to an inch below the shortest jar. Place in oven and reduce heat to 300°F. Bake 30 minutes then turn off the oven and let the cheesecakes sit in the oven for another 20 minutes. Centers should be jiggly while the edges should be slightly firm. Remove from oven, remove from water bath and let cool completely. Cover with plastic wrap and refrigerate for at least an hour.
Blackberry curd: Place the blackberries, water, and orange zest in a pan and bring to a boil. Reduce to a simmer for 5 minutes. Press the mixture through a food mill or you can purée the berry mixture in a food processor and press through a sieve. Pour the berry liquid back into the saucepan over medium heat. Stir in 1 cup sugar and 2 ounces butter. Mix the cornstarch and water together in a small bowl. While whisking the berry mixture, pour the cornstarch into the pan. Stir until thick and bubbly and stir for another 3 minutes. Remove from heat. Pour the contents into a bowl or vessel and cover with plastic wrap. Let cool.
Top each cheesecake with blackberry curd and garnish as desired. Makes about 12 8-ounce jars.