Wednesday, September 21st, 2011

Recipe: tonkatsu (japanese pork cutlet)
The fall shoot is yellow-overload for me. I tend to go where the aspens are and that means gold against dark pine green here in Colorado. It took some getting used to since I grew up on the East Coast and spent many a graduate school year in the northeast where maples are ablazing in glorious reds, oranges, yellows. That's not to say that we don't have our share of the reds here. We do! Those plants that gave us glorious wildflowers in summer do double duty and provide striking splashes of red in the backcountry as evidenced on a recent hike.

sticky geranium leaves turning red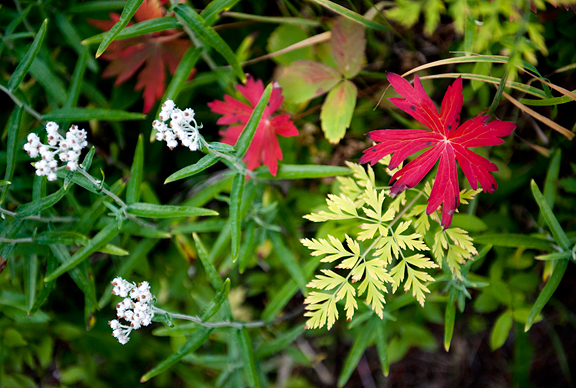 more sticky geranium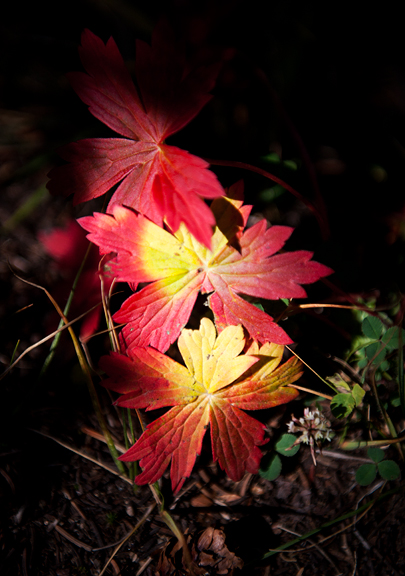 columbine leaves growing in a rock crevice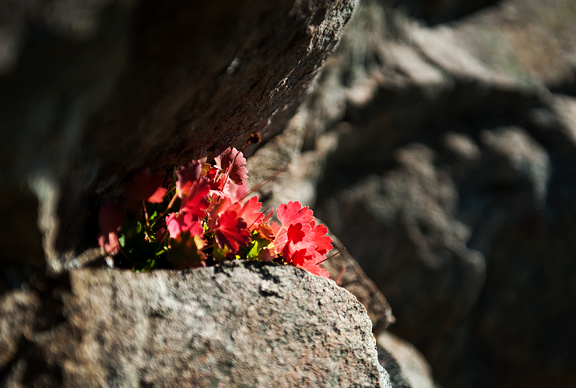 fireweed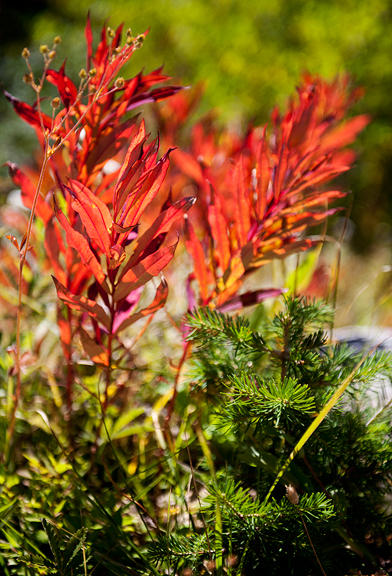 king's (or rose?) crown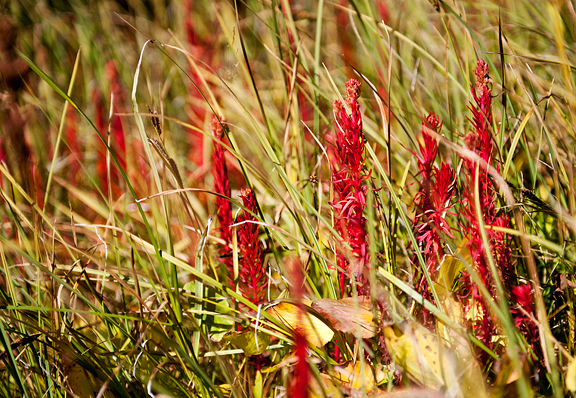 September has always been my favorite month because it is my birthday month and my birthday usually coincided with the first day of fall. The first day of fall is an abstract concept in places like southern Virginia. But in Colorado's high country, fall plays for reals and I love it. Jeremy and I got to the trailhead in the dark and hiked via headlamps for the first hour in sub-freezing temperatures. When the sun made her intentions known, we shut off the lamps and admired sunrise from a high vantage point. We continued on and marveled at the frost that encrusted the ground, the plants, even the tiny late season wildflowers. Alpine plants are
tough
. Coming around a bend in the trail, I looked up and gasped, silently grabbing Jeremy's arm as he walked up behind me. In the bluish light of dawn under the forest canopy stood an enormous bull moose. He was massive and towered above us even 20 feet away. At once, the moose reared its head up and back, the entirety of its enormous body flowing fluidly behind the head and diving into the woods, silently and effortlessly.
sunrise on the valley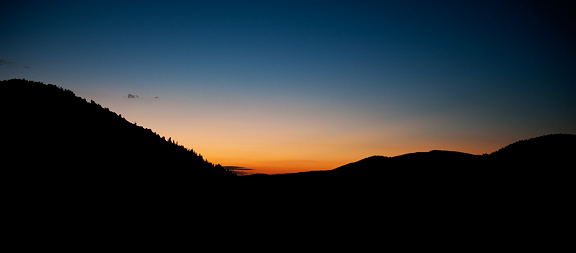 the frost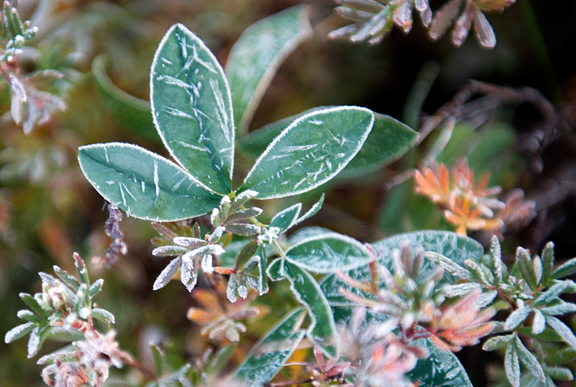 jeremy walks ahead of the sun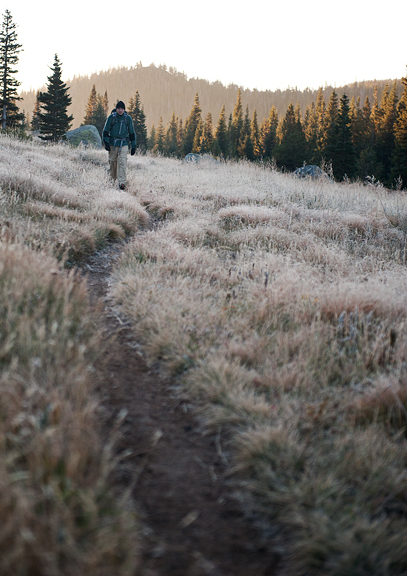 We heard bull elk bugling in the distance and saw a handful of mule deer feeding in the meadows. It's a busy time of year for everyone. While we are secretly doing our snow dances every day, this is our favorite weather for hiking when you can see your breath on the air into mid-morning and the sun is regarded as a welcome friend rather than an oppressive tyrant.
a few of the early aspens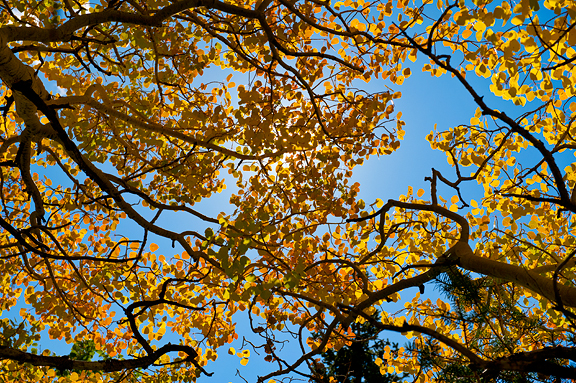 a few snowfields linger in the chutes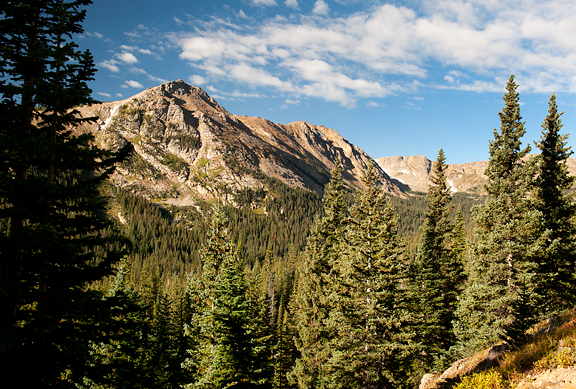 After a hike, we're always hungry because we rarely eat much for breakfast (it's hard to stomach much food at 4am) and we typically graze infrequently on the trail. The temptation to make a beeline straight from the trailhead to a burger joint or the pizza shack is high, but we try to avoid it by having good leftovers at home to heat up and dig into immediately. In this case, I had tonkatsu – Japanese pork cutlet – in the refrigerator. I like to make extra because Jeremy loves it for lunch. It's a dish I've seen on just about every menu in a sushi bar, but I never ordered it because I'm such a nut about sushi and sashimi. After seeing
Marc post about it
, I bookmarked the recipe and didn't look at my bookmarks again until a few months ago.
start by slicing cabbage
and soaking it in water
A traditional accompaniment is sliced cabbage and since you soak it in water for about an hour, it's advised that you start with that step first. Once you get the cabbage soaking, break out the pork loin! Well, I used pork loin chops. You just need pork loin chops, salt, pepper, an egg, flour, and panko (flaky Japanese bread crumbs – flaky as in texture, not in terms of reliability). And oil for frying.
pork, egg, panko
trim any fat or silverskin from the pork
**Jump for more butter**