Recipe: pink grapefruit-champagne sorbet
Where I live is notorious for its winter winds. And by winter, I mean autumn, winter, and spring. Our NOAA forecasts gusts up to 45 mph as "breezy". Up to 70 mph is "windy" and beyond is finally granted "very windy". There was a pretty severe wind storm back in mid November… the one that clocked 115 mph at Breckenridge. I never found out what it was in our town, likely exceeding 100. Over the past few months as we've hiked, walked, and skied around our local mountains, Jeremy and I have seen evidence of that storm's passing again and again. Mostly, it's in the form of windfall: rooted, topped, or split trees. Not just dead trees, but plenty of healthy, large pines.

one of the smaller examples, trailside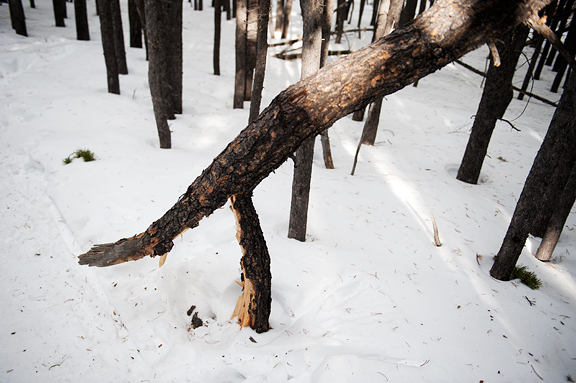 It bums me out because I love trees. The wind here can be so oppressive, violent, and depressing. For me, I guess it's depressing because when it's "very windy" it usually means changing whatever outdoor plans we had. I'll curse it more often than not, but it's also responsible for some amazing atmospheric displays. Sitting just a few miles east of the Continental Divide, we get a lot of orographic clouds overhead.
lenticulars along a huge wave cloud paralleling the rockies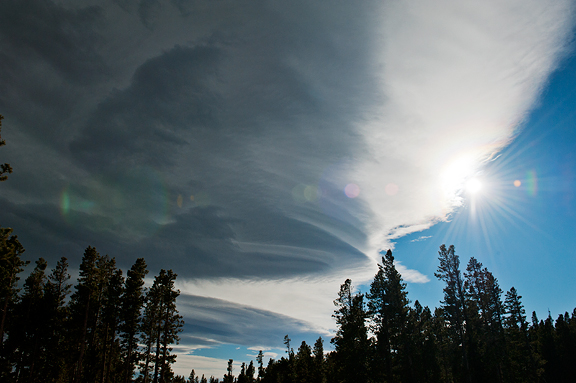 A lot of times, the winds will come when there is a big temperature swing like going from 40°F to 15°F or the other way around. So far, we've had some wind but mostly sunshine and warmth. It's not that I'm unappreciative, but… I'm unappreciative.
the snow is crapping out – we need more pow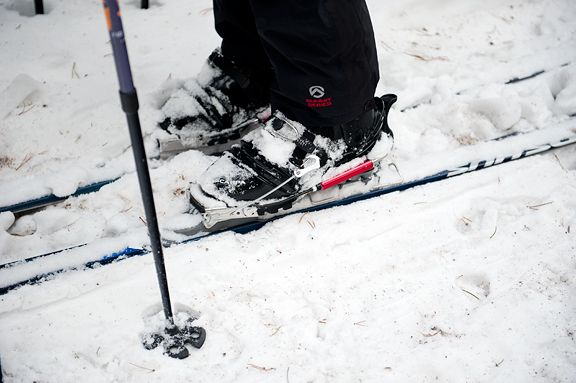 Okay, it's not ALL bad. Had it been our typical single digits the other night, I might not have been as willing to stand outside scoping out the Quadrantids meteor shower in the lonely hours between moonset and sunrise. 20°F is all right by me.
two-fer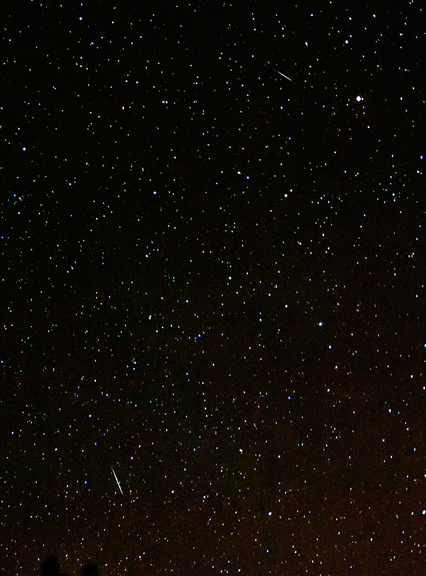 the brightest one of the night (that i saw)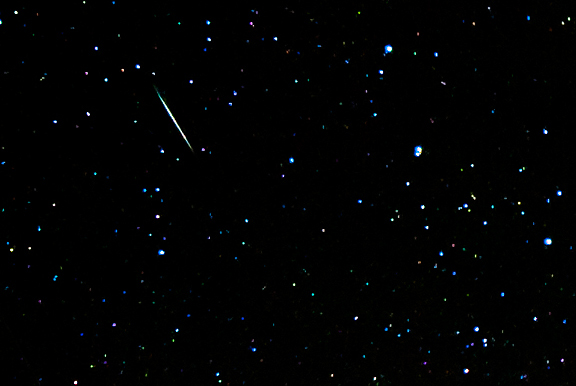 Weather has such an influence over my food moods and this ridiculous (and completely unnecessary) heat wave in Colorado has me downing
salads
,
cold noodles
, citrus, and now… sorbet. You'd think it was summer.
all you need is some bubbly, grapefruit, and sugar
juice the grapefruit
We have been buying pink grapefruit by the boatload. It's in season right now and they are super sweet, juicy, and beautiful. Usually at the start of a favorite fruit season, I'll consume the fruit as-is. After I get my fill (takes a few weeks), I'll allow myself to think of other recipes to make with said fruit and this pink grapefruit-champagne sorbet from
David Lebovitz's
The Perfect Scoop
caught my attention.
pouring the bubbles (drink the rest)
measure 1 1/3 cups
Champagne was out of my budget for the sorbet, but a nice California Brut was a pleasant compromise. I didn't mind sacrificing some of it for the recipe and Jeremy didn't mind polishing off the rest of the bottle. The ingredient list is short, the process is quick. Sorbet is generally easier to make than ice cream. Personally, I prefer it to ice cream.
pour half of the bubbles into a pan with the sugar
add the rest after the sugar has dissolved
After juicing the grapefruit juice, I strained it to get little seeds and pulp out. I wanted the final product to be as smooth as possible. The alcohol from the bubbly also helps to produce a silky sorbet.
pour the grapefruit juice in and let cool completely
churn in your ice cream machine
It was a warm day and I think my ice cream machine was giving its all to freeze the liquid. There was a slightly melty slush in the container and it wasn't going to get any colder as the canister's ice was nearly all water. I transferred the sorbet to the freezer and after several hours it yielded easily to the spoon. I was okay with the sparkling wine on its own, but I really liked it in the sorbet! This is a good time to make a quick batch of your own since grapefruits are in season and there seems to be a good supply of bubbly in stores after the New Year.
a winter-summer treat
Pink Grapefruit-Champagne Sorbet
[print recipe]
The Perfect Scoop by David Lebovitz
1 1/3 cups (330 ml) Champagne or sparkling wine
1 cup (200 g) sugar
2 1/2 cups (625 ml) pink grapefruit juice, freshly squeezed (about 3 grapefruits)
Combine half of the Champagne or sparkling wine with the sugar in a medium saucepan over medium heat. Stir until the sugar is dissolved and remove from heat. Pour in the rest of the Champagne or sparkling wine and the grapefruit juice. Chill the liquid completely and churn it in your ice cream machine per the manufacturer's directions. Makes about a quart.