Recipe: spanakopita
March has not forsaken us! Four inches of snow preserved by overnight lows to -10°F made for some solid spring skiing this weekend in Crested Butte. Aaaand there's more to come – yippee!!! But the season is definitely on the move. Despite the appearance of winter on the ground here, the sun and skies tell a different story. Clouds and weather are more dynamic with the increased warming of the atmosphere thanks to our sun that wants to hang out more and more each day. In the backcountry, you can smell streams and plants even though you may not see them under all of that snow. And flying insects! We've seen several lazily buzzing through the air as if they were trying to recover from the drunken stupor that was winter. It's all good. It really is.

skiing toward an approaching storm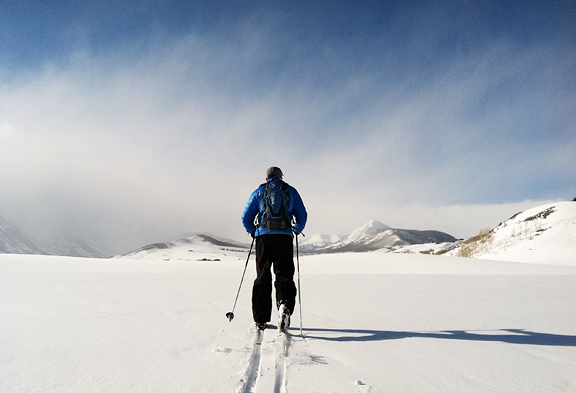 tracking up the fresh stuff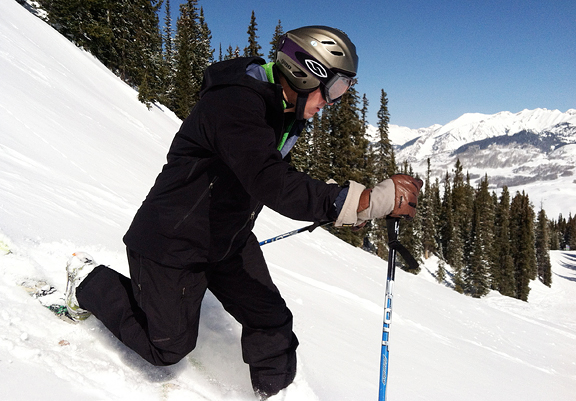 sunset on mount whetstone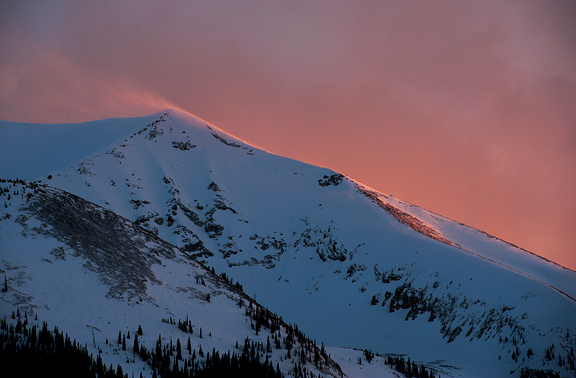 Spring cleaning applies to everything for me – from closets to pantries to hard-to-recycle items to gear to computer files… I've been in a slow motion spring cleaning mode since October and I finally got around to culling and sorting my gabillion computer files (mostly photos) last week. I am not even close to being done as it takes a while to sift through terabytes of data. But I did unearth a recipe for spanakopita (Greek spinach pie) I have been meaning to post since I shot it a few years ago. It seems rather fitting for this time of year. Or maybe I'm just really hungry after all that skiing.
feta, spinach, eggs, farina, butter, more butter, parsley, dill, green onions (not pictured: phyllo dough, salt)
The hardest part of making spanakopita is handling the phyllo dough, but it's not that hard. I've been using it since fourth grade (we learned to make
baklava
in 4-H) and have dealt with a lot of store-bought phyllo dough. The tricks are to: 1) thaw the frozen dough in the refrigerator for 24 hours 2) keep a damp (not wet!) towel over the sheets of dough to prevent drying out and 3) buy a reliable brand. I
tried
using an organic phyllo dough from Whole Foods and it made me cuss like a sailor. It stuck together, tore, and was really difficult to work with, despite following all of the instructions to thaw it properly. I've had mixed results with some national brands like Athens. The main thing is that you don't want the sheets to stick together. The best one I've dealt with? Safeway's brand. The point is that you'll need to determine what works best for you.
beat the eggs, chop the green onions, mince the herbs
adding sautéed green onions to the feta, spinach, herbs, and farina
pour in the beaten eggs
mix it all together
I've made spanakopita with frozen spinach and with cooked fresh spinach. The fresh spinach tastes a little better, but it's a bit more work than frozen spinach and you need to buy a lot of it to get the same yield. The filling itself takes little time to prepare aside from some chopping and a quick sauté of the green onions. The assembly can go relatively quickly too if you clear out the space needed to work with the phyllo dough sheets. I like to use a marble board or a large cutting board for brushing each sheet with melted butter.
nice individual sheets that aren't sticking together
brushing a sheet with butter
layering the sheets in the pan
Layer half of the sheets with butter on the bottom of the baking pan. If a sheet tears, it's okay. Just set it on top of the stack like a puzzle piece, more or less completing the layer. If they stick together while you are trying to separate a sheet of dough, it helps to slowly and carefully pull them apart. Sometimes it works, sometimes it's a train wreck. Pour the filling over the bottom stack of phyllo sheets. Then top off the pie with the rest of the phyllo sheets, brushed with butter and stacked like the first half.
pour the filling onto the bottom stack of phyllo sheets
layer the second half of the phyllo dough on top of the spinach
bake for 75 minutes
Spanakopita is an utterly delightful dish – a creamy spinach and cheese filling sandwiched between layers of flaky, delicate phyllo dough. What's not to love? It's a nice vegetarian option for entertaining (not a vegan option, though). If you want it to be an appetizer rather than a main dish, you can make them into
phyllo triangles
. Just swap the spinach filling for the crawfish filling. Triangles require more manhandling than the pie, but have a much shorter bake time. Prepared either way, spanakopita is a favorite in our house and a great way to get your greens on.
pairs nicely with a greek salad
just a bite…
Spanakopita
[print recipe]
nabbed this off rec.food.cooking 20+ years ago
2 tbsps butter
1/2 cup green onions, chopped
40 oz. frozen spinach, thawed and squeezed of liquid
6 eggs, lightly beaten
1 lb. feta cheese, crumbled
2 tbsps farina
1/2 cup fresh flat-leaf parsley, minced
1/2 cup fresh dill, chopped
1/2 tsp salt
8 oz. unsalted butter, melted
1 lb. phyllo dough, thawed
Preheat oven to 350°F. Melt the 2 tablespoons of butter in a medium saucepan over high heat. Sauté the green onions in the butter until they are wilted. Remove from heat and empty the green onions into a large mixing bowl. Add the spinach, eggs, feta, farina, parsley, dill, and salt. Mix until thoroughly combined. Brush the bottom of a 9×13-inch pan with melted butter. Unfold the phyllo dough so the sheets lay flat and cover with a damp (not wet!) kitchen towel (or damp paper towels).
Carefully lift off the top sheet of phyllo and set it flat on your work surface. If using 9×13-inch sheets, brush the top of the sheet with butter, then layer a second sheet on top and brush that sheet with butter. If using 13×18-inch sheets (double the size), brush half of the sheet (9×13 inches) with butter, fold the unbrushed part over the brushed half, and brush the top with butter. Lay the double layered buttered phyllo sheet on the bottom of the baking pan. Repeat until you have half of the phyllo dough stacked in the pan. Spread the spinach filling evenly over the layers of phyllo in the pan. Layer the remaining phyllo sheets on top of the spinach the same way you layered the bottom half (with butter). Bake for 1 hour and 15 minutes. Serves 8.
more goodness from the use real butter archives