Recipe: violet syrup (and soda)
There's a slow-moving storm with its haunches resting squarely on Colorado right now. It doesn't feel much like a spring storm, but more like the storms of winter – cold, very windy, and horizontal snow. I'm hoping some of it sticks in the high country because everything around my house seems to be in a rush to get to Kansas. Right before the snow and winds arrived, the weather was pleasantly sunny and I heard the first hummingbirds of the season zipping around in the yard. I knew this storm would keep Kaweah inside for most of the coming week, so I let her lounge about on the deck more than usual while it was nice out.

her blanket to keep the chill at bay and the grill (her favorite) nearby for company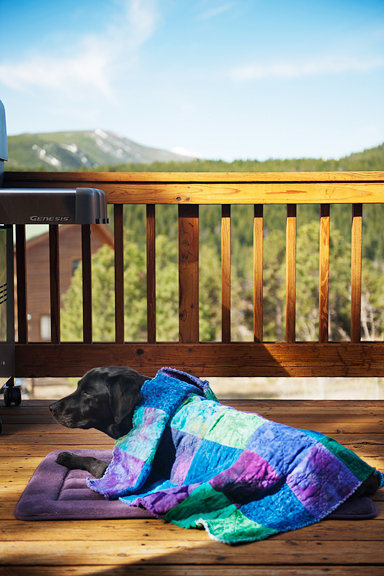 Just over a week ago I was riding the trails on the flats with
Wendy
, dropping our bikes to check out asparagus sites and crawling about in the bushes so I could learn more edible plants. The plums were in bloom and the apple blossoms were just starting to bud. It was hot under the sun which Wendy and I both dislike, but the plants apparently love.
plum blossoms on a bluebird day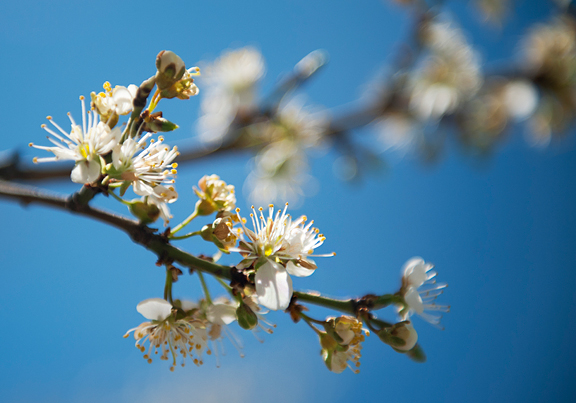 happy buzzy bee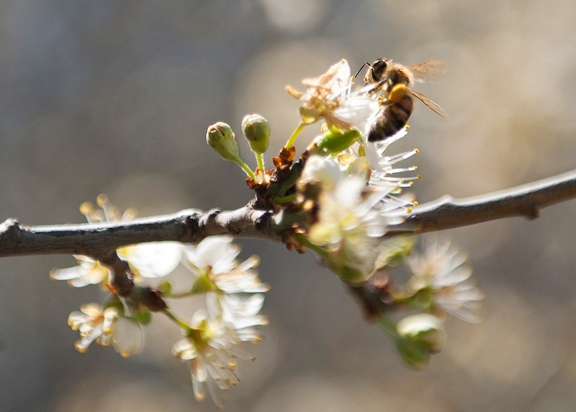 At one point, we walked our bikes into a little shady corner of the woods where Wendy stopped and turned to me. "Okay, what do you smell?" she grinned. I took a deep breath and parsed the scents on the air. Lots of green and wood and… "Purple! I smell purple!" It's what I had been wanting to forage since last year and Wendy promised this season that she would lead me to some. Her eyes lit up and then she gazed down where violets (Viola sp.) daintily dotted the leafy mats at our feet.
green and purple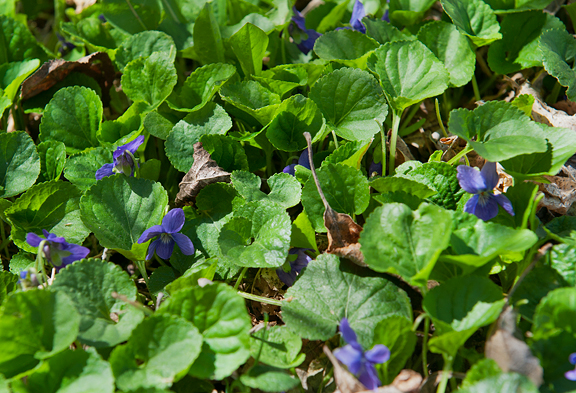 we gathered a half cup in a few minutes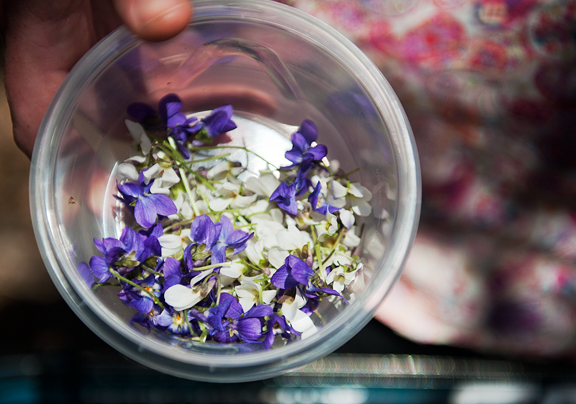 Now, when I say purple, I really mean that the scent of violets is like a sophisticated floral grape flavor. In fact, the smell of violets is so dreamy and soothing that just opening the container and breathing in the perfume is an addiction of which we are both guilty. Violets tend to bloom in spring. According to Wendy, our violet season is a few weeks into spring proper. There are white violets too. They won't turn things purple, but they do have the flavor and scent of their purple brethren. If you want to forage violets, here are a few things to note:
1) AFRICAN VIOLETS ARE NOT THE SAME AS VIOLETS. AFRICAN VIOLETS ARE NOT EDIBLE. So just… don't do that.
2) Make sure the violets you forage are in an area that is not sprayed with chemicals (pesticides, herbicides, whatnot). If you don't know, then don't pick.
3) Your best bet is to forage for violets on a sunny day after the violets have had time to open up in the morning under the sun. Mid to late morning is a good bet.
4) Pick the blossoms that are fully open as they have the best flavor and odor. Leave the closed buds to open later.
5) Place the violets in a hard-sided container with a lid. This prevents crushing the delicate flowers. They will keep in the refrigerator for up to 4 or 5 days, although using them right away is best.

all the pretty
and a white one for contrast
We managed to forage a little more than a pint of violets and then Wendy gave me another pint she had foraged a few days prior. Four cups of violets. What would I do with them? Violet syrup had been on my "want to make" list for a while…
water, sugar, and violets
plucking the petals off
petals removed from the stems and centers
I had read that some people remove the green stems because they can make the syrup slightly astringent. When I asked Wendy about it, she said that she never does, but that I should try it because it would be a good OCD activity for me. Ha ha. Of course, now that she mentioned it, I couldn't help but do it. I think it's probably okay to just remove the stems and leave the flower intact. I'm not convinced that the amount of time (it was an hour) to remove the petals from the centers was worth the effort. My yield was down to 2 1/2 cups when it probably would have been more like 3 1/2 cups had I left the centers on.
place the violets in a clean non-reactive jar
pour boiling water into the flowers
they will wilt – it's okay
making blue tea
Boil some water and steep the violets for 24 hours. You are in essence making violet tea. The color of mine was bluish purple – really beautiful. Once the violets have had their 24 hour wait, strain the liquid through a fine mesh sieve or a coffee filter (that requires patience). The next step involves dissolving sugar into the tea to make the syrup. While I typically use an organic cane sugar that has a brownish tint to it, in this instance, I think white sugar is a must to preserve the color of the syrup. Dissolve the sugar into the violet tea over gentle heat – either over a water bath or over very low heat, stirring until all of the sugar has dissolved. If you bring it to a boil like I did (oops!) then you lose that lovely blue-purple color and it becomes a sort of dull, sad, dejected grey-purple.
strain the solids out
such a pretty color
add sugar
I was dismayed to see that I had ruined the gorgeous hue of all that work – the foraging, the plucking, the steeping… But recalled a warning somewhere that adding lemon juice will turn the syrup pink, just like it does with
lavender lemonade
. I thought the addition of a little pink would make it look more palatable since the flavor was still excellent.
i squeezed about 10 drops of lemon juice in
to make it more magenta
into some bottles
Personally, the blue-purple color is still my favorite, but this pink-purple version is quite pretty too. The syrup can last in the refrigerator for up to a year and you can use it to flavor buttercream frostings, cakes, beverages, and anything else that calls for a sugar syrup. You don't need a lot as it carries its flavor well. A bottle of violet syrup would make a truly lovely gift too. I can't decide which I like more: sipping a violet soda or staring at the jewel-like color of the syrup!
a bottle of violet syrup for someone special
a violet soda
Violet Syrup (and Soda)
[print recipe]
based on this recipe
4 cups violets, stems removed and loosely packed
1 cup water, boiling
2 cups granulated sugar, white
Place the violets in a sterile jar large enough to fit the blossoms. Pour the water over the violets and seal the jar. Let sit for 24 hours. Strain the liquid through a fine mesh sieve, gently pressing any additional liquid from the violets. For every cup of liquid yielded, add 2 cups of sugar. Stir over a bain marie or over very low heat until the sugar dissolves. DO NOT BOIL as you will lose the color of the infusion. If you do manage to kill the color, you can stir in lemon juice, a few drops at a time, to turn the infusion a more pink color. I added about 10 drops. Store the syrup in bottles in the refrigerator for up to a year. Makes about 2.5 cups of syrup.
Make a violet soda: In a 12 ounce glass filled with ice, add 1-2 tablespoons of violet syrup (to taste), and top with seltzer water. Add a shot or two of nice floral gin to take the edge off.
more goodness from the use real butter archives