Sunday, April 6th, 2014

Recipe: california roll poke
Ski resort seasons are coming to an end, but it seems that the atmosphere is not ready to call it quits just yet. We had a nice 9-inch dump of snow late last week which made for some excellent early turns Thursday, and some fine backcountry skiing Friday. Spring skiing is not like winter skiing. The snow is heavy and wet, rather than light as a feather and powdery. But… I'm not bundled to the hilt either because it's spring and warm(er). You really do work up a sweat. I actually love that!

upslope event meant clouds and snow on the plains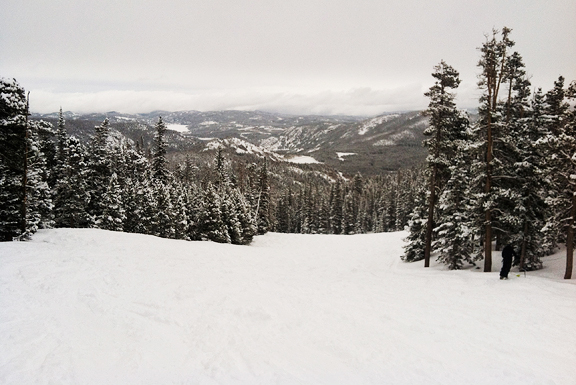 snow blanketing the mountains – that's what i like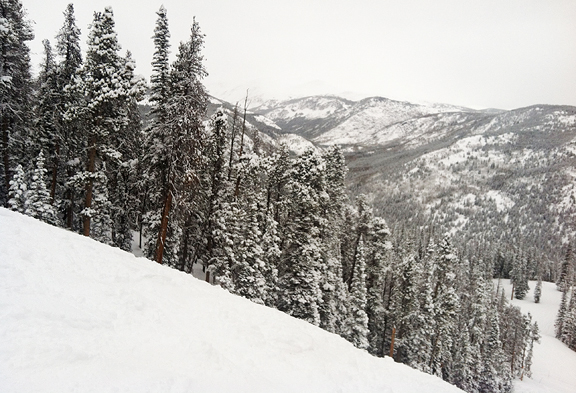 Friends of mine who live just 3000 feet below us are starting to post photos of mountain bike rides, trail runs, and other sunny and warm endeavors. My heart keeps telling me, "Get more turns before the snow melts!" while my brain is thinking, "We need to get riding and running!" Really though, as long as I can be active and outside then I'm happy. Meanwhile, I'm flipping through Facebook the other day and see my friend,
Allison
(who runs
Fridgg
), has posted a photo of her latest dining exploits in Southern California. California roll poke. I had to have it. HAD TO HAVE IT.
Allison says that I inspire her with my recipes, yet she inspires me with all of the awesome food she enjoys (and posts photos of)! If I lived near her, we'd eat out together all the time because I absolutely love her taste in food. And I love Allison.

crab legs, maguro (sashimi-grade tuna), green onions, avocado, cucumber, black and white sesame seeds, flake sea salt, masago (flying fish roe), soy sauce, sesame oil
Poke is a Hawai'ian raw fish salad. When Jeremy and I were last on the Big Island, we visited the local Foodland grocery store in Hilo. There was an entire fish counter dedicated to over a dozen types of gorgeous, fresh poke. So when I went looking for a California roll poke recipe, the one from Foodland's site by Chef Keoni Chang was what I used as a template. There is a good deal of flexibility on the ingredients, so use what you like best and what is available to you. Just be sure the fish is sashimi-grade. I used maguro instead of ahi tuna, and I didn't sear my fish because I like it completely raw. For the crab, you don't have to go for King crab legs as it can be prohibitively expensive and hard to source. Lump crab meat works or even surimi, imitation crab meat (aka Krab). And the best cucumbers are the crisp, less seedy kind like Japanese, Persian, or English cucumbers.
slice cucumbers
dice the tuna
peel the crab
**Jump for more butter**