Recipe: orange creamsicle frozen yogurt two ways
There is a short window of time in late spring when: 1) the road to the trailhead is closed to cars, but clear of snow 2) the trail is completely under snow and 3) the snow is firm enough to hoof it on foot. I live for this window because it's when we do the bike-hike-ski, a triumvirate of springtime mountain activities. And it was HOT. 60°F at 10,000 feet with the sun roasting us from above (so more like broiling). There are always ways to get your ski on, it's just a matter of how determined you are to get it. And we are not the only ones out there.
[Many of you inquired after the sunblock I had tested and liked. It is TerraSport SPF 30 which is not only non-greasy, rubs in well, non-sticky, and waterproof for 80 minutes, but it rates well on the Environmental Working Group site, which I trust. We are also in the process of testing Vanicream for sensitive skin.]

biking up to the trailhead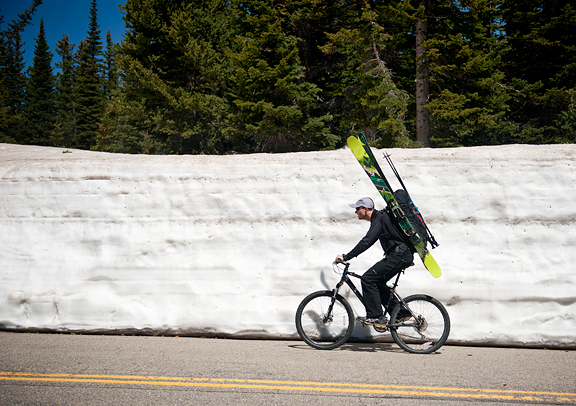 stashing the bikes in the trees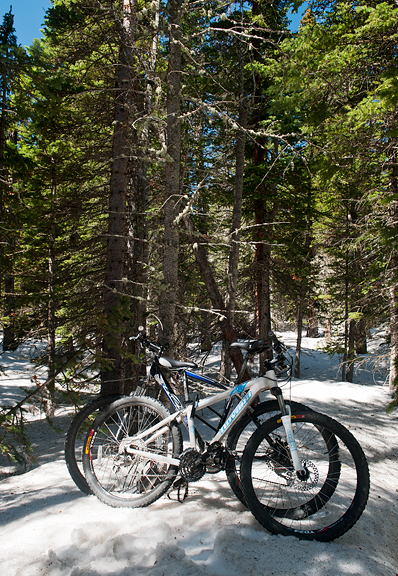 hiking up to the basin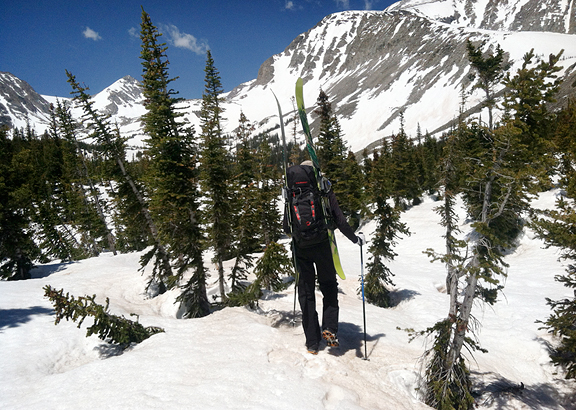 skiing out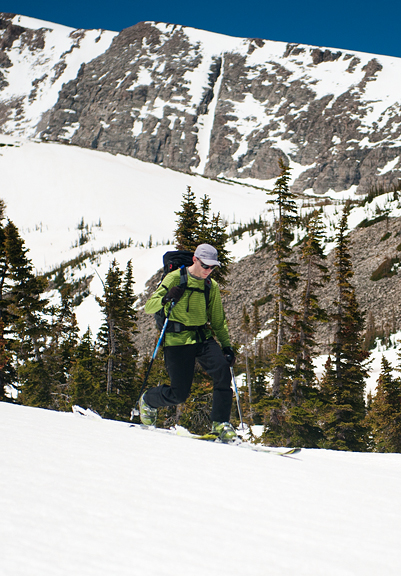 switching from skis to bikes (what a junk show)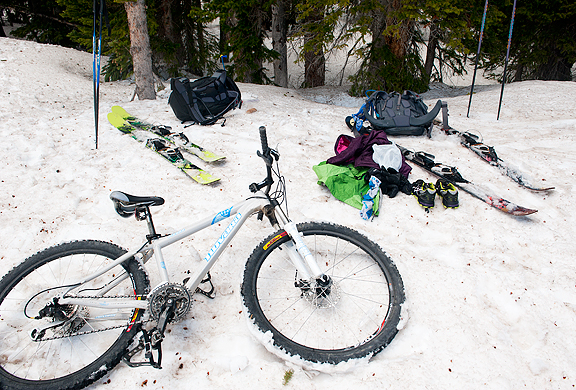 ready to ride out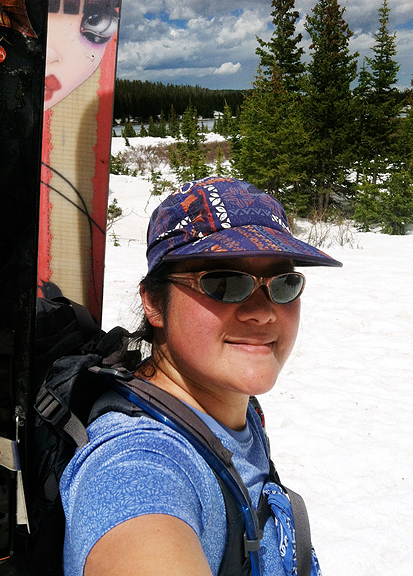 I love the snow, really love it. When we paused in the shade to fuel up and throw on some long-sleeve shirts (the sun at high altitude can be really harsh), I happily dropped my pack and plopped my butt in the snow. FELT GREAT. I know why Kaweah used to roll around in snow patches on summer hikes. I do it too. But at our house, the snow is a mere memory from a few weeks ago. The earliest wildflowers are starting to show their color in the yard and the hummingbirds are zipping about in super-aggro mode. Where is the relief from the sun? It's in my freezer and it's easy to make, so you can have relief in your freezer too. I'm talking about orange creamsicle frozen yogurt. Remember those orange creamsicle pops from the 70s, the decade that tried to kill us all with fake colors and flavors? It was so excellent, I made two versions.
smooth version: vanilla extract, grand marnier, oranges, sugar, plain yogurt
grate the orange zest
juice the oranges
The first orange creamsicle fro yo is the blended version. It is the easiest to make and tastes exactly like those orange creamsicle pops. I use Noosa's full fat plain yogurt because it is creamy, smooth, and delicious. You can use Greek yogurt or whatever you like, but I find Noosa to be superior in flavor and texture. Non-fat yogurt leaves a gritty film in my mouth, so I don't use it in my frozen yogurts anymore.
ready to go
place the sugar and zest in a blender
pulverize them until fine
After you blender the sugar and zest together, everything else goes into the blender for a spin. Chill the yogurt in the refrigerator (my Vitamix warms it up a little when I blender it) before churning it in your ice cream maker. Once it comes out of the ice cream machine, pop it in the freezer and you're done. See? Easy peasy. We'll call that version #1.
pour in the orange juice and the yogurt
add the grand marnier
blended and chilled
churned
Version #1 has fantastic orange flavor with just the right amount of tartness and sweetness. Flecks of orange zest dot each scoop and if you close your eyes, you are transported back to your ice cream truck days of youth. But I wasn't completely satisfied. For some reason, I had it in my head that I wanted a swirl version. So I went back for a second round.
vanilla extract, oranges, sugar, more sugar, plain yogurt, grand marnier
stir the sugar into the yogurt
add vanilla
The ingredients are practically the same, they are just processed a little differently. This version of orange creamsicle frozen yogurt involves a few more steps and a few more dirty dishes. The frozen yogurt base is just plain yogurt, sugar, and vanilla extract. Stir those together and let it chill in the refrigerator while you make the swirl.
combine some sugar, orange juice, and orange zest in a saucepan
simmer to half the volume
stir in the grand marnier when the reduction has cooled
The swirl is merely sweetened, reduced orange juice. You could conceivably use orange juice concentrate, but I find that fresh and homemade is superior in taste and quality AND you know exactly what went into it. Simmer the juice, zest, and sugar down to half its original volume, more or less. Give it some time to cool before stirring in the Grand Marnier and then pop it in the refrigerator to chill completely. When you are ready, churn the yogurt base.
churned yogurt base – like a soft serve consistency
layer half the orange reduction over half of the frozen yogurt and repeat
scooping after freezing
I usually put ice cream or other scoopable frozen treats in a cylindrical container, but for swirls, it helps to freeze them in wide and shallow containers or dishes. In this case, we want to be able to layer the orange swirl with the frozen yogurt so that a scoop will get a nice mix of the two. How does version #2 taste? It's fantastic. I like it slightly better than version #1 because the yogurt base is super creamy and smooth, yet punctuated with this tart ribbon of intensely orange flavor. That said, version #1 reminds me more of the original orange creamsicle. You can't go wrong with either one, but my advice is to make both and enjoy!
creamy orangey delights
mo fro yo
Orange Creamsicle Frozen Yogurt Two Ways
[print recipe]
based on orange creamsicle ice cream from The Perfect Scoop by David Lebovitz
smooth and blended version
grated zest of 3 oranges (preferably organic)
2/3 cups sugar
1 1/4 cups orange juice, freshly squeezed
1 1/2 cups plain whole milk yogurt
1 tsp vanilla extract
2 tsps Grand Marnier
swirl version
3 cups plain whole milk yogurt
1 cup sugar
1 tsp vanilla extract
2 cups orange juice
grated zest of 3 oranges (preferably organic)
1/4 cup sugar
1 tbsp Grand Marnier
Make the smooth and blended version: Place the grated orange zest and sugar in a blender and pulverize until very fine. Add the orange juice, yogurt, vanilla extract, and Grand Marnier. Blend until the sugar is dissolved. Chill the mixture and churn in your ice cream maker according to the manufacturer's instructions. Freeze the yogurt. Makes 1 quart.
Make the swirl version: Stir the yogurt, sugar, and vanilla extract together until the sugar is dissolved. Refrigerate until ready to use. Place the orange juice, orange zest, and 1/4 cup sugar in a small saucepan over medium high heat. Stir until it comes to a boil, then reduce to a simmer. Let simmer (stirring occasionally) until the volume is reduced by half (you should have a little more than 1 cup of liquid). Remove from heat and let cool. Stir the Grand Marnier into the orange juice mixture and let it chill in the refrigerator. When the orange juice mixture is completely chilled, take the yogurt out of the refrigerator and churn in your ice cream maker according to the manufacturer's instructions. Layer half of the churned yogurt in a shallow baking dish or tupperware. Pour half of the orange juice mixture over the yogurt. Layer the rest of the yogurt on top, then finish with the rest of the orange juice mixture. Feel free to run a knife or spoon around in the yogurt to help it swirl (but it isn't necessary). Freeze. Makes a little more than a quart.
more goodness from the use real butter archives