Recipe: roasted cauliflower and garlic mash
No mashed potatoes for us this weekend! The mercury fell as did the snow – precious powdery snow. When it gets too hot and the snow turns to slush, some refer to it as mashed potatoes. And while mashies are fine to ski, it's not the kind of snow that is long-lived as it transforms into ice overnight or eventually puddles of water during the day. At least for now, the snow gods have smiled down upon us and delivered. It was both a snow- AND friend-filled weekend. Our neighbor asked if I would mind spending a little play time with their pup, Dioji (dee-OH-gee), while they were away all day. She is a giant walking carpet of a dog (half Berner and half Great Pyrenees) who loves everyone and just wants to be loved in return – my favorite pup in Nederland.

the best kind of snow: big fluffy flakes as seen from corona chair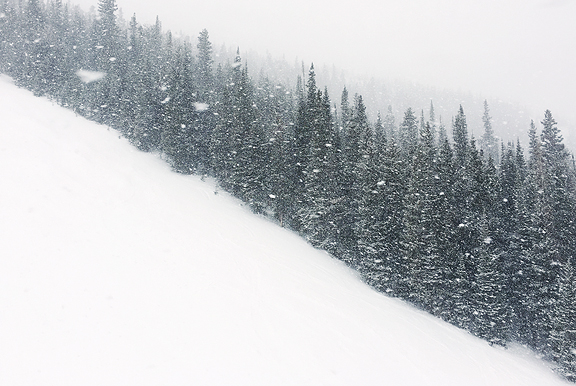 dioji hanging out in our living room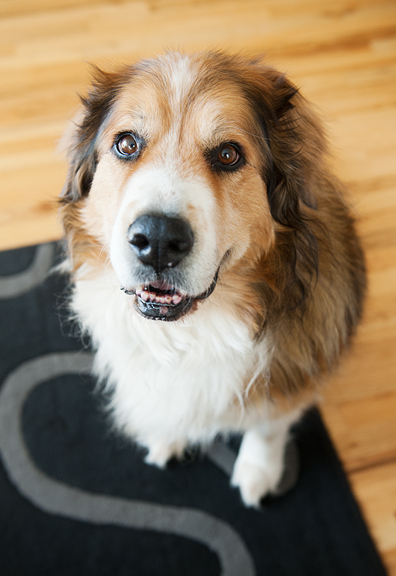 and doling out the kisses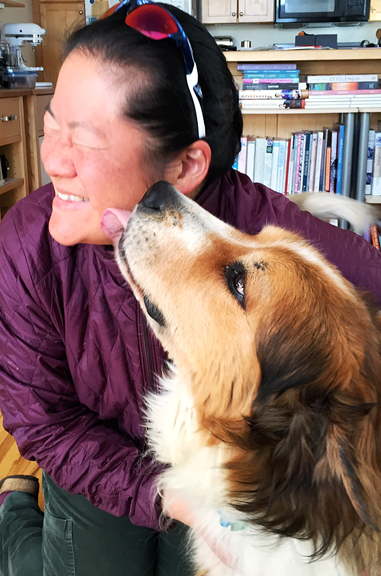 visiting with my four-year old pal, felix, before his ski lesson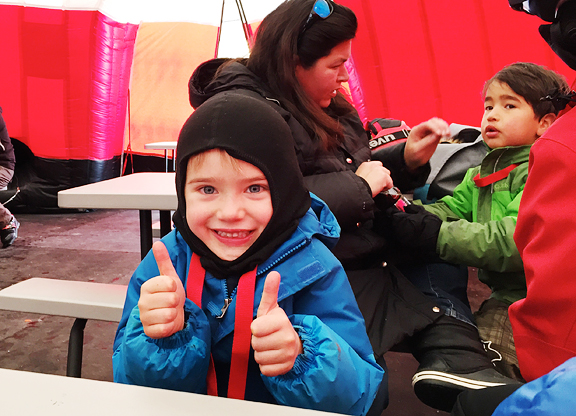 jeremy contemplates the view before diving into the snow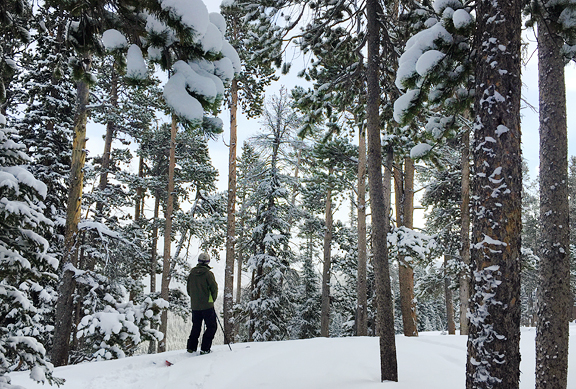 2°f and completely still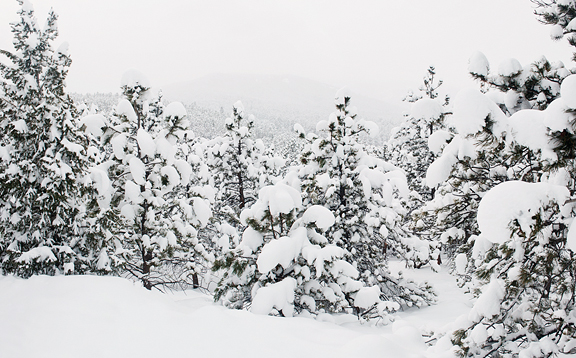 on my solo ski tour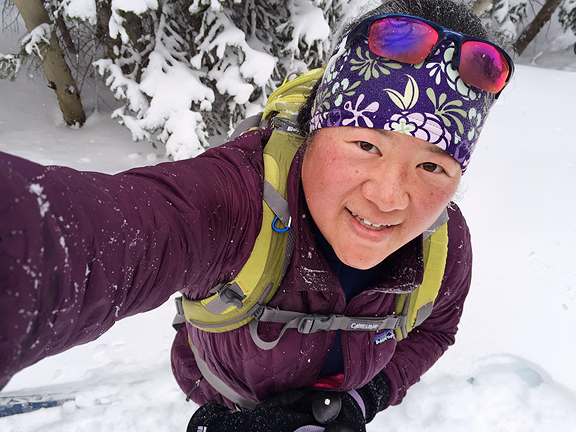 my breath frosted my hair!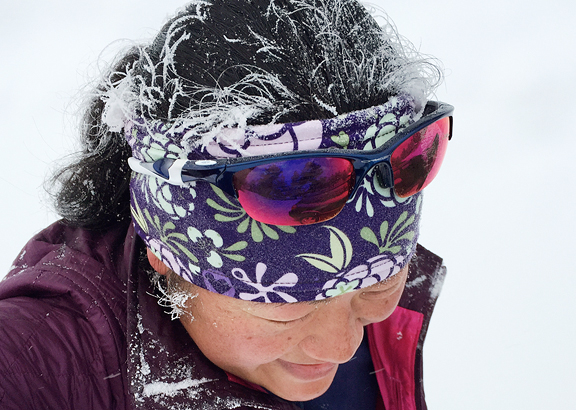 We are delighted to return to our lovely, fluffy, Rocky Mountain powder. Mashed potatoes snow can wait until spring, when it's supposed to be in season. As for the edible kind of mashed potatoes, I've been trying to move away from those as well. I personally LOVE mashed potatoes made with plenty of butter and some cream. After a while though, I want to change things up. That, and my pants don't fit as well. I've been alternating between the occasional mashed potatoes and this other mash of roasted cauliflower and roasted garlic this winter. The cauliflower mash is so deliciously creamy without all of the pants-shrinking effects and it goes well with meats, vegetables, or even on its own.
all you need: olive oil, salt, pepper, chicken broth, fresh thyme, garlic, cauliflower
prepped
The key to this recipe is roasting. I'm a big fan of cauliflower. Jeremy, not so much – unless it is roasted. Roasting enhances the sweet nuttiness of the cauliflower and the garlic, transforming them into a richer and more complex flavor. Most of the time will be spent roasting, which means the oven is doing the work while you can go do something else. Yay, something else! And don't feel as if you must use thyme if you prefer some other herb or combination of herbs. It's YOUR dinner!
drizzle olive oil over the topped garlic bulb
add some olive oil to the florets
toss with salt, pepper, and fresh thyme
spread in a single layer in a baking pan
The garlic takes 5-10 minutes longer to roast than the cauliflower at the same temperature, so just pop them into the oven together (or the garlic a little earlier). Warm the chicken broth in a small saucepan until it starts to simmer, then remove it from the heat. You don't have to use chicken broth – use vegetable broth, water, or milk if you prefer. When the garlic is done and cool enough to handle, peel the cloves or just squeeze them out of their skins. They should be soft and buttery. I have a hard time not squeezing them out of their skin and straight into my mouth. Place the cauliflower and garlic cloves into a blender (I suppose you could use a food processor if you don't have a blender) with the warm liquid and purée until smooth. If you like chunky, you can make it chunky, but smooth is pretty amazing. Add more liquid to get the consistency you want and then season to taste.
roasted cauliflower, browned at the edges
roasted garlic
buttery garlic cloves
place the cauliflower, garlic, and broth in a blender
purée until smooth
We really enjoy this "faux" mashed potatoes. It's not meant to be mashed potatoes at all, though. It's mashed roasted cauliflower with its own distinct flavor. Please don't make this in the hopes that it will taste like mashed potatoes and not cauliflower, because it tastes like cauliflower. If you hate roasted cauliflower, this may not be the recipe for you – sort of like people who hate bananas and then tell me that they hate
single-ingredient ice cream
… which is puréed frozen bananas. I personally love the silky texture and the slightly sweet and nutty flavor. It works for us and my pants!
a great stand-in for mashed potatoes
actually, roasted cauliflower and garlic mash is just plain great
Roasted Cauliflower and Garlic Mash
[print recipe]
modified from comfy belly
1 head (about 1.5 lbs.) cauliflower
1 bulb garlic
3 tbsps olive oil
salt
pepper
1/2 tsp fresh thyme, chopped (or use whatever herb you like)
1 cup (or more) chicken broth (or vegetable broth, milk, or water)
Preheat oven to 400 °F. Trim the leaves off the cauliflower and slice the head into florets. Place the cauliflower in a medium bowl and set aside. Slice the very top of the bulb of garlic off with a sharp knife, just enough so you can see the meat of the topmost cloves. Place the bulb in an oven-proof ramekin or wrap it loosely with foil. Drizzle a tablespoon of olive oil over the top of the bulb. Cover the ramekin with foil or loosely seal the bulb in a foil pouch. Roast the garlic for 45 minutes. Drizzle the remaining 2 tablespoons of olive oil over the cauliflower. Season with salt and pepper and fresh thyme. Toss together to coat. Spread the cauliflower florets out on a baking sheet or baking pan in a single layer. Roast for 35-40 minutes until the edges begin to brown.
Heat the chicken broth (or liquid of your choosing) in a small saucepan until it begins to simmer. Turn off the heat. When the garlic is cooled enough so you can safely handle it, remove the cloves from the skins. They should peel or slide out easily. Place the roasted cauliflower and the peeled roasted garlic cloves in a blender with 1 cup of the heated liquid. Purée to desired consistency, adding more liquid as needed. You could conceivably use a food processor, but I think the blender results in a smoother mash. Makes 3 cups.

more goodness from the use real butter archives