Recipe: fried apple pies
It was bound to happen sooner or later, but honestly, I was hoping it would get here later rather than sooner. The winds have arrived. The other day we got a nice quick inch of snow and then we watched the winds carry those beautiful little flakes horizontally to the east. Snow and Blow. That's what we call it here in Nederland. Even so, it makes for interesting cloud formations above which turn into pretty visuals for a few brief minutes at sunrise or sunset.

sunset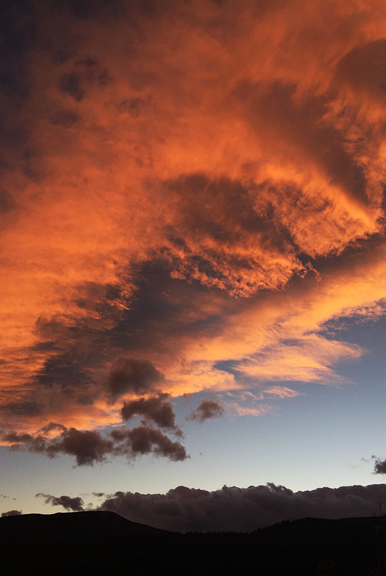 That window of comfortable weather and mild breezes may be coming to a close. I say this because Neva has really been enjoying her deck time while I'm working. I enjoy it too, since I'm not constantly telling her to get her nose out of the compost bucket in the kitchen. From our deck, Neva can watch three sets of dogs in three different yards/decks, and it's just all so fascinating for her little puppy self. But when it's really blowing or the snow is pelting her in the face, I'll insist that she come inside. On the chilly days, she'll curl up at my feet in her dog bed or invite herself (oops!) onto the couch. But given her druthers, she'd be outside romping through the snow. Her doggy day care person is on vacation for a couple of weeks, so Neva is now getting playtime with Dioji, our favorite neighbors' pup. So far, so good. Dioji has the patience of a saint.
what a goofball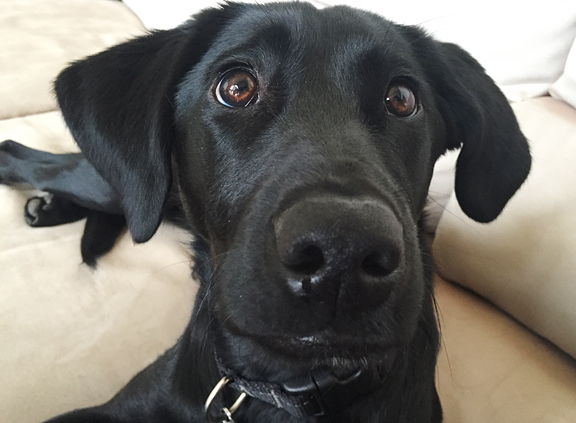 all four off the floor!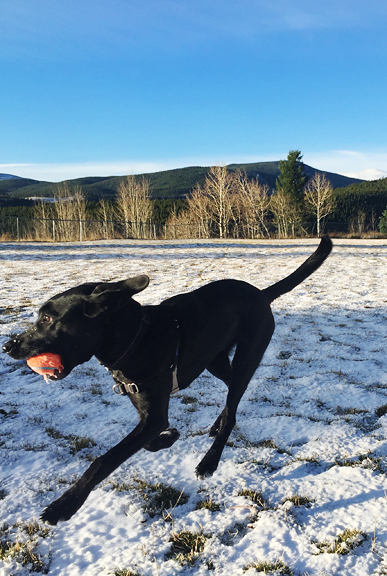 Autumn has been around for over a month now and we're supposed to fall back an hour this coming weekend. I used to feel indifferent about the time change, but I must confess that I am really looking forward to it this year. Being woken up a few hours before sunrise each morning by a fully energized puppy is a little weird, because you didn't get quite enough sleep, but you could conceivably get out of bed and get a jump start on the morning. Instead, it's usually some drowsy disrupted half-sleep that we settle for which satisfies neither the sleep deprivation nor the hopes for greater productivity. I realized last week that I hadn't touched any apples or pumpkins so far this season, although I have been happily stuffing my face with persimmons and pomegranates. And that got me thinking about pies. So I made pumpkin pie. And then I made these apple pies. Little apple pies. Little fried apple pies. Heaven help us.
apples, ice water, shortening, flour, cinnamon, sugar, salt
cut the shortening into the flour and salt
toss with ice water a tablespoon at a time
wrap up the dough and chill
It's dangerously simple to make fried apple pies, in case you are concerned about fitting into your ski pants. Oh, but they are tiny things, so one won't really hurt you. And you're exercising regularly, right? Because not only is it good for you physically, it improves your mental outlook, too. First whip up some pie crust dough. You can use whatever recipe you like, but I read that it's best to use lard or shortening for the fat in the pie crust dough if you are deep frying these suckers. While the dough chills, prepare the apple filling. It's as simple or as complex as you like. I just simmered the Granny Smith apples in sugar and cinnamon and a little salt until the fruit was soft. There was some tasty liquid in the pan, so I removed the apples and simmered that liquid down to a deliciously apple-y syrup. You could stir that back into the filling or reserve it to serve with the pies later.
peel the apples
place the apples, cinnamon, sugar, and salt in a saucepan
cook until the apples are soft
Roll the dough out and cut eight 4-inch diameter rounds. Try not to go any thicker than 1/8-inch thickness in your dough, because then the dough to apple ratio is too high. Of course, don't go too thin either or you'll have a blowout during frying and that will result in Splatter City, which is no fun at all. Place a small pile of apple filling on a dough circle and wet the edge of the dough with cold water. Fold the dough in half and press the edges together to seal the pie. If you have any gaps, then liquid from the filling can leak out during frying and you're back in Splatter City.
roll out the dough
cut the circles
place a heaping tablespoon of filling in the middle
wet the edges of the dough with cold water
You don't have to make the pies round. In fact, cutting them into squares or rectangles makes more sense because you have less dough scraps. I just find these little crescent shapes to be pretty darn cute. Once the pies are sealed, you can crimp the edges with the tines of a fork or your fingers. Even if you don't do anything decorative, be sure to go over the edges once more with a little squeeze to ensure a good seal. Then fry the pies up two to three at a time to a golden brown. If you cook them all at once, your oil temperature will drop and you'll be below your target temperature. I think the next time I do this I'll let them get to a deeper golden brown because undercooked dough annoys the heck out of me. Drain them on a paper towel.
crimping the edges
ready to fry
draining on paper towels
These pies are best eaten hot or at the very least, warm. I sprinkled powdered sugar on mine. You can also whip up a glaze of powdered sugar and a little water (and a dash of almond extract) to drizzle over the pies. Or dip them in that extra apple syrup you may have reserved from making the filling. Or once they are out of the hot oil, immediately roll them in cinnamon sugar. We took some over to our favorite neighbors while the pies were still warm. There's nothing quite so perfect as a hot little apple hand pie on a blustery fall evening – even if it is right before dinner!
dust with powdered sugar
happy little pies
filled with apple surprise
Fried Apple Pies
[print recipe]
from allrecipes
dough
2 cups all-purpose flour
1/2 cup shortening, chilled
1 tsp salt
1/2 cup cold water
filling
2 apples (Granny smiths are a good choice)
1/4 cup sugar
1/4 tsp ground cinnamon
pinch of salt
oil for frying
Make the dough: Sift the flour and salt together in a medium bowl. Cut the shortening into the flour with a pastry blender until the mixture resembles coarse crumbs. Adding a tablespoon of cold water at a time, toss the mixture with a fork to distribute the water. When the dough is just moistened where it can start to form a barely cohesive ball if you press it together, gather it up into a ball and wrap it in plastic. Refrigerate the dough for 30 minutes.
Make the filling: Peel, core, and dice the apples (1/2-inch to 3/4-inch dice). Place the apples in a small saucepan with the sugar, cinnamon, and a pinch of salt. Stir over low heat to coat the apples with the rest of the ingredients. Cook until the apples turn soft (about 5-7 minutes). If there is extra liquid in the bottom of the pan, you can remove the apples to a bowl and simmer the liquid down into a thick syrup to toss with the apple filling or to serve with the pies later. Let the filling cool.
Assemble and fry the pies: Roll the dough out to 1/8-inch thickness. Cut eight 4-inch rounds (I used a 4-inch diameter lid). Place 1 heaping tablespoon of filling in the center of a dough circle. Moisten the edges with water and fold the circle in half, pressing the edges sealed. Crimp the edges if you like (I like). Repeat for the rest of the pies. If you have leftover dough and filling, you can re-roll the dough and make more pies. Heat 2-inches of vegetable oil in a medium or large saucepan to 375°F. Fry 2-3 pies at a time, cooking for 2-3 minutes on each side until both sides are golden. Remove from oil and drain on paper towels. Sprinkle with powdered sugar. Serve hot or warm. Makes 8 hand pies.
more goodness from the use real butter archives