Recipe: grissini
There's never a dull moment when you have a dog. Or perhaps I should say, there is never a dull moment when you live with Neva. She managed to impale herself on a stick at doggy daycare last week, but never let on to anyone that she had a hole in her side – not at daycare, not during her bath, not after we toweled her down. It wasn't until we noticed a pink smudge on the couch that evening and tracked it back to Neva that we realized what had happened. It didn't seem to bother her, but it looked terrible. Instead of our intended 6 am departure for Crested Butte the next morning, our dear vet took a look at Neva the minute he got into the office at 8 am and cleaned up the wound. He chuckled that she must have been having a great time to not even notice it. It's healing nice and fast since she's a strong and healthy little puppy.

neva's sporting that wound like a champ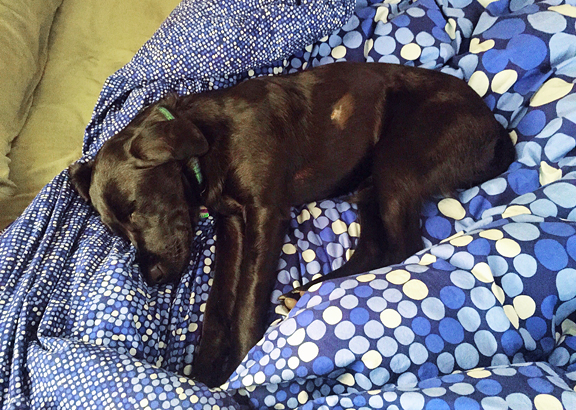 We started our Crested Butte weekend with what we've dubbed the freeheel ski trifecta: skate ski in the morning, telemark ski on the mountain, and then a late afternoon classic nordic ski with Neva. I could barely move the next day, but that might be because I managed a massive biff in the terrain park when I slid on water (that would be melted snow) off the ramp. February is trying to act like April… What is up with that?
skating into middle earth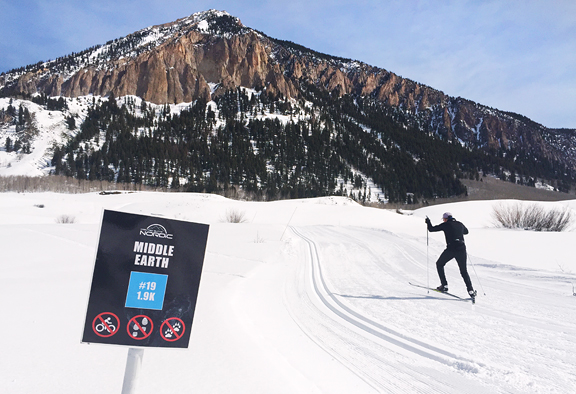 telemarking down the mountain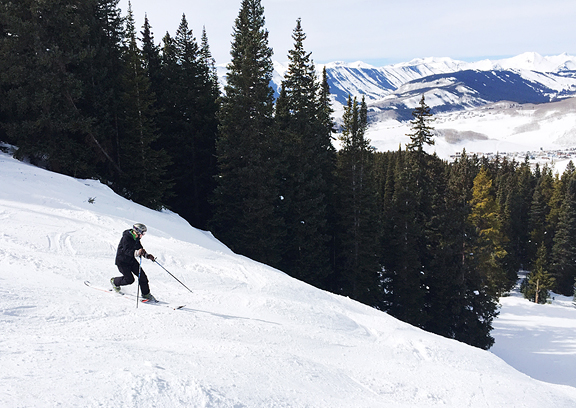 oh, and stopping for a colorado bulldog (white russian with coke) at the ice bar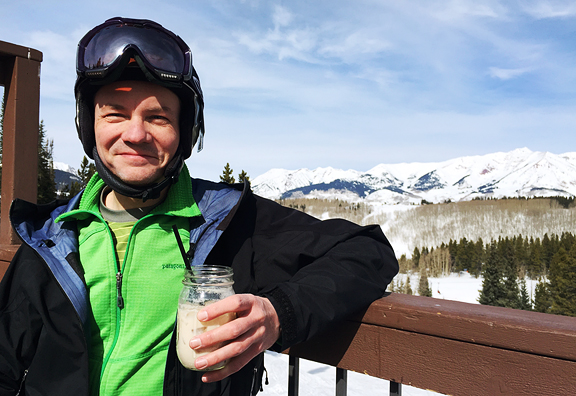 taking neva for a ski on the nordic trails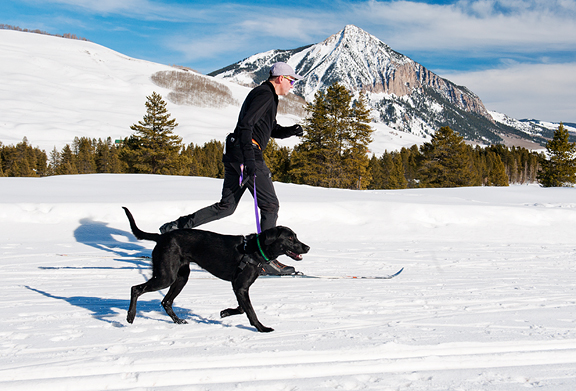 happiest dog on the planet right there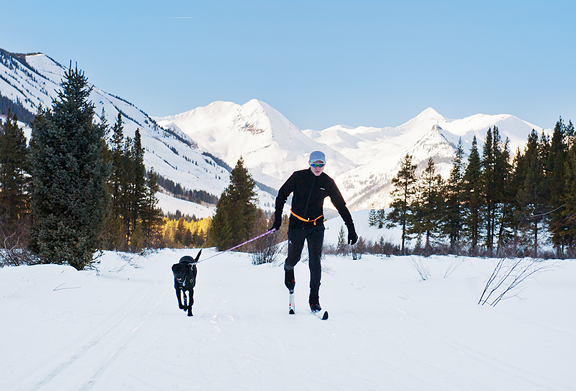 Neva's progression into doghood has been gradual such that we didn't really notice when she became super chill about us leaving the house without her. We are now able to get back to the restaurant scene, have friends over without Neva losing her mind, and get out for our own exercise. It's almost like life before puppy, except it's better because it's now Life with Dog.
checking out a newish restaurant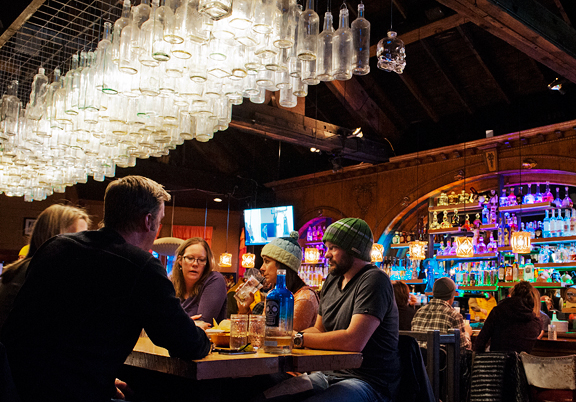 having wonderful friends over for a dinner party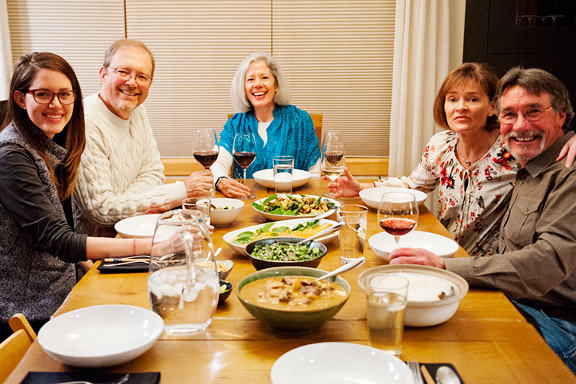 skating paradise park (it feels like paradise!)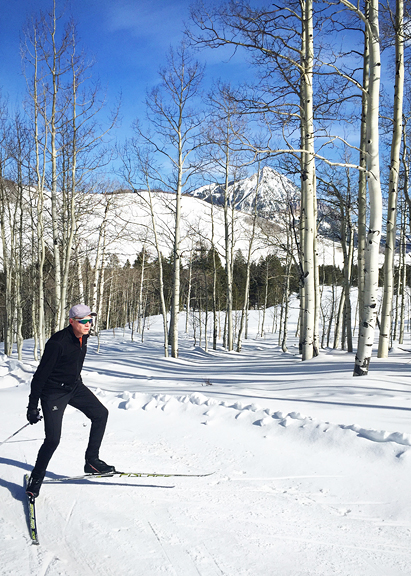 Today's recipe is for grissini – a thin, crisp, Italian breadstick. You can find them in grocery stores, but they tend to be fatter than what I want. Grissini are also pretty fragile, so they don't handle transportation too well. Most of the time I buy them in the store for parties, I wind up with at least half of them broken. All the more reason to make them at home. The process is straightforward, and rolling the dough out into long, thin, and irregular sticks might be especially fun to do with kids. Plain is probably my favorite, but I divided my dough into thirds and made three kinds of grissini: plain, herbed (thyme), and black sesame.
you'll need: warm water, olive oil, herbs (optional), salt, yeast, honey, black sesame seeds (optional), all-purpose flour, and whole wheat flour
proof the yeast (water, honey, whole wheat flour, and yeast)
after ten minutes you should see bubbles
add the olive oil, flour, and salt
knead the dough until smooth
coat in oil and let rise
When your dough is ready, turn it out onto a clean work surface. You shouldn't need any flour to prevent sticking as this dough is almost silky. Cut the dough into thirds. This is for ease of working with the dough in batches, but it also allows for making a variety of grissini. I kneaded a teaspoon of chopped fresh herbs (thyme) into one third of the dough until it was fairly evenly distributed. If you want to make the entire batch herbed, knead in 3 teaspoons (or 1 tablespoon) of fresh herbs.
risen
cut into thirds
knead fresh herbs into your dough for the herbed grissini
from left to right: herbed, plain, and plain (but intended for seeds)
For each third of dough, flatten it into a (sort of) rectangular shape and cut the dough into 16 equal pieces. The recipe I was following said to cut off a piece of dough the size of a finger. Well… which finger? And whose? I tried that the first go around and wound up with some pretty fat grissini, so I cut the rest in half and rolled out thinner grissini – which turned out perfectly. The herbed and plain grissini get rolled into ropes and set on parchment paper-lined baking sheets. Don't worry if they are irregularly shaped – this is good! To make seeded grissini, simply lay out a pile of seeds in a line 1/2-inch wide and as long as your grissini. Press the rope of dough onto the seeds then set them on your baking sheet. Twist one end until you get a nice spiral twist in the whole rope.
cut the dough
roll the dough out into a thin rope
for seeded grissini, press the dough onto the seeds
twist one end
The thinner your grissini, the faster they will bake and the faster they can burn. Watch your breadsticks as they bake, turning the baking sheet halfway through the baking time. You want them golden, but an extra minute can result in burning, so be vigilant. I actually found the seeded grissini to be really annoying, because the seeds simply fell off the breadsticks with the slightest motion. On my second baking sheet, I had both fat grissini and skinny grissini, so you can see the difference in their widths. If you prefer fat grissini, just cut each third of dough into 8 pieces instead of 16.
ready for the oven
just out of the oven
baked fat grissini and baked skinny grissini
Homemade grissini will keep in an airtight container for up to 3 days. My favorite way to serve grissini at parties is alongside some prosciutto and horseradish crème fraîche. I usually have a 1:1 ratio of cream horseradish to crème fraîche. If you can't find cream horseradish, you can easily mix some horseradish and mayonnaise together as a substitution. Add more cream horseradish or crème fraîche until you get the right balance of zing and creaminess to your liking.
crème fraîche and cream horseradish
stir together
Wrap a crisp, delicate grissini in thinly sliced prosciutto and dip it in the horseradish crème fraîche. It is a terrific combination and makes a great appetizer. I often serve grissini in this way at parties, but from now on, I'll be baking them at home. The flavor of the store-bought grissini cannot even compare to homemade grissini. It's quite easy to make and the best part is that they can be made ahead of time.
a simple board with grissini, horseradish crème fraîche, prosciutto, marcona almonds, and olives
if you don't have the real estate to lay them down, you can bundle the grissini in a glass
wrap, dip, and eat
Grissini
[print recipe]
from The Kitchn
1/2 cup whole wheat flour
3/4 cup warm water (about 100°F)
1 tsp honey
2 1/4 tsps (1 pkt) active dry yeast
1 1/2 cups all-purpose flour
3 tbsps olive oil
1 1/2 tsps salt
vegetable oil for greasing the bowl
variations
3 tsps chopped fresh herbs (optional)
poppy seeds, sesame seeds, etc. (optional)
horseradish crème fraîche
2 tbsps cream horseradish (or a mix of horseradish and mayonnaise)
2 tbsps crème fraîche
Make the dough: Stir the whole wheat flour, warm water, honey, and yeast together in the bowl of a stand mixer. Let sit for 10 minutes until foamy. Add the all-purpose flour, olive oil, and salt to the mixture and mix on low speed with the dough hook until the ingredients are combined. Increase the speed to medium and knead the dough for 5-7 minutes until it is smooth and shiny. Lightly grease a large bowl with vegetable oil. Form the dough into a ball and place it in the oiled bowl. Roll the dough around and turn it over until it is completely coated in oil. Cover the bowl with plastic wrap or a kitchen towel and let the dough rise in a warm place for an hour or until the dough has doubled in size.
Make plain grissini: Preheat oven to 425°F. Line 2-3 baking sheets with parchment paper. Punch the dough down. Cut the dough into thirds. Place two of the pieces under a damp cloth while you work with the third piece. For each third of dough, shape it into a flat rectangle and cut it into 16 equal pieces. Roll each piece of dough against the work surface and form it into a long snake (mine were 16 inches long). Place each rope of dough on a baking sheet about 1/2 inch apart. Bake 10-15 minutes until golden, rotating the baking sheet at 5 minutes.
Herbed variation: After you punch the dough down, knead 3 teaspoons (1 tablespoon) of fresh chopped herbs into the dough. Proceed as with the plain grissini.
Seeded variation: Follow the same procedure as the plain grissini up to rolling out the snakes of dough. Lay the seeds in a 1/2-inch wide pile as long as your grissini. Set the grissini on the seeds and press the dough into the seeds. Transfer the grissini to the baking sheet. Pick up one end of the grissini and gently twist it to give the dough a spiral twist. Place each rope of dough on a baking sheet about 1/2 inch apart. Bake 10-15 minutes until golden, rotating the baking sheet at 5 minutes.
All grissini: Remove from oven and let cool. Store in an airtight container for up to 3 days. Makes 48 grissini.
Horseradish crème fraîche: Mix the cream horseradish and crème fraîche together. Add more of one or the other to taste. Serve with grissini and prosciutto.
more goodness from the use real butter archives