Recipe: huckleberry waffles
I told someone recently that we aren't powderhounds – the types who drive around from mountain to mountain chasing down winter storms to ski the best powder. Clearly, one could do it. I follow a lot of Western ski resorts on Instagram, and some mountain somewhere is getting the goods on any given day. We just happened to get lucky a handful of times and then the rest is tracking weather forecasts for our local mountains. After our fun (but not snowy) weekend in Crested Butte, we returned home to Nederland just as – wait for it! – a snow storm dumped 11 inches on our local hill, Eldora. Is it luck or is it constant vigilance? You can mull that over while I ski the powder.

the morning commute looking pretty good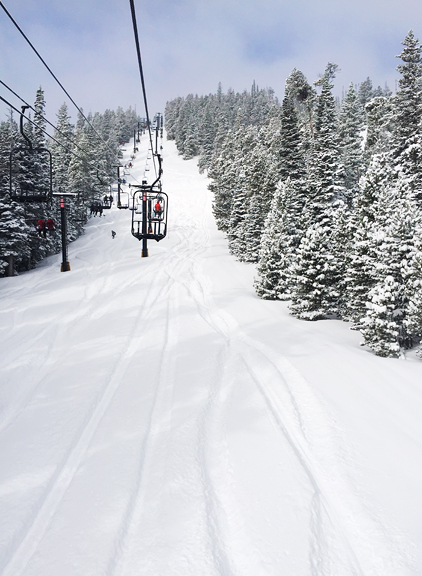 it was hip deep (for telemark) in some places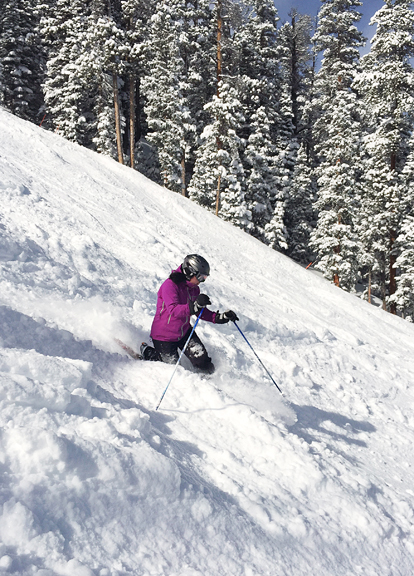 Powder days are not limited to human enjoyment. In fact, I'm pretty sure Neva loves her powder more than we do. She is just SO happy in the snow – bouncing and pouncing and digging and rolling and running and crashing. This is why we're working so much with her this season to get her used to traveling with us into the backcountry – so that she can enjoy the snow with us, and safely.
puppy gets first tracks on the soccer field!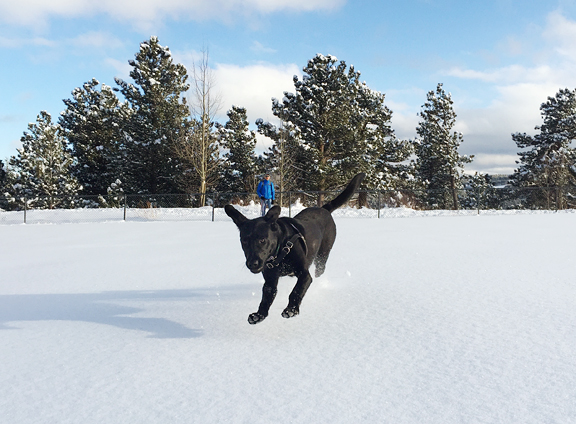 a little backcountry ski training with neva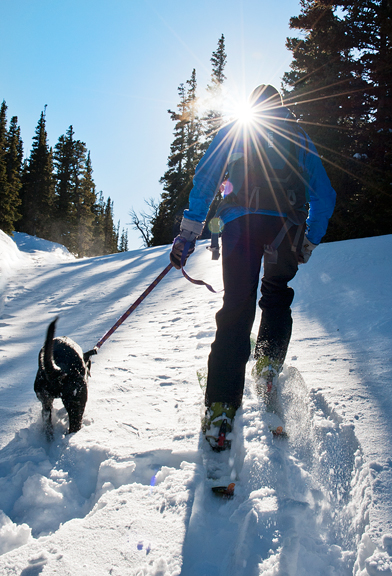 skiing out on fresh powder with longs peak in the distance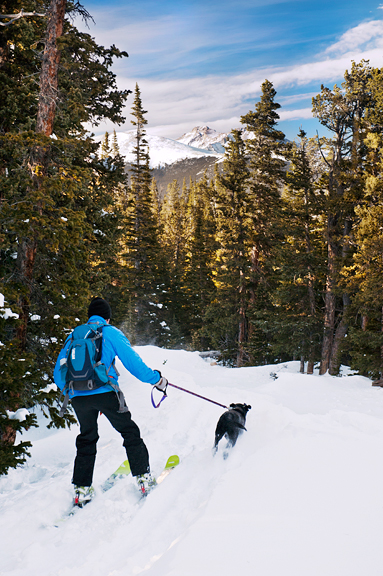 All of this outdoor activity means Neva has been taking a lot of car rides. We have been working with our vet to try different medications and combinations – slowly getting closer to a solution. She is no longer vomiting, and I think that is in large part due to dramamine – or rather meclizine (which is dramamine 2), but she doesn't like traveling in a vehicle – period. Neva's anxiety goes through the roof when she is in the car (aka the torture-mobile), so we have a sedative for long car rides which helps her to just sleep through it. But for short drives to local trailheads, we just give her a meclizine about an hour before we leave. As we were packing up our gear for the ski tour, we found her chillaxing in the sun, on the stairs… sort of.
feeling pretty mellow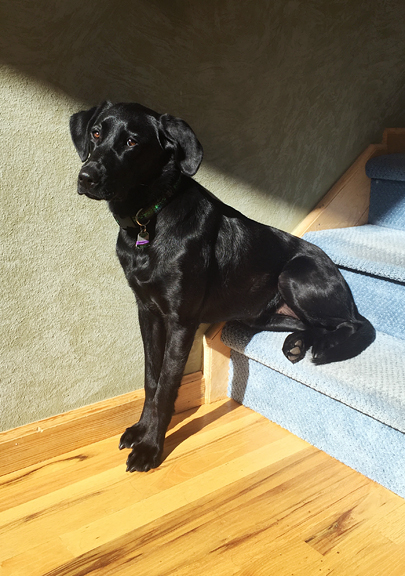 I really like that little girl. Not only does Neva share my love of snow, but she also shares my love of huckleberries. Whenever I make something with huckleberries, she always gets a few. If I empty a bag of frozen huckleberries, I'll turn the bag inside out and let her lick the juices. So it was when I emptied a bag of frozen huckleberries last summer for a kitchen experiment. I wanted to see if there was a difference between huckleberry waffles made with fresh huckleberries versus frozen huckleberries. But really, I just wanted huckleberry waffles.
butter, flour, buttermilk, baking soda, baking powder, salt, sugar, cornstarch, eggs, frozen and fresh huckleberries
fresh hucks on the left, frozen on the right
If you were to ask me to rank waffles, pancakes, and French toast, I would place pancakes at the bottom. The first bite always tastes great and then it goes downhill from there pretty quickly. I find pancakes to be heavy and sleep-inducing and a little dull. French toast comes in second place with that nicely browned eggy exterior and a more complex texture and flavor than pancakes. But waffles… I love waffles because they are crisp outside and steamy soft inside. I love them for their mesmerizing geometric pattern. I love that they are light and airy. Now add some huckleberries and I've pretty much lost my mind.
mix the flour, baking powder, baking soda, sugar, and salt
beat the eggs and buttermilk together
stir the wet ingredients into the dry ingredients
stir in the melted butter
Fresh berries in a waffle is a no-brainer. Unfortunately, huckleberries cannot be had fresh year-round. I only get them fresh for a few weeks at the end of summer, so obviously, I freeze the majority of what I forage. I wanted to compare waffles made with fresh and frozen berries while I had fresh hucks available to me. Could I possibly enjoy this magical marriage of yum (waffles) and yummer (huckleberries) in the off seasons? This applies to blueberries if you can't get your hands on huckleberries. The smaller the blueberry, the better. It helps to toss the frozen berries with cornstarch which acts to absorb any excess moisture so the berries don't bleed into the waffle batter. Whichever berry form you use (fresh or frozen), fold them into the batter last, and do so gently.
toss the frozen berries with cornstarch
they should be completely coated
fold the frozen berries into the batter
or fold the fresh berries (you lucky duck) into the waffle batter
I have a standard waffle iron for regular waffles, but purchased a Belgian waffle iron for fruity waffles. The smaller waffle grid of my standard waffle iron means more crushing of berries. With the Belgian waffle grid spacing, I get fewer berries bursting and oozing and sizzling on the iron. I mean, it still happens, but it isn't as catastrophic for the berries. In the end, both versions of the waffles were equally good. The frozen berries bled more color and juice into the batter, but the flavor and texture were as excellent as the fresh berry counterpart.
ladle the waffle batter onto a hot waffle iron
browned and crisp
fresh berry waffle on the left, frozen berry waffle on the right
This result is good news, because it means I can make huckleberry waffles all year long. Top the waffle with a pat of butter and some
huckleberry syrup
and you've gone to snurple purple berry heaven. Isn't it great when you can combine favorite things into a vortex of awesome?
good morning, vortex of awesome
i might have to marry this waffle
little pockets of huckleberry syrup on the huckleberry waffle
Huckleberry Waffles
[print recipe]
from this recipe
2 cups all-purpose flour
1 tbsp granulated sugar
1/2 teaspoon kosher salt
2 tsps baking powder
1 tsp baking soda
2 eggs, beaten
2 cups buttermilk
1/4 cup unsalted butter, melted
1 cup huckleberries (fresh or frozen), or substitute blueberries
1 tsp cornstarch if using frozen berries (if fresh berries, omit the cornstarch)
Mix the flour, sugar, salt, baking powder, and baking soda together in a large bowl. In another bowl, mix the beaten eggs and buttermilk together. Add the buttermilk mixture to the dry ingredients and stir until just combined. A few lumps are okay. Stir in the melted butter. If using frozen berries, toss them with the cornstarch until completely coated. Gently fold the berries (frozen or fresh) into the waffle batter. Pour about a half cup of the waffle batter on a hot waffle iron (or whatever amount your waffle iron says to use) and cook to desired crispness and brownness (about 5 minutes). The heat will make the berries pop and their juices will sizzle on the iron. Remove the waffle from the iron and serve with confectioner's sugar, butter, maple syrup, huckleberry syrup, or with fresh berries on top. Makes 8-10 waffles (depends on the size of your waffle iron).
more goodness from the use real butter archives