Sunday, July 31st, 2016

Recipe: huckleberry vodka infusion & huckleberry moscow mule
I'm writing on the last day of July, a month that has been drier than normal. We've received 1.3 inches of rainfall in my neighborhood this month compared to the average July rainfall of 2.25 inches. That may not seem like a lot, but I assure you the difference is noticeable in the mountains. The good news is that we just had a few hours of steady rain this afternoon (it delivered .16 inches to our July total). My hope is that August will usher in more precipitation from the sky.
August has always been a special month for me because it is the birthday month of my mom and my sister. Tomorrow, August 1, Kris would have turned 50. That hits me deep in my gut for so many reasons. But I'll keep those reasons to myself and celebrate that I was fortunate enough to have had a sister and best friend for over three decades. She remains an important part of who I am today, kept safe behind my breastbone where she tugs at my emotions just like she did when we fought or when she left for college or when she called crying because her cat had died of old age or every time we laughed so hard at our stupid inside jokes that we had trouble breathing.

always in my heart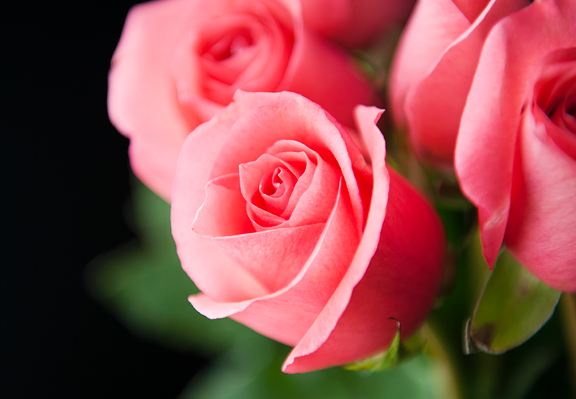 This past week we got out on a new(ish) trail as well as some familiar trails and I took careful note of what was and wasn't happening on the ground. Wildflowers are good, but not exceptional. The mushroom flush is late. Parts of the mountain forests are so dry that it sounds (and feels) like I'm stepping on a bed of potato chips when I hike through.
hiking neva while jeremy runs ahead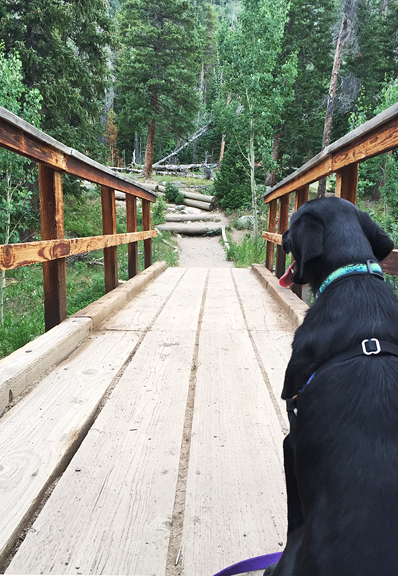 jeremy had run up to the pass, the saddle between the two peaks in the distance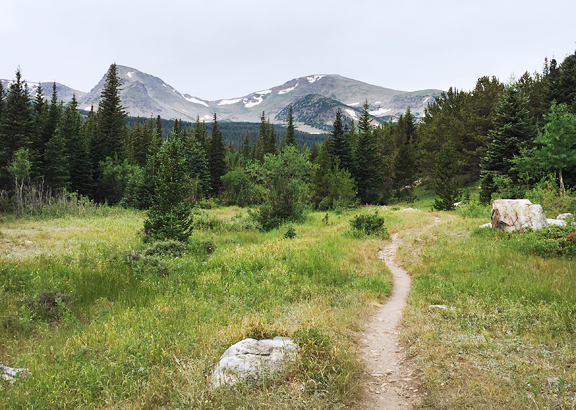 hiking under an early morning sun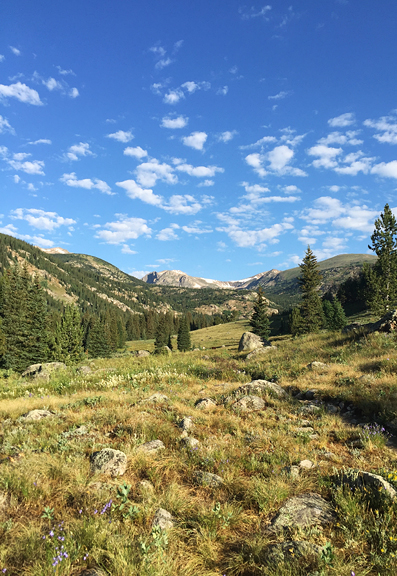 hello, leccinum!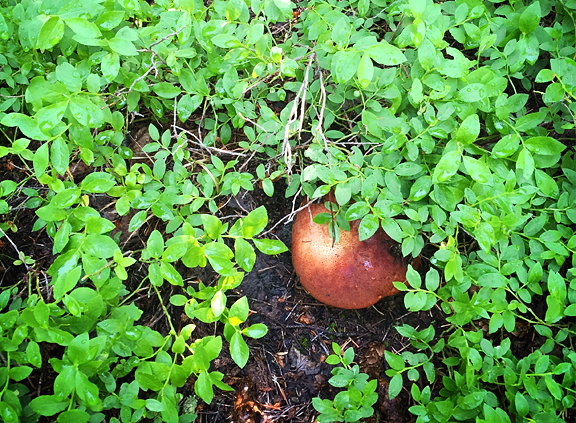 pink wintergreen in bloom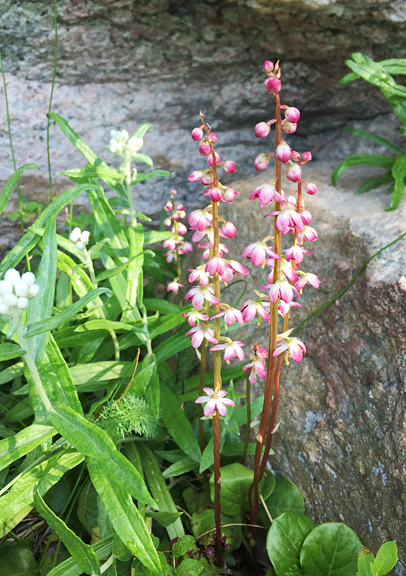 Over the weekend we hosted a dinner party that felt just right. It's taken me forever to accept that inviting a lot of people for one dinner is far less enjoyable for me than working in small batches and pacing myself throughout the year. It was the perfect size with a group that clicked well together. Everyone was super nice and funny and fun and relaxed – and that makes all of the effort of hosting worth it to us. Amazingly enough, instead of acting like a complete maniac the entire evening, Neva calmed down within a half hour of everyone arriving and she was actually a pretty good pup most of the night. Then the following night, my parents treated us to a delicious homemade Chinese feast at their place in Boulder. I think this means I'm due for a big trail run!
our dinner party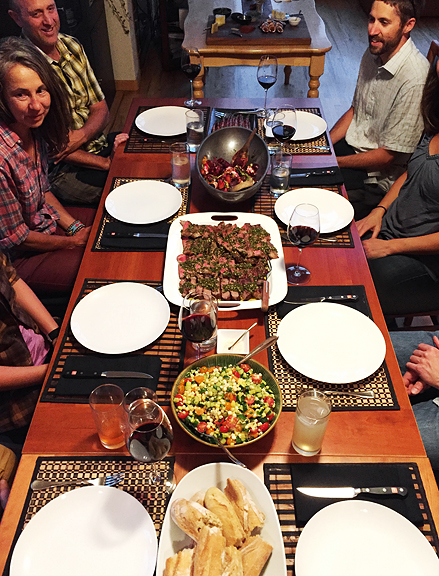 mom and dad made some of my favorite homestyle chinese dishes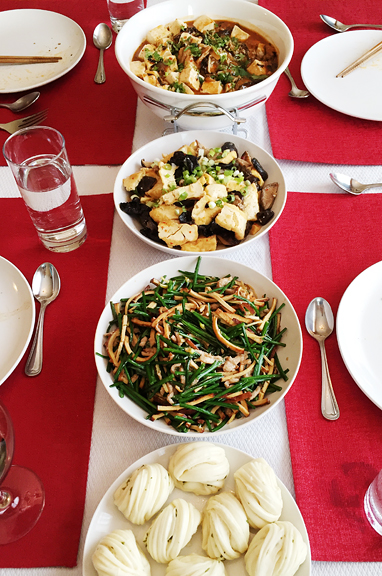 I know I'm going to sound like a nut when I say this, but I'm glad July is over because it means we are headed for good things in August. Regardless of the state of the mushrooms, I have my eyes set on trail running longer routes, exploring new trails, backpacking, and huckleberry season. Oh yes, I have been monitoring the huckleberries since the snow melted. After last year's dismal season, Erin and I are hoping that this year will be fruitful, so to speak. I'm seeing lots of green peas, a few ghosts (dried and white dead ones), and some turning rose or a handful of early guys going snurple.
early morning dew on an unripe huckleberry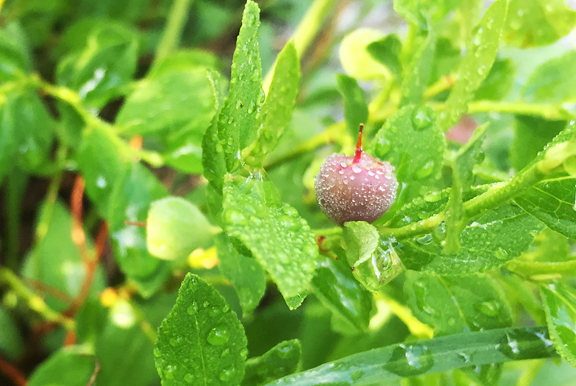 green peas, ghosts, purples, and snurples!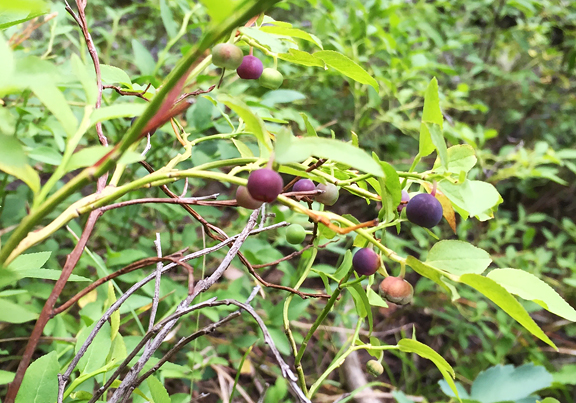 In honor of huckleberry season and huckleberries in general – which are always on my mind throughout the year – I'm sharing yet another huckleberry recipe. I made a test batch of huckleberry infused vodka two years ago and have been making more ever since. We serve it at parties or sometimes I find Jeremy adding it to a cocktail. It requires two ingredients and some patience.
huckleberries and vodka
The huckleberries can be fresh or frozen. Since fresh berries are hard to come by, I have always used my frozen huckleberries for this vodka. And I opt for large bottles of cheap vodka because I really enjoy walking up to the cashier at the liquor store looking like a lush, even though I don't really drink alcohol. It's great! Chop or crush the berries to break the skins. I use my food processor and give it a quick whir. You don't need to purée the berries, you merely need to perform a coarse chop. Combine the huckleberries and vodka in a glass jar, give it a shake, then store it in a cool, dark, dry place for 2 to 3 weeks. Shake it every few days or so. Simple!
place the berries in a food processor
coarse chop
pour the vodka over the berries
**Jump for more butter**