Recipe: salmon poke
We rounded a corner this past week – hiking and running more days than skiing. I washed the late season mud off our nordic ski boots and packed up all but our backcountry telemark boots to store in the basement until October. Instead of four ski bins in the great room, we now have four bins for hiking, trail running, mountain biking, plus one holdout for backcountry skiing – at least for another week! Spring is dawdling. Rain and snow flirt in the high country and we expect another week of cool, wet weather around here, which means a few more days before I can swap out our flannel sheets for something cooler. Chilly mornings still require snuggy sheets.

morning reflections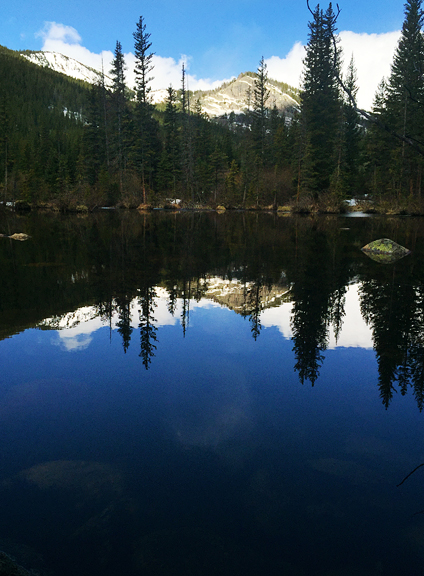 scoping out the trails without skis *sniffle*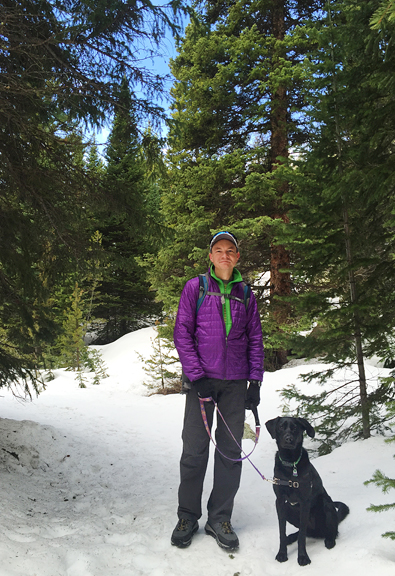 dashing through icy cold snowmelt streams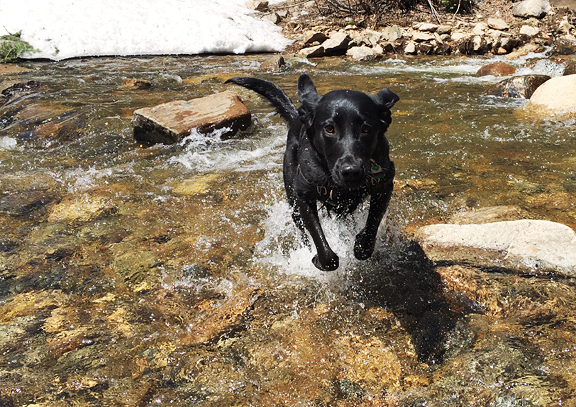 I used to regard shoulder season as a time of outdoor exercise limbo, but this season I'm embracing the coolish weather, squishy mud, and sporadic snow patches on the trails. It's a good time for me to build up to higher mileage in what I consider comfortable temperatures. This way, I also scope out plants in bloom around my neck of the woods. To start trail running for the season when it's already hot means there are two hurdles to deal with: the heat and trail running.
sunny and cool trail runs are just fine by me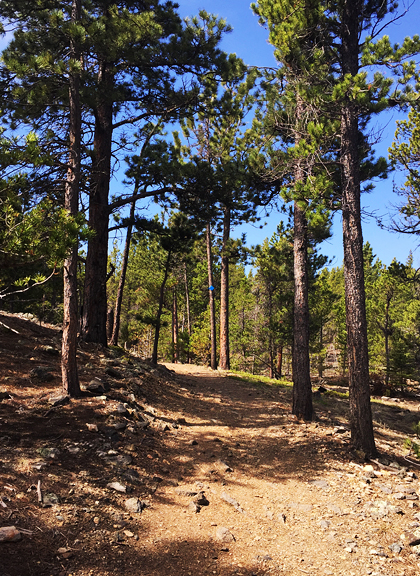 so many pasque flowers in bloom!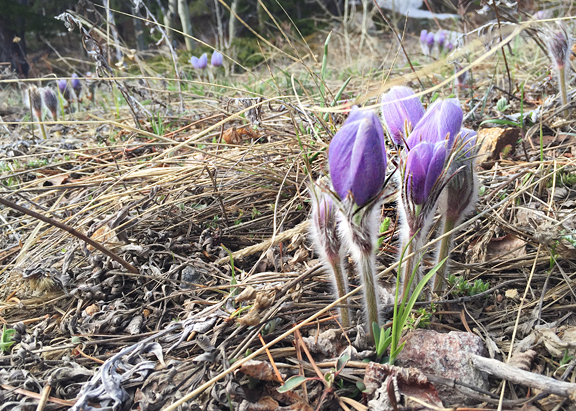 neva perfects her jump-catch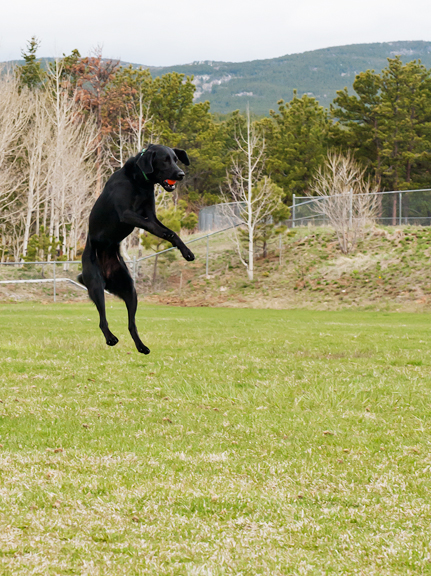 Winter is good for me, I think, because it allows me to focus on snow and being a somewhat normal person. Summer is officially Crazy Time because so many wonderful mushrooms grow where I run or hike or bike – one can't help but notice them and maybe forage a few and probably obsess over finding more because that's the addictive property of wild mushrooms. But you all know that my true love is the tiny purple huckleberry. Erin and I have spent a few lazy winter days pondering where a good patch might be based on satellite imagery and our knowledge of the mountain trails and what our local huckleberries like. As the mountains shed their snowy mantles, we make note of healthy huckleberry plants and when they flower and when those flowers become green peas that will hopefully emerge as ripe huckleberries.
I make tons of sweet recipes with huckleberries – that's easy to do as they play nicely with sugar, butter, flour, cream, and eggs. I'm exploring more savory recipes now that I have enough huckleberries in my freezer and I'm feeling comfortable with what the berry can and cannot do in a dish. Earlier this month I decided to make salmon poke, the salmon version of the more popular and ubiquitous tuna poke, but I didn't want it to taste like tuna poke with salmon swapped in for the tuna. What I eventually came up with blends a little bit of Japanese cuisine with Hawaiian cuisine with the Pacific Northwest: salmon poke with huckleberries.

avocado, green onions, soy sauce, furikake, rice vinegar, vegetable oil, huckleberries, tempura crunch, salmon, sesame seeds, lemons
Think the combination of salmon and huckleberries will taste odd? Let me point out that salmon run where the huckleberries grow in the Pacific Northwest and Alaska, and that both foods are favorites of the locals – the bears. (If I were a bear, I would eat salmon and huckleberries and huckleberries and salmon all dang day.) When choosing a dressing for my poke recipe, I didn't want the typical sesame oil in the mix because I feel it can and does overpower both the salmon and the huckleberries. Instead, I opted for ponzu sauce – a combination of soy sauce, lemon juice, and rice vinegar. I like that the lemon works especially well with the salmon and the hucks. You can purchase ponzu sauce from an Asian grocery store, but I find it's pretty easy and tastier to make your own at home. If you are gluten-free, then definitely make your own ponzu sauce at home – just use tamari instead of soy sauce.
pouring rice vinegar and lemon juice into the soy sauce
A note about the salmon. You really do need to use sashimi-grade salmon in this recipe. Sashimi-grade means that the fish has been frozen down to -20°C/-4°F for at least seven days to kill off any parasites that might exist in the fish flesh. Salmon is particularly prone to parasites. While I always purchase wild salmon, in this instance my fish monger only had farmed Norwegian sashimi-grade salmon, so that's what I bought. Creamy avocado is a no brainer for salmon poke, but I keep it separate from the actual poke because it puts a green film on everything when mixed in with the other ingredients. If you don't care, then by all means, mix it in. My preference is to serve the poke on a bed of the avocado to preserve the aesthetics.
dice the salmon
avocado at the ready
Omitting the sesame oil, I thought the poke might be lacking in that bit of smoothness the oil offers to the dish. I used a flavorless vegetable oil to provide the right texture without the overpowering flavor of sesame oil. The sesame seeds give the poke some crunch as well as a more subtle nutty sesame presence. The huckleberries lend a balance of sweet and tart in tiny packages to the poke. Use fresh or frozen berries, but if you don't have huckleberries, I can't guarantee that a substitution would work. It might be better to make the poke without the berries.
ponzu, sliced green onions, diced salmon, toasted sesame seeds, huckleberries, vegetable oil
pour the vegetable oil over the ingredients
add half of the ponzu sauce
toss to coat, but don't overwork the poke
Once the lemon and vinegar contact the salmon, the acids will begin to cook the fish ever so slightly and the brilliant salmon color will dull. I suggest preparing all of your ingredients and mixing the salmon poke right before serving, taking care not to overwork the salmon. Have your avocado already plated so you can toss the poke together and spoon some over the avocado. Finish it with a sprinkle of furikake (a Japanese rice seasoning) along with some tempura crunch. The furikake can be purchased in an Asian grocery store, or if you are gluten-free, make your own by combining crumbled roasted seaweed, bonito shavings, and pinches of sugar and salt. A tasty gluten-free (or frying-averse) alternative to making tempura crunch is to chop toasted macadamia nuts.
a little furikake for extra umami
I happened to have some edible flowers on hand as well, so I chopped them into a pretty confetti for garnish. This lightly seasoned poke allows the salmon and the huckleberries to come through without a fight. I serve the extra ponzu sauce on the side in case anyone wants more salt and sour flavor. We really liked how the tempura crunch and sesame seeds contrasted perfectly with the silky smooth avocado and salmon. This salmon poke makes a lovely appetizer on its own, or a great meal with a bowl of seasoned sushi rice. This is a new favorite at our house.
garnished with edible flower confetti
perfect with sake
Salmon Poke
[print recipe]
1 1/2 lbs. sashimi grade* salmon, skin removed
1/4 cup soy sauce
2 tbsps rice vinegar
2 tbsps lemon juice
1/2 cup huckleberries, fresh or frozen
1/2 cup green onions, sliced thin
2 tbsps vegetable oil with a neutral flavor
1 tbsp sesame seeds, toasted
2 avocados, peeled, pitted, and diced
furikake
1/4 cup tempura crunch (optional)
tempura batter
1 cup ice water
1 large egg, beaten
1 cup flour
1/8 tsp baking soda
*Sushi or sashimi grade salmon is necessary because salmon is known to carry several parasites, and the freezing process (-20°C/-4°F for 7 days) is supposed to destroy any parasites that might be present in the fish.
To make tempura crunch: Combine the ice water and the beaten egg in a medium bowl. In a separate bowl, combine the flour and baking soda until blended. Pour the dry mix into the wet ingredients and stir together. It's okay if it is lumpy. Store the batter in the refrigerator until you are ready to use it. Heat 2-inches of oil in a medium saucepan to 350°F. Use a spoon to drizzle the batter into the hot oil. Fry until golden, then remove from hot oil and let the tempura drain on paper towels. When cooled, crush the tempura with your fingers or a blunt object.
Make the salmon poke: Remove any pin bones from the salmon by lightly running your fingers along the salmon and feeling for fish bone tips in the flesh. Needle-nose pliers work best to extract the pin bones. Cut the salmon into a 1/2-inch to 3/4-inch dice and place in a large bowl. In a measuring cup or other 1-cup vessel, stir the soy sauce, rice vinegar, and lemon juice together. Set the dressing aside. Add the huckleberries, green onions, vegetable oil, and sesame seeds to the salmon and toss together. Arrange the diced avocado on your serving plate(s). Drizzle half of the dressing over the salmon and toss quickly. Top the avocado with the salmon poke. Sprinkle furikake and tempura crunch over the poke and serve the rest of the dressing on the side. Serve immediately. Serves 4-6.
Gluten-free notes: To make this recipe gluten free you can make a handful of substitutions. Use tamari instead of soy sauce for the dressing. Omit the furikake altogether and in its place combine a tablespoon of crumbled nori (toasted seaweed), a tablespoon of dried bonito flakes (you can buy it in Asian grocery stores), a pinch of sugar, and a pinch of salt. Substitute chopped toasted macadamia nuts for the tempura crunch.
more goodness from the use real butter archives