Recipe: chanterelle toast
Happy autumn, everyone! Fall has arrived to our beautiful Colorado mountains. The colors go off in patches across the state with certain areas turning before others – they always follow a schedule more or less. After shooting fall colors in the mountains for the past 12 years, I know the general timing for my favorite locations. Waves of weather overlay these bursts of gold activity in our Colorado Rocky Mountains, ranging from cloudless bluebird skies to raging winds and rain to snow.

sunrise on an early morning start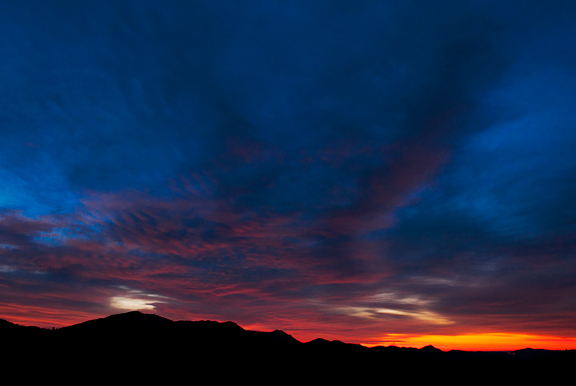 thimbleberry (yellow) and huckleberry (red)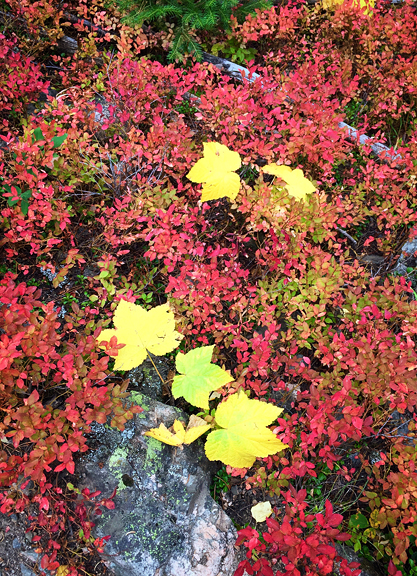 neva had a blast hiking through the colors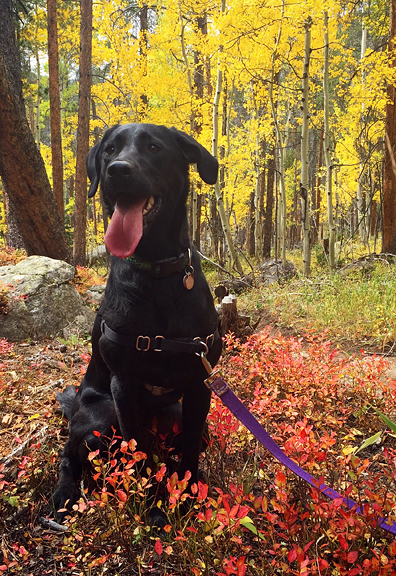 and hiking more local colors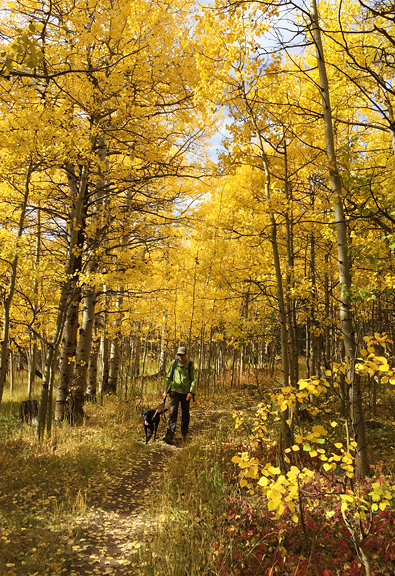 jeremy and neva pause above a beautiful expanse of gold aspens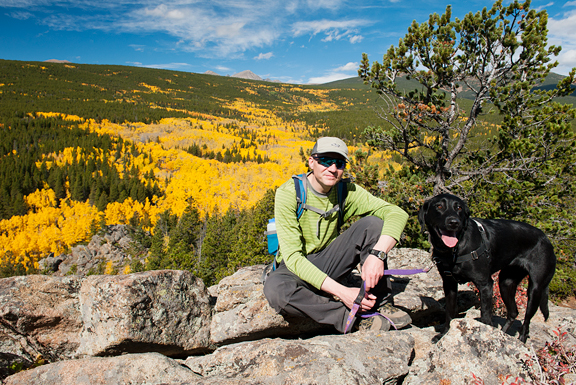 At the end of last week, Jeremy and I set out in a caravan for Crested Butte. We drove through toasty temperatures in the Upper Arkansas River Valley then climbed into clouds and falling snow over Cottonwood Pass. From there, the weather remained cold and snowy all the way to Crested Butte and beyond. We pulled into our driveway, teeth chattering and mud caked to our cars (we drive some dirt road short cuts which become mudfests when there is precipitation). Fall colors are great and all, but snow always makes for more interesting viewing. Plus, it was snowing on my birthday, which I think is the best kind of birthday present! We quickly unpacked the cars, got Neva settled into her bed, grabbed my photo gear and off we went to leaf peep for the two remaining hours of daylight.
snow dusted spruce and aspens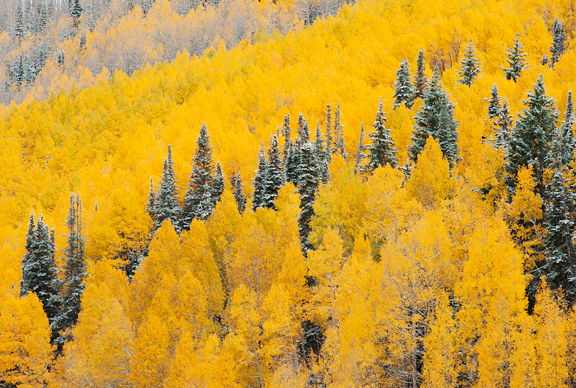 powdered sugar branches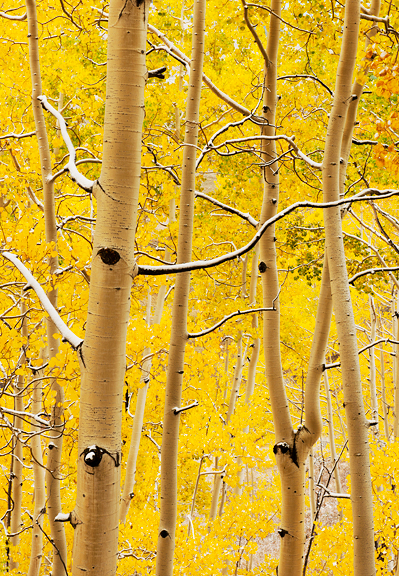 a ray of sunlight peeks through the clouds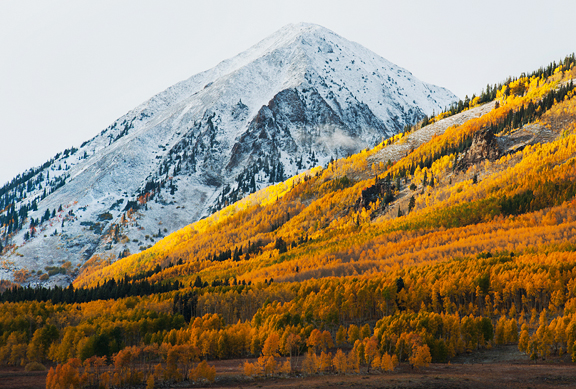 With the weekend over, Jeremy is back home while Neva and I stay the week in Crested Butte to shoot more fall colors. And if the colors finish a little earlier than is typical, then it's an opportunity for me to tackle some work and get hikes and trail runs under my belt before the season ends. But for you, my good people, I have an indulgent little recipe to share. After my last haul of chanterelles from the mountain forests of Crested Butte, I debated whether to sauté them in butter and freeze them for the winter or to try some new recipes. Turns out, I had enough to do both. This recipe for creamed mushroom toasts is simple, yet decadent. And for my gluten-free friends, you can either use gluten-free bread or spoon the creamed mushrooms straight into your mouth. I may or may not have done that…
chanterelles, cream, kosher salt, butter, pepper, flake sea salt, brioche slices, white wine, shallot, chives
cut the mushrooms into a medium dice
prepped and ready
It is chanterelle season right now, but if you can't find them or are working within a budget, substitute another edible fresh mushroom or use a combination of mushrooms. It will be great. To wash or not to wash the mushrooms? Well, I am personally not a fan of washing mushrooms, especially chanterelles because they are so delicate and get soggy. I wipe them clean with damp paper towels and a mushroom brush. If you want to wash your mushrooms, go ahead. It's probably not a big deal to wash white button or crimini mushrooms.
sauté the shallots in butter
add the mushrooms
pour in the wine
simmer with cream
season with salt and pepper
As I mentioned before, the creamed mushrooms are good enough to eat straight out of the pan. That said, they levitate at a whole new level of ridiculousness when you serve them on toasted buttered brioche. I mean, brioche is buttery as it is, but give it a quick swipe of melted butter and brown it up in a skillet and whoa! Top each toast point with some of that luscious mushroom and you just might be responsible for opening a wormhole to Happyland.
brush melted butter on the brioche slices
grill until browned and crisp on the outsides
Garnish with some flake sea salt and fresh chives and you're ready to roll. Easy, elegant, delicious. What's not to love? Chanterelle toasts are perfect for entertaining others or pampering yourself. You can make both components ahead of time, but they aren't terribly time-consuming if you make them fresh the day of. The most important thing is that you will love these.
chanterelle toasts make a lovely appetizer
top with flake salt and chives
luxurious little bites
Chanterelle Toast
[print recipe]
from Smitten Kitchen
1/2 lb. fresh mushrooms, clean
2 tbsps unsalted butter
1 large shallot, minced
2 tbsps dry white wine
1/4 cup cream
kosher salt to taste
black pepper to taste
4-6 slices of brioche, edges trimmed (optional) and cut into triangles (four triangles per slice)
2 tbsps unsalted butter, melted
1 tbsp fresh chives, chopped
flake sea salt
Chop the mushrooms into 1/4-inch pieces. Heat 2 tablespoons of butter in a skillet or sauté pan over medium-high heat. Sauté the shallots until they turn translucent. Add the mushrooms and sauté for 5 minutes or until wilted. Add the wine and reduce the flame to medium. Cover the pan and cook the mushrooms for 5 minutes. Remove the cover and let the liquid boil off. Stir in the cream and let it simmer for about 2 minutes. Remove from heat. Season with salt and pepper to taste. Brush melted butter on one side of each piece of brioche. Set a clean skillet over medium high heat. When the pan is hot, place the triangles of brioche buttered-side down on the pan. When the bottoms are golden, flip the brioche over and let toast briefly. Remove from pan. Arrange a tablespoon or more of mushroom filling on the toast points, garnish with chives and flake sea salt. Makes 16-24 toasts.
more goodness from the use real butter archives