Recipe: peach pie
For the past couple of years I've sent an email in August to a local organic farm in Boulder asking them to alert me when they have tomato seconds ready for sale. The email comes some time in September depending on the weather and the tomato crop. Each year, I pick up more poundage because I am so in love with home-canned tomatoes, I want to be sure we don't run out. I use them to make pizza sauce, pasta sauce, stews, soups, chili. Last week, I received the email to come and get the tomatoes. I got 100 pounds and spent three days coring, scoring, blanching, peeling, dicing, simmering, and canning tomatoes. When I closed my eyes for my 5 hours of sleep at night, all I saw were tomatoes. 48 pints later and I have 20 pounds remaining for a different method because I ran out of Weck jars.

48 pints of the best tomatoes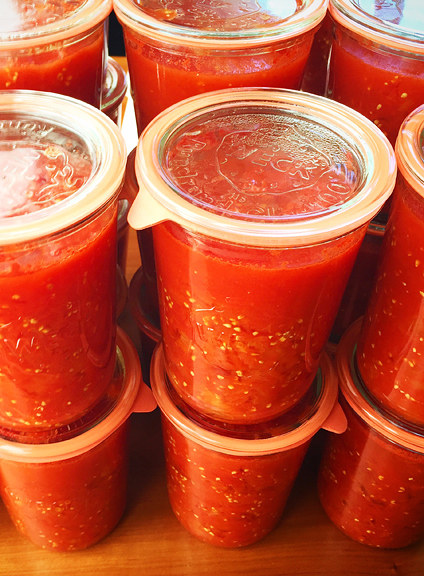 Meanwhile, Neva is finding out that the start of the school year means no more daily excursions onto the trails or lakes. She still gets out every day, but we're getting her used to being at home because when winter comes (and by winter, I mean the winds), there will be days when home is better than going outside. Plus, we're finally able to leave her alone for up to 8 hours. Now that she's nearly 18 months old, we're noticing just how different she is from Kaweah. Kaweah was not a bright girl, but Neva is an even dimmer bulb. Based on our only other data point, Neva is slower to pick up just about everything. But that's okay, we work with her a lot and she remains a happy, ridiculous, sweet little pup.
just as happy on a local hike as she is on a big mountain hike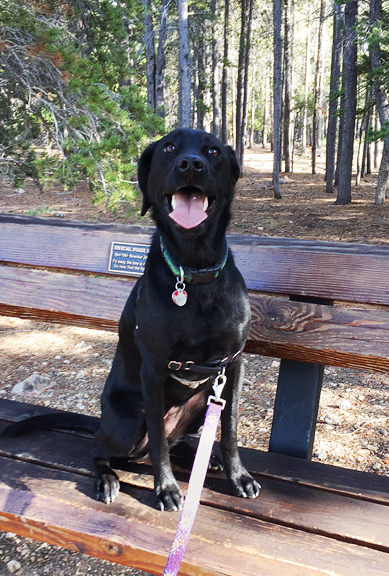 caught lounging on the people bed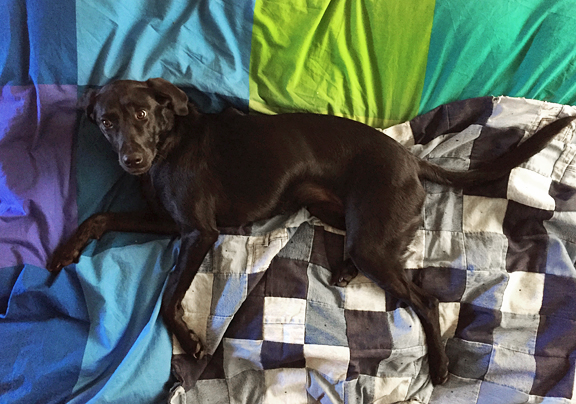 The fall colors are moving in around here. Our aspen trees are still more green than gold, but I think some areas will flip that balance in a week or less. I didn't shoot much of the fall colors last year because of the puppy, but I wasn't sure I was feeling it this year. These days I'm more likely to snap a photo on my phone (most pictures here are coming off the iPhone) or if I'm lugging it around, maybe my smaller dSLR. Of course, as soon as I stood under the canopy of a small stand of golden aspens this morning, I felt that mojo return. The worry was that I was rusty, but the ideas and creative thought process came back as soon as I looked up.
getting low to shoot this brilliant shrub from below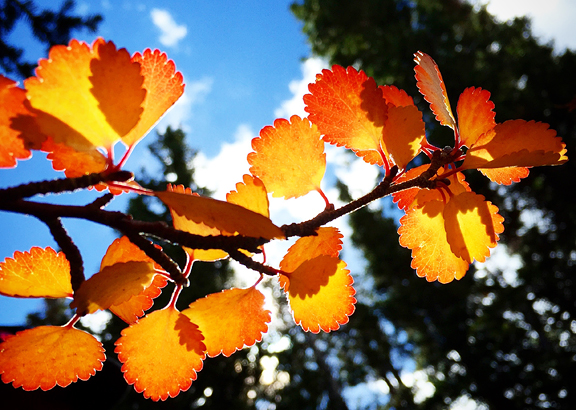 classic sunburst + aspens + colorado bluebird sky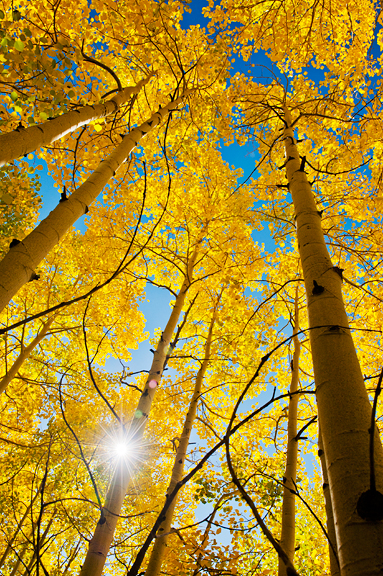 golden canopy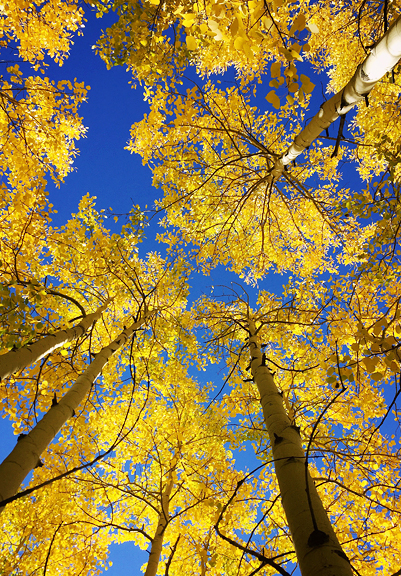 I'm a firm believer in practicing to get better at something and that applies to pies! My friend recently commented that I don't make pies very often. I laughed because she actually keeps track of the sweets and treats that come out of my kitchen… and because she's correct. I don't make many pies. Pie crusts drive me crazy and removing a slice of fruit pie practically ruins the whole pie. But I like pie. I like pie a lot. I decided that I needed to tackle some recipes until I found one or a couple of reliable and excellent pie crusts. With peach season drawing to a close in Colorado, I felt I needed to get some practice on a basic peach pie.
flour, ice water, cider vinegar, more flour, sugar, salt, more sugar, nutmeg, egg, lemon, butter, peaches
It's really all about the pie crust. Pie crust should be flaky and tender and baked golden brown. I find that my pie crust dough is almost always too dry and crumbly. But when I add enough water to make it comfortably workable (i.e. not crumbling apart) it's too wet or it's overworked and the crust becomes more of a cardboard texture. So I was extra mindful of not adding more liquid than the recipe requires.
place the butter, flour, and salt in a food processor
pulse until the butter resembles little pebbles
beat the egg yolk, vinegar, and ice water together
drizzle the liquid into the dry ingredients
Start with a little liquid at first and then add more as needed. The dough is supposed to stick together when you squeeze it, but if it doesn't hold the shape, add some more of the liquid. Even after adding all of the liquid to the dough, it still wouldn't hold together. I found that pressing the dough into a ball several times (it broke apart from the gentle squeezing quite often), the dough began to hold together more each time. Eventually, I was able to cut the ball into eight pieces without having the whole thing collapse under the knife. Pressing the dough pieces into flat discs helps to smoosh the butter pebbles into butter flakes which in turn creates nice flaky pastry.
if you squeeze some of the dough between your fingers and it holds shape, it's ready
pressed (carefully) into a ball
cut into eighths
press the eighths into flat discs
After stacking the discs together and forming the dough into a ball for the second time, I felt that the dough was more cohesive and workable. I divided the dough in half and chilled the pieces for a couple of hours before rolling it out for the bottom and top crusts. My top crust was actually a mesh of little cutout flower and leaf shapes because I told myself that was easier than a lattice top. In hindsight, I think it was more work. But it's still very pretty.
cut the dough in half
form discs and wrap in plastic to chill
roll out the dough
line the pie dish with the bottom crust
While the dough was chilling in the refrigerator, I prepped the peach filling. Peach pie is very forgiving if your peaches aren't perfectly juicy and ripe. I had a couple of peaches that had a mealy texture, but once baked, I couldn't distinguish them from the other peaches.
peel, pit, and slice the peaches
add flour, sugar, and lemon juice
gently toss to coat
Since my top crust was a loose collage of cutout shapes, I crimped the edges of the bottom crust. If you plan to lay a top crust or a lattice over the peaches, then don't crimp the edges until you seal the two crusts (unless you like crimping twice). When the peaches were in the pie, I grated fresh nutmeg over the top and then set to work distributing the cutout dough and preparing the pie for baking.
grating nutmeg over the filling
brushing the top of the pie crust with egg white wash
sprinkling sugar over the pie
The pie baked up nicely, but in the last ten minutes the peach juices and sugars began to boil over the edges. Luckily, I had a sheet of foil on the rack underneath the pie, but some of the sugary goo still managed to hit the oven floor and burn and smoke. I think some of that lost volume resulted in a slightly deflated pie. And while my preference is for well-browned pastries, I had to remove the pie from the oven a little earlier than I would have liked for fear of losing more of the filling to the oven floor.
baked for as long as i dared
cooling the pie
Taking that first bite of pie confirmed that wrangling the pie dough was worth the trouble. The pie crust was flaky and buttery and tender, which is the perfect accompaniment to the velvety sweet peaches and peach juices. It is my intention to explore other pie crust recipes and methods, but this one is certainly a keeper. Maybe, just maybe, my friend will start to see more pies coming out of this kitchen.
fruity indulgence
Peach Pie
[print recipe]
from The New York Times
pie crust
2 1/2 cup (300g) all-purpose flour
12 tbsps (170g) unsalted butter, cold
1 tsp kosher salt
1 egg yolk, beaten
1 tsp cider vinegar
1/4 cup ice cold water
filling
6-7 ripe peaches, peeled, pitted, and sliced (about 5 cups)
2 tbsps lemon juice
1 cup sugar
1/4 c (30g) all-purpose flour
pinch of ground nutmeg
topping
1 egg white, beaten
1 tbsp granulated sugar
Make the pie crust: Blend the flour, butter, and salt together in a food processor until the mixture becomes small pebbles of butter (1/4-inch diameter). Combine the egg yolk, vinegar, and ice water in a measuring cup and drizzle about 4 tablespoons of it over the flour mixture. Pulse the dough or stir it to incorporate the liquid. Grab a bit of the dough and squeeze it between two fingers. If it sticks together, you're good. If it crumbles apart (too dry), add a little more liquid and repeat. I used all of my liquid. Turn the dough out onto a lightly floured surface and press it into a ball. Divide the dough into eight equal pieces, flattening each piece with the palm of your hand (to flatten the butter). Stack the pieces and form the whole thing into a ball of dough. Divide the ball in half and flatten each half to 5-6 inch dough discs. Wrap in plastic wrap and refrigerate for at least an hour.
Prepare the filling: Gently toss the peaches, lemon juice, sugar, and flour in a large bowl.
Assemble the pie: Preheat oven to 425°F. [Note: You may want to place a pan or sheet of foil on the rack below the pie to catch any sugary drips.] Roll a disc of dough out on a lightly floured surface to about 1/8-inch thickness. Set the pie dough in a 9-inch pie dish. Pour the peach filling into the pie dish. Grate or sprinkle the ground nutmeg over the top of the peaches. Roll out the second disc of dough. Wet the edges of the bottom pie crust and lay the second crust on top. Seal the edges of the pie crusts together and then trim as needed and crimp the perimeter of the pie. Cut steam vents into the top pie crust. Brush the top crust with egg white and then sprinkle sugar over the top. Bake 15 minutes then reduce the oven to 375°F and bake another 45 minutes to an hour until the pastry is golden and the filling is bubbling. Serves 6-8.
more goodness from the use real butter archives