Recipe: bourbon vanilla bean paste
I'm slurping on a spicy, hot bowl of posole right now while snow goes hurtling past our house on some pretty enthusiastic winds. It is my hope that the soup will do battle with this cold that has settled into my throat and chest. I guess my logic is to burn the heck out of the cold before it progresses. Our Thanksgiving week was free of turkey and pumpkin, but full of long walks and fetch sessions with Neva. Our Crested Butte neighborhood was quiet as many people were traveling for the holiday, which further allowed us to pursue our plans for introversion. Of course, I had to run out to meet my friends' new puppies – a brother and sister – 15 week old Australian shepherds.

neva waits to indulge in her thanksgiving plate of beef and bacon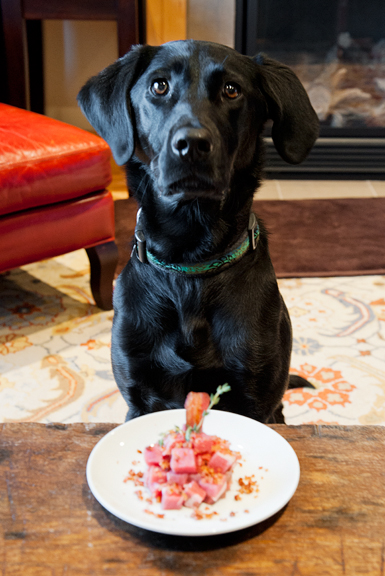 meet little abbey exploring the snow (sorry, i didn't get a photo of blue boy – but he's cute!)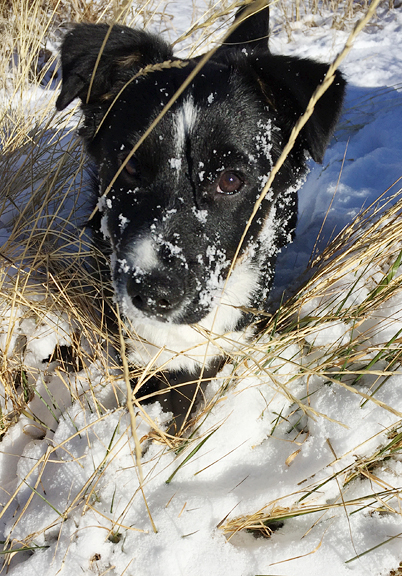 Snow did arrive mid-week and we were able to get out and reacquaint ourselves with our various skis. That gliding motion is akin to flying – it's addictive. But timing is everything and sometimes you have to hit the trail or the mountain before the snow gets skied up and/or melted away. We managed to skin uphill on the mountain, skate on the nordic trails, and get a nice ski tour at Lily Lake. A decent jumpstart to our ski season.
after skinning up, jeremy skied out ahead of the first chair on opening day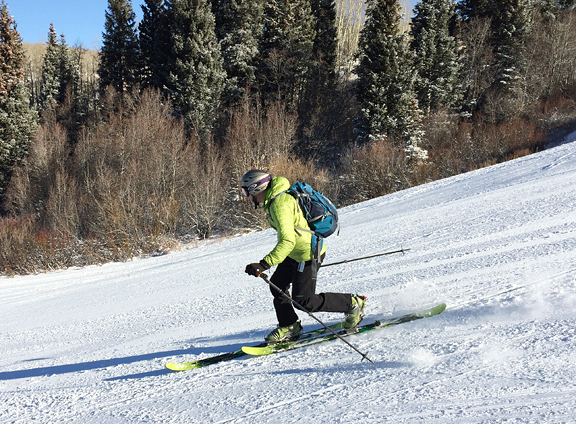 getting our skate legs (and arms and everything) back into the groove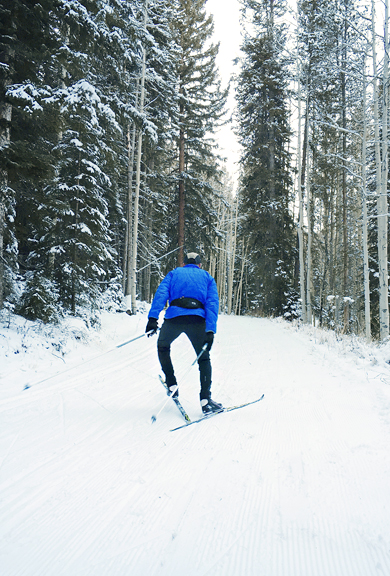 ski touring the beautiful backcountry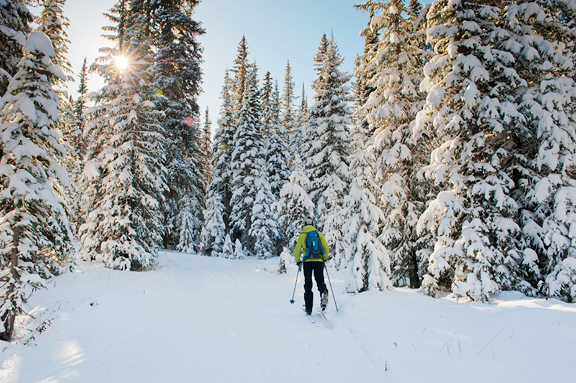 no tinsel here – our icicles are the real deal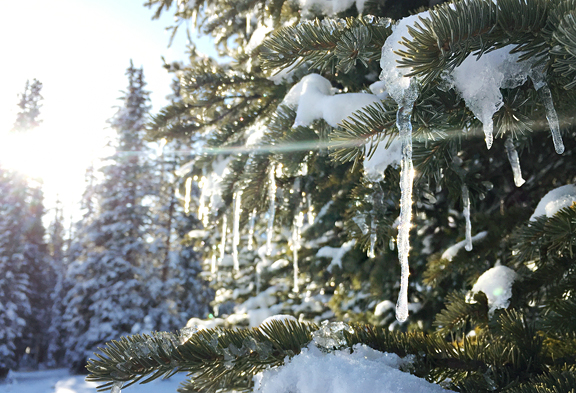 Now that Thanksgiving has passed, everything pumpkin is now becoming everything peppermint. Christmas trees are going up and gift shopping has kicked into high gear. If you are looking for a simple, but extra awesome homemade gift for a baker in your life, might I suggest some bourbon vanilla bean paste? I first laid eyes on a bottle of this luxurious wonderfulness at the King Arthur Flour store in Vermont over three years ago while on a press junket but opted to leave it on the shelf when I wondered if the TSA would confiscate it. Then my mother-in-law gave me a bottle during a visit last New Year. She loves the stuff and wanted to spread the gospel. I used it for special recipes and found the vanilla bean paste to be easier than a vanilla bean and a bigger flavor boost than vanilla extract. When I (sadly) ran out last month, I went online looking for more and even contemplated purchasing a gallon of it to get a better price per unit volume.
this stuff… the stuff of vanilla dreams
my last spoonful
But you know me… the wheels turned another 360 degrees and I wondered how hard could it possibly be to make your own? Turns out, it's not hard at all. This magical potion consists of three ingredients: vanilla beans, sugar (in some form), and booze (optional, but good). That's it. And there isn't any waiting around or crazy kitchen ninja stuff going on with the recipe. It's quite straightforward, which is why it makes such a great gift for the bakers in your life, and for yourself as well!
bourbon, agave nectar, vanilla beans
Vanilla beans are not cheap, which is why I have been purchasing organic vanilla beans in bulk from
Vanilla Saffron Imports
for years. One batch of the vanilla bean paste uses six whole beans to make a half cup, which is the volume of the Nielsen-Massey jar. So figure out who your lucky recipients are and do the math to determine how many beans (and other ingredients) you'll need. I went with agave nectar because I had half a jar sitting in my pantry that I wanted to use up. You can substitute a simple syrup made from sugar and water, although that will result in a thinner vanilla bean paste consistency (which is fine). If you want to use a sugar substitute, I cannot help you as I have no experience with those products and I couldn't tell you how it tastes or how it stores. As for the booze, I went with bourbon (we like bourbon), but you can use vanilla extract instead. Thing is, if you are trying to avoid alcohol for whatever reason, you should be aware that pure vanilla extract contains alcohol. Imitation vanilla extract does not contain alcohol, so perhaps that might be an acceptable substitution for you.
cut the vanilla beans into 1-inch pieces
pour the agave into the food processor bowl
add bourbon
It's a quick blitz in the food processor to turn the ingredients into a purée. My purée was quite thick, so I strained it through a medium-mesh sieve. I think if I had used a fine-mesh sieve, I'd still be waiting for it to strain right now. When most of the goop had strained through, I pressed on the solids to squeeze out every last bit. In hindsight, I probably should have stirred more bourbon into the purée to loosen it up and make it easier to strain. Now you know. Before you toss the solids out, you CAN scrape those into a jar and top it off with some vodka (or bourbon – nothing wrong with more bourbon, right?) and store it sealed in a cool, dark place for a couple of months to make vanilla extract. No reason for the pulp to go to waste, I say.
purée everything
strain the purée
about a half cup
With a single tablespoon of bourbon, my vanilla bean paste was pretty thick, gooey, and hard to measure. I stirred in another two tablespoons of bourbon to get it to a similar consistency to the commercial version. The original recipe says to store the paste in the refrigerator, but I read from vanilla bean product websites that refrigeration can hasten spoilage – so mine remains on my counter and after a month it is still fine. Use it in place of vanilla extract (1 to 1 substitution) or use one tablespoon to equal one vanilla bean in your recipes. Bottle the bourbon vanilla bean paste for yourself or in pretty jars for gifts. Best stuff ever.
homemade bourbon vanilla bean paste
use it early, use it often
Bourbon Vanilla Bean Paste
[print recipe]
slightly modified from this recipe
6 whole vanilla beans*
1/2 cup agave nectar**
2-3 tbsps bourbon***
* I order organic vanilla beans in bulk from Vanilla Saffron Imports.
** You can also make 1/2 cup of simple syrup. Measure equal parts water and sugar (for example, 1/3 cup water and 1/3 cup sugar) and place them in a small saucepan over medium-high heat. Stir to dissolve the sugar and bring the liquid to a boil for a minute. Turn off the heat and let cool. Measure 1/2 cup to use for the recipe.
*** Using the agave nectar, my vanilla bean paste was really thick, so I stirred in 3 tablespoons of bourbon to loosen the consistency. If you use simple syrup instead, start with 1 tablespoon then add more as needed. If you don't want to use bourbon, you can use (pure) vanilla extract instead.
Cut the vanilla beans into 1-inch pieces. Place the vanilla beans, agave nectar (or simple syrup), and bourbon (or vanilla extract) in a food processor and purée. Strain the mixture through a sieve, pressing to extract all of the liquid out (it will be gooey). [Note: Place the solids in a jar with vodka and store in a dark, cool place for 2 months to make your own vanilla extract. Shake it occasionally.] Stir in more bourbon (or vanilla extract) to achieve desired consistency. Store in a jar on the counter. Makes 1/2 cup.
Use in place of vanilla extract (1 to 1 substitution) or use 1 tablespoon of paste in place of 1 vanilla bean in your recipes.
more goodness from the use real butter archives